Upgrade/Pro Flute Offers – December 2017
4th December 2017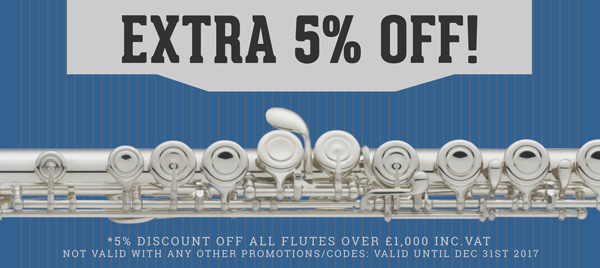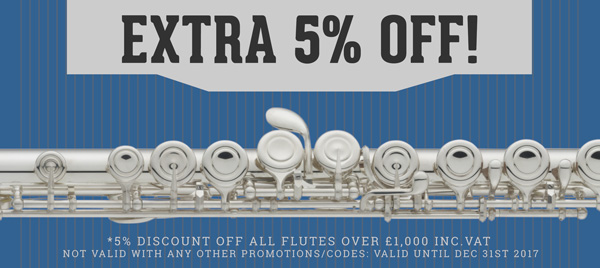 We're delighted to be offering an extra 5% discount off any upgrade/pro Flute (or Piccolo) over £1,000 until Dec 31st 2017.
Simply use the code 5PCFLUTE at the checkout on our website, or in-store and we will deduct the extra discount.
Whether you are looking for your first upgrade, buying for an advancing teenager, or perhaps wanting to upgrade to a pro model Flute or Piccolo – December is the time to do it! The offer covers all models over £1,000 inc.vat. You can combine it with the AIPS Vat Free system if you're buying for a child at an LEA school or music centre. Alternatively you can also apply for 12 months 0% credit and use your 5PCFLUTE code to bring the overall price down.
Why not check out our Top Ten Upgrades over £1,000 to whet your appetite, don't forget to use your code for discount!

TOP TEN – Flute Upgrades over £1,000
(All prices are inc.vat and current as of Dec 1st 2017 but are subject to change. These are the discount prices BEFORE applying the 5% offer)
Yamaha YFL-372GL (£1,035) : This is a great first step-up model for any player advancing past Grade 5/6. The YFL-372 has open holes making it a good long term choice, and the gold lip plate adds an extra richness and warmth to the the tone. If you've had a student Yamaha model this will feel comfortable under, and the precious silver head joint with add depth and projection to your sound. Check out this video of the YFL-327GL in action…
2. Azumi Az-Z2E (£1,229) : If you're looking for something with a big sound, but prefer the closed hole option then this Azumi Z2E may be a great place to look. The Azumi range have a pro made Altus head joint, which offers a very full and rich sound with minimal effort, these are a real favourite in the shop and are also available with open holes.
3. Miyazawa PB-102E (£1,400.10 whilst stock lasts) : The first in the 'pro' Miyazawa range is the 102E. We have a special offer on limited stock of the PB-102E which has closed holes and the PB stands for Part-Brogger mechanism. This is the unique mechanism that Miyazawa employ to add longevity and fluidity to their key action. They Miyazawa range always have a light, bright singing tone.
4. Pearl 695RE Dolce (£1,482) : One of the most popular first upgrade models, the 695 has a great depth of tone and pure sound. It is supplied with a solid silver lip riser and head joint and the Pearl heavy grade materials give this instrument great projection and a full sound. Available in open or closed hole, excellent value for a hand finished flute.
5. Azumi Z3E (£1,779) : The Z3E is at the top of the Azumi range before you get into the fully Japanese made Altus models. The Z3 has amazing specs – it has a solid silver body, foot and head joint and also benefits from the Z cut Altus pro head joint design. This is a whole lot of Flute for under £2k and is designed to see advancing players on through the later grades. Available in closed or open hole.
6. Altus 807RE (£1,995) : The first in the Altus range (above the Azumi models), the 807 has less solid silver than the Z3 but this is where you're paying for excellence of production (Japanese handmade) and the pro Japanese Altus headjoint. The 807 itself only has a sterling silver lip plate and riser on the S cut head BUT this is a classic case of not comparing specs on paper as for many it will outperform some machine made models that are a little cheaper and have more solid silver. Here's our Flute expert Gareth with a video of the Altus 807 range in action…
7. Pearl 795RE Elegante (£2,236) : Now we're getting towards the mid range of the Pearl upgrade models and the 795 boasts some significant spec. It has a solid silver lip riser, head, body and foot joint and is hand finished. It comes with 'French Pointed Key Arms' which are not only more elegant but also aid the keys in covering the holes more accurately and evenly. The Forza head joint offers a big, rich tone with plenty of projection for those that can fill it. Suits someone with a big sound.
8. Altus 907E (£2,495) : This model, like pretty much all the others, is available in open or closed hole. This might be about the ceiling of where closed hole buyers may go because commonly the open hole option is preferred for the more advanced models. The 907E Altus has a solid silver head joint (S cut) and is handmade in Japan. It really has a great combination of flexibility and density of tone – one of our personal favourites! Here's Gavin again giving it a good test…
9. Sankyo CF301RE (£3159 – whilst stocks last) : We currently have limited stock of the CF301RE at this reduced price, they are usually £3,995. The 301 is called the 'Silversonic' and it plays as impressively as it's name suggests! The solid silver head, body and foot combined with the Sankyo special head joint cut produces a Flute that has oodles of power and depth whilst retaining a certain bright core that helps it sing and drift above an orchestra. This is a serious bit of kit which would suit the higher grades, uni student/pro player. Here's Gareth giving the Silversonic a test run…
10. Muramatsu EX-RE (£3,955) : Another beautiful hand made Japanese option. These Muramatsu are rarer than Dodo eggs, we only get 2-3 in stock per year! They are diligently produced and have a quite intriguing and haunting sound in the right hands. From the lowest whisper to the brightest attack, the quality is built in and these are a joy to play. Here's a little demonstration…
Use code 5PCFLUTE to get 5% off any of the models above!

Don't forget the Piccolo's!
Why not check out either the excellent Pearl 165E O/M at £1,157 (as demonstrated below) or indeed the Yamaha YPC-62M at £1,245. Either would be ideal for the advancing flautist wanting a high quality Piccolo without totally breaking the bank.
Don't forget, use code 5PCFLUTE to get 5% off any Flutes & Piccolos over £1,000 until the end of December 2017!