Vandoren CL4 and CL5 Clarinet Mouthpieces – NEW!
10th May 2011
VANDOREN CLARINET MOUTHPIECES CL4 AND CL5
The new Vandoren CL4 and CL5 clarinet mouthpieces arrived with us today. We passed them to our mouthpiece designer and Woodwind consultant Prof Anton Weinberg for a review:
An interesting departure for Vandoren with these two new mouthpieces: one has to ask the question: "is the new shape  complimentary to the tone and response of the mouthpiece or does it simply provide the opportunity to provide a ligature and mouthpiece together with an increased  mark up  price?"
Certainly upon examination, the tone chamber design could be derived from any stock  Vandoren clarinet mouthpiece and equally the two tip rails—one thin (CL4) and the other wider (CL5) —are already available. The walls of the mouthpiece are not that much thicker and the new very pliable ligature fits very well, but does not itself become a necessary requirement for the response of the new design, while the chamber design harks of American know how at its best.
The CL4 is a longer lay with a thin tip rail and slightly closer tip measurement: I would need to use no.4 V12 to make it work and even then found it too long, causing the tone to be rather vapid and ill defined.
It lacked the definition that I found in the Vandoren M30 which is also quite a long lay but has a strong core sound.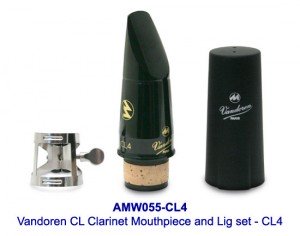 The CL5 was completely different: the wider tip rail, increased tip measurement and shorter spring gave a very safe comfortable response with a most attractive round tone. I think that students and those who like to blow with ease, will find it a most successful mouthpiece, however, for someone who has experienced the volume of the Chicago Symphony orchestra, I find the tone or core sound just too small.
Both these new designs are well worth trying and as there is such a wide range of personal requirements amongst the clarinet playing fraternity I am convinced that each mouthpiece will find its devotees without difficulty. The price—that includes mouthpiece and ligature with cap—is very competitive and I do not find this out of proportion given the price of some American imports. We are selling the set for £129 inc.vat (as of 12th April 2012) Please click to see our full clarinet mouthpiece list.
Prof Anton Weinberg – 10/05/2011