Squeaking? Blame the mouthpiece??
Post Author: Prof. Anton Weinberg (www.antonweinberg.com)
I am always concerned when teachers and players assume that squeaks on a mouthpiece are caused by the facing being crooked. Yes indeed, it might be a possibility, however my research over many years has found that a great majority of the mouthpieces used by clarinetists that we admire are indeed crooked.

Not a surprise to any orthodontist who would already know that there are few who have totally symmetrical teeth or jaw formation. Why then is the aforementioned assumption by teachers so prevalent, especially when the baffle design can be far more responsible and have a far more significant effect on the tone? There is a similar problem with amateurs who were, or are, engineers and then decide to take up the instrument, perhaps as a hobby. Everything is judged by what it looks like symmetrically, when these details very often have little influence on the tonal results that are desired.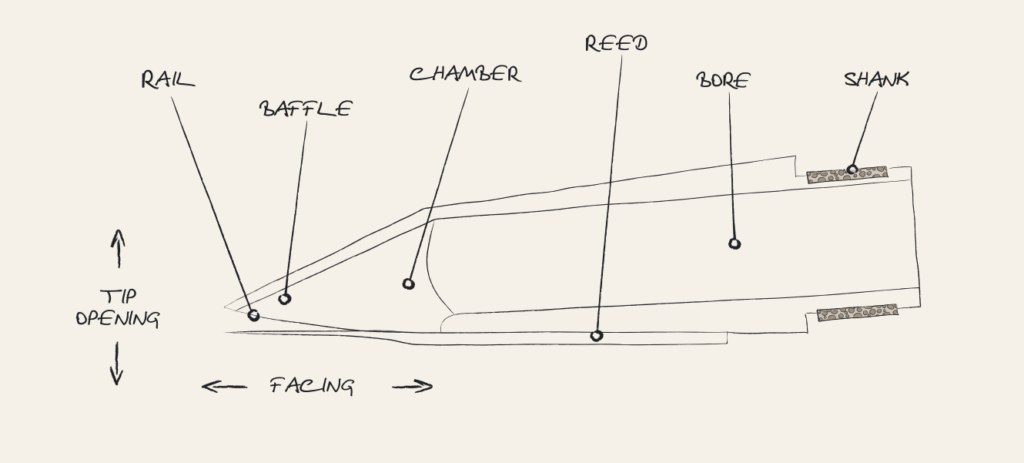 Naturally it will always be possible to find mouthpieces that contradict my outlined points, but here I am discussing a consistency over many mouthpieces and not just narrow anecdotal experience.
*If you need any help with any mouthpiece, reed or similar issues please don't hesitate to get in touch, we may be able to help…contact us
About the author: 
Professor Weinberg has held international professorships and musical directorships. Equally he has written, presented and directed productions for Radio, Television and Theatre in Europe, the USA, Canada and the UK. 
As a professional soloist of nearly 40 years Professor Weinberg has performed at all of the major international music festivals, as well as broadcasting regularly for the BBC. His research into the developement of stylistic personality in young students has been published and broadcast and he has made contributions to the music of over 30 internaional films and pop recordings. Anton Weinberg was the first Clarinetist in the history of the Royal Academy of Music to win both the Hawkes and Solomon Wind prizes.
Tags:
Anton Weinberg
|
clarinet
|
Clarinet Help
|
Clarinet Mouthpieces
|
dawkes music
|
Squeaking
Barrow to Broadway: a White Christmas Story by Peter Gardner
On Tuesday 11th March 1879 The Barrow Herald, one of the local papers for Barrow-in-Furness in the north west of England, reported that on the previous day a vessel had been launched by the Barrow Shipbuilding Company and that "Miss Welch, daughter of the American minister in London, gracefully performed the ceremony of naming the vessel, the launch being of the most successful character."   The ship was called the Rhynland. In the same week The Barrow Times reported that the Rhynland was the "second of the splendid ocean steamers" that the Barrow company had built "for the "Red Star" line" and was "the sister ship to the Belgenland, launched in the last week of 1878."  The Barrow Times went on to say that the Rhynland was four hundred feet long with a gross tonnage of "3,700 tons", that she would soon be rigged with four masts and have engines fitted, and that she would accommodate about four hundred passengers.
"Give me your tired, your poor, your huddled masses" is part of the inscription on America's Statue of Liberty.  Towards the end of the nineteenth century and at the start of the twentieth the Old World duly responded.  Ships like the Belgenland and the Rhynland were built to carry the tired, the poor and others across the Atlantic and shipping companies like the Red Star Line specialized in this trade.
Founded in 1871, Belgium's Red Star shipping company ceased trading in 1935, but during the years it was in operation the line carried over two million migrants to their new home, America. Half a million of these Red Star passengers were Jews.  For the first fifty years or so of Red Star's operations most of the Jews it took to America were fleeing from oppression and violence in Poland and Russia.  Ominously in later years many were from Germany. The list of the three most famous Jewish passengers crossing the Atlantic with the Red Star Line includes Albert Einstein and Golda Mabovitch, who would become Golda Meir, the fourth Prime Minister of Israel.
In the early 1890s a Cantor called Moses Baline, his wife, Leah, and six children were part of the Jewish exodus escaping from persecution in Russia.  They had lived in the city of Mohilev, which is east of Minsk in what is now Belarus, but had fled westward after their home along with other Jewish properties had been burned to the ground by marauding Cossacks. Such violent displays of anti-Semitism came to typify the reign of Csar Alexander III.  Had the Balines decided to stay in their home city, they could have suffered an even worse fate; in early October 1903 American newspapers were reporting that Jews, including women and children, had been "slain" in their hundreds in Mohilev. The perpetrators this time were "riotous peasants".
On 2nd September 1893, after a twelve hundred mile journey across Europe, Moses, his wife and children sailed from Antwerp aboard the SS Rhynland bound for New York.  The youngest of the Baline's children was a small, frail boy, aged five, one of whose abiding memories of Russia was watching his home burn down.  He was Israel Isidore.
Of the Rhynland's three hundred and seventy two passengers on that September crossing, over three-quarters were Steerage Class, this being the cheapest and by far the worst class of accommodation. Writing about steerage passengers in 1905, one authority spoke of them being "positively packed like cattle" into the hold of the ship, where the "stenches become unbearable", the food is "miserable" and "privacy" non-existent. The Balines were steerage passengers, and while there is no account of their health or wellbeing after their journey across Europe, an Atlantic crossing as steerage passengers would not have improved their condition.  Some accounts actually say they endured a "month-long ordeal aboard ship", but Red Star's own records show the crossing lasted eleven days. Still, even this shorter time proved too demanding for some; it is reported that several elderly passengers died on the voyage.  The good news was that there was no outbreak of cholera on board the Rhynland.
On 13th September 1893 the Rhynland reached New York and, like millions of other immigrants, the Balines had first to face the health officials and immigration procedures at Ellis Island.  After that it is said they met a relative and began their life in the New World in the teaming tenements and the squalor and deprivation of New York's notorious Lower East Side.
The opening night crowd that left Broadway's Imperial Theatre on 16th May 1946 was thrilled by what it had just heard and seen. Curtain call after curtain call had brought to an end the first night of Annie Get Your Gun. It would run for over eleven hundred performances and it was full of hit tunes, more hits, it is said, than any other musical: 'There's No Business Like Show Business', 'Doin' What Comes Naturally', 'The Girl That I Marry', 'Anything You Can Do I Can Do Better', 'You Can't Get a Man with a Gun'. 'They Say It's Wonderful', 'I Got the Sun in the Mornin''…Annie Get Your Gun would run even longer at London's Coliseum, over thirteen hundred performances, and the Metro-Goldwyn-Mayer Film with Howard Keel and Betty Hutton would prove to be another huge success.
Somewhere in that opening night throng at the Imperial Theatre was a small, neat, dapper and rather private man, slightly uncomfortable at being the centre of so much attention, but by now he was almost getting used to it. After all, he had set the world's feet tapping with 'Alexander's Ragtime Band', his 'Blue Skies' was Al Jolson's big hit of the first talkie, his 'Cheek to Cheek' and 'Top Hat, White Tie and Tails' had Fred Astaire, with and without Ginger Rogers, gliding across the silver screen and his 'It's a Lovely Day To-morrow' had let Vera Lynn raise morale in war-ravaged Britain. Although Russian-born, he had written America's unofficial national anthem, 'God Bless America'.  Although Jewish, he had written two of the great celebrations of Christian festivals, 'White Christmas', the most popular Christmas song of all-time, and 'Easter Parade'. He was the composer of hundreds and hundreds of songs, of hit after hit and a string of musicals.  He was called 'The King of Tin Pan Alley'.  He had, said Jerome Kern, "no place in American music – he is American music".
He was the small, frail boy from Mohilev. He was Steering Class Passenger No. 52 on the Barrow-built SS Rhynland in September 1893.  He was one of the three most famous Jewish migrants to cross the Atlantic with the Red Star Line. The Lower East Side had claimed the lives of his father and one of his sisters, but he had survived. He was no longer Israel Isidore Baline. He was Irving Berlin.
May your days be merry and bright.
Happy Christmas.
Peter Gardner – December, 2016
Acknowledgment
A slightly shorter version of this piece entitled 'Famous faces sail to freedom on town ship' originally appeared in The North-West Evening Mail, January, 2015.
Tags:
Irving Berlin
5 Minutes with…Andrew Marriner (Principal Clarinet LSO)
Tags:
5 Minutes with
|
Andrew Marriner
|
clarinet
|
Clarinet Players
|
Clarinet Questions
|
dawkes music
|
London Symphony Orchestra
|
Reserve Reeds
Tim Ower (Sax) – Life on the road…
Tim is a London based Saxophonist and a graduate of Leeds College of Music, he has gone on to perform and tour across the UK and internationally with a diverse range of award-winning artists and groups spanning a multitude of genres, from working with pop and commercial artists on the stadium circuit and festivals to performing with renowned techno DJ's, Bollywood film composers and touring with original groups playing in rock venues and jazz clubs.
In this blog, Tim tells us a bit about what he's been up to recently, specifically touring with the group WorldService Project, and touches on the ins and outs of traveling and working within the music industry from his perspective…
'Touring with WorldService Project'
This September was the second tour of Asia for WorldService Project. In October 2015 we toured across China for two weeks and this September we toured China and Japan for three weeks to promote our third album, 'For King & Country' out on RareNoise records.  The group formed back in 2009 and in 2010 were awarded the Peter Whittingham Jazz Award which helped us to initiate a collaborative tour with Norwegian band, Synkoke. Since then, we've toured Europe extensively, collaborating with over 10 European bands, performed at a number of major UK, European and International Jazz Festivals, represented the UK at the 12 Points Festival 2012 and toured on the 12 Points Plus 2013 scheme, we were shortlisted for the European Young Artists' Jazz Award at Berghausen Jazz Festival 2014 and had a 6 week tour of the USA.
I can safely say that touring across Asia has been a completely new and humbling experience from any previous tour with the band. The vast majority of cities that we performed in had populations twice the size or more of London, the language is impenetrable, and it's culturally very different from our western comforts.  As ever with this band and the type of music we play (think Zappa crossed with Stravinsky, Meshuggah crossed with Weather Report, there's a challenge), our concerts range from 1,000 plus audiences at festivals to 30 people in small music venues. This brings up a number of difficulties from dealing with entirely different sound environments and stages each night to constantly changing and contrasting backline equipment, sound engineers (we can't afford to take our own yet!) and venue regulations.
The one factor however on both tours of Asia that never seems to vary, is the enthusiasm and dedication of the audience and people involved in helping the tour come together. There is a keenness and interest for new music that I've not seen to the same degree anywhere else before. The openness to something that hasn't been heard yet is quite incredible, whether it's a six year old jumping around in the front row or a sixty year old sitting quietly at the back. We play in a jazz clubs, rock venues and outdoor festivals; the response has always been an extremely positive one, with a wide demographic enjoying the shows.
Touring with WorldService Project over the years has been a huge learning curve and something that is constantly developing on all levels.  Perhaps one of the biggest challenges that we've tried to address and are constantly working on is how to always deliver the same show with the same energy, night after night.  This can be incredibly difficult; the music is powerful, dynamically contrasting and challenging to play, and it takes a lot out of you to perform. It often gets harder to achieve this the longer that we're away for, but we continue to strive to play our hardest and give our best to whoever has given their time to watch and (hopefully) enjoy our music.
We plan to go back to China and Japan for a third tour next year to build on our fanbase and we're constantly grateful for the support from funding bodies such as the Arts Council for England and the British Council.
http://www.rarenoiserecords.com
'On the road'
From a personal point of view, being on the road for extended periods of time can be really hard work for a number of reasons. It's been easy for me to assume that as I'm away and performing almost every day, my playing and practice will take care of its self. It doesn't. I have to make time to do my own practice each day, warm up before the shows and work as hard as ever to still be creative on gigs without losing that element from one gig to the next. This is, for me, the biggest challenge of all. If I can get into a routine of arriving at a venue and finding a quiet place to practice, even if only for 20 minutes, this often does wonders, and helps me to be more creative each night.
As well as the challenges of personal practice and development on the road, I've found it makes a huge difference to have gear that I know will come out of the case, sound exactly how I want it to, and play consistently night after night. I've had my Cannonball Vintage Tenor for over a year now and I can honestly say it does consistently perform, time after time. Part of the reason for moving over from a vintage horn to a new horn was for reliability when I'm away and the low level of maintenance required. I've found that the Cannonball is not just more reliable but is a fantastic sounding horn from top to bottom that plays incredibly easily, has a big powerful tone and allows me to be as free and creative as I like.  Assuming I've warmed up and done some practice beforehand…
Traveling daily (anywhere from a couple of hours to all day), playing very energetic shows and visiting new cities each night, takes its toll very quickly.  I've learnt it's important to try and get rest and adapt to be able to rest up whenever and wherever I can.  I've also found it vital to have a good dynamic with the guys you're touring with.  Although it's possible to have your own space, in my experience, you do only get a couple of hours on your own on certain days so I've found it's really important to enjoy spending time as well as playing music with the guys you're away with.  When you work it out, touring life is usually about 5% of actual playing and 95% of everything else!
'Young professional'
Since graduating from Leeds College of Music 8 years ago, I've been lucky enough to do a really diverse range of gigs and sessions, working with original groups, pop artists, commercial and independent labels, techno and house DJ's, Motown shows to Bollywood film composers. For me, being as adaptable and open as possible to styles of music (and people) is something that I've found invaluable. More than this, it's what I enjoy doing and it's what keeps me striving to develop and create as a musician. I've found that living and playing in London also formed this opinion and outlook; it's been a very long and steady progression to building a full time career in music for me and I've tried to take on and get involved with as much as possible.  I've found it more important than ever to not only be able to play and progress on my instrument, but to develop skills in all other areas to do with composing, writing, arranging, teaching, web design, social media, video editing, recording software, organisation and communication to widen my skills and therefore work load.  Over the years I've managed to obtain a basic working knowledge in all of these areas which I feel has given me the capacity to develop myself as a freelance musician.
***You can find out more about Tim at www.timowermusic.com and keep up with his travels on Instagram and Twitter. Tim endorses D'Addario Woodwinds and Cannonball Saxophones
Tags:
Cannonball Saxophones
|
Life on the Road
|
Musicians
|
Sax Players
|
TIm Ower Saxophone
|
World Service Project
'Big Ben' by Peter Gardner
In January 1967 Ben Webster was playing a short season at Ronnie Scott's Cub in London.  As often happened back then, star soloists who were playing at Ronnie Scott's would play some out of town gigs.  That was how, a few months earlier, I had heard Johnny Griffin in Coventry's Leofric Hotel. Griffin, 'The Little Giant', 'The Fastest Tenor in the West', had left his audience enthralled and somewhat drained by his astonishing speed, unquenchable imagination and stamina. Now I was on my way to hear a completely different kind of tenor player.  On a cold and foggy January evening nearly fifty years ago, I was on my way to the Matrix Hotel in Coventry to hear the man that Ronnie Scott introduced as "A true jazz legend – one of the greatest tenor players jazz has ever known".  As I recall, Ben Webster, broad shouldered and portly, opened with some up medium tempo swingers, like 'In a Mellow Tone' and 'What Am I Here For?'.  There were no words spoken; he just counted in the tempo and played.  Then it happened. Webster, with breath and vibrato, rather than a tone, eased himself into a familiar Irish melody, Stan Tracey felt for some gentle chords, and the room froze. Cigarettes remained unlit. People sat transfixed. At the bar drinkers stood silently with empty glasses, as if to order would ruin the moment.  Ben Webster was playing 'Danny Boy'.  He had cast his spell and no one moved (1).
Benny Green maintained that Webster's tone in his later years "had grown so sumptuous that it seemed almost to possess a tactile quality, duping the listener into thinking he might reach out and run his fingers through its timbre". My own view is that Webster's sound itself stretched out, embraced and caressed you; soft, breathy and enveloping in the lower register, it had cello-like warmth in the higher registers that touched you like a delicate piece of fabric. And Webster's statements, often little more than the bones of a melody, could be gentle to the point of being fragile.  He had reached what Green sees as "that nirvana of the jazz soloist", where, with "a tone so redolent of the jazz spirit, and his sense of time and rhythm …he could create authentic jazz just by playing the tune".
Students of jazz, who are learning about chords, passing chords and substitutions and delving into devilish modes, will find the last statement truly remarkable.  They may even find it paradoxical; for if improvisation lies at the heart of jazz, how can someone create authentic jazz by just playing a melody?  The answer lies in tone, rhythm, time and, though Green omits this special ingredient, a good rhythm section, and Webster deservedly played with some of the finest.
Benjamin Francis Webster was born in Kansas City, Missouri, on 27th March, 1909.  His parents split up before he was born and he was brought up by his great aunt, Agnes Johnson, to whom he would later show great affection and loyalty.  In formal education Webster's grades were impressive, but it was in music that he wanted to make his mark.  Early lessons on the violin ended with a show of temper; he smashed his violin against a piano.  He wanted to be a pianist. However, according to one of Webster's biographers, Jeroen de Valk, his early experiences as a professional musician were far from encouraging; by 1927 the young pianist was working in a poorly paid band, touring "shabby dance halls in a dilapidated bus", often eating chickens stolen from local farms and cooked over open fires by the roadside.
Surprisingly for someone who would become one of the great saxophone stylists, it was 1929 before Webster started to take an interest in the instrument.  About this time he began travelling with Billy Young's band, where he was given lessons on the alto, often by Billy's son, Lester, who would also become one of the foremost tenor voices.  Within a few months, Webster was on the road with another band, and he had switched to tenor. In the early 1930s he began to appear on recordings, but the results were not promising. Jazz authority, Gunther Schuller had this to say about Webster's early efforts: "it is hard to realize – let alone believe – that one of the greatest balladeers in jazz (some would argue, myself included, the greatest) should have started as a buzz-toned, frantic, downright comical, slap-tongue saxophonist."
But Webster persevered and, it seems, listened to Coleman Hawkins' recordings until "One day a guy (probably pianist Clyde Hart) said to me, "Well, Ben, you finally did it…You sound just like the Hawk now." I packed up the record player and took it to Kansas City for my folks.  From then on, I developed on my own."  Possibly because of tales like this, the "conventional theory", as Gene Lees calls it, is that Webster "came out of Coleman Hawkins".  Yet, as Lees insists, Webster's "big sound and slurs and push and bluff determination" meant that musically and otherwise Ben "was another thing entirely". The Webster, who developed on his own, and who played with the Teddy Wilson orchestra in the late 1930s and later, and memorably, with Duke Ellington, had a directness and a physicality that set him apart from Hawkins.  Webster got to the point with relish, never more so than in his famous solo on 'Cotton Tail' with the Ellington orchestra in May, 1940.  The romantic Webster also flourished with Ellington. His second chorus solo on 'All Too Soon' from July, 1940, where we can delight in the rich warmth of his upper register, is a gem of ballad playing (2).
Webster left Ellington in 1943, though he would return for spells thereafter, and he began to appear in small groups in the clubs that helped New York's 52nd Street become known as 'Swing Street' and 'The Street That Never Sleeps', where he would rub shoulders with the likes of Dizzy Gillespie, Billie Holiday, Art Tatum, Roy Eldridge, Charlie Parker…
In the 1950s Webster moved to America's west coast.  There, often under the stewardship of  impresario, Norman Granz, he featured in some memorable recordings, including one of the final albums made by the pianist Count Basie called "the eighth wonder of the world", Art Tatum.  If nature abhors a vacuum, Tatum seemed to abhor silence or space, filling any semblance of a rest with cascading runs or rich new chords the tune's composer never dreamt of.  Just as Tatum was busy, Webster was laid back. But their partnership in September 1956 worked and on such well-worn standards as 'Where or When' and 'All the Things You Are' the contrast of wizardry from the pianist and mellow melodic richness from the tenor player produces a musical treat.  Alas, a little less than two months after recording with Webster, Art Tatum died at his home in Los Angeles.  He was only forty-seven years old.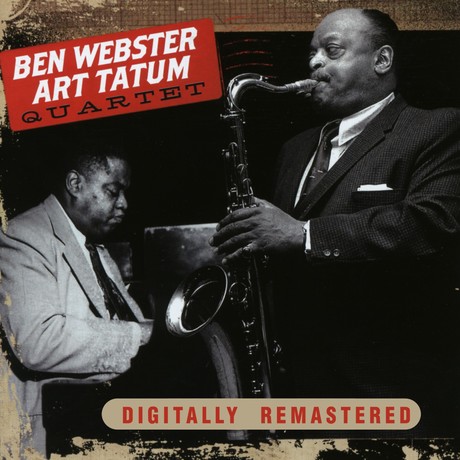 Granz also favoured teaming baritone player, Gerry Mulligan, with different saxophonists.  As a result, Mulligan made memorable albums with Johnny Hodges, with Paul Desmond, and, in late 1959, with Ben Webster.  The original LP 'Gerry Mulligan Meets Ben Webster' has since appeared with extra tracks on CD and with even more extra tracks as a double CD, 'The Complete Gerry Mulligan Meets Ben Webster Sessions'.  All versions, I would contend, live up to Nat Hentoff's prediction in the original LP's liner notes that the Mulligan-Webster session "will be listened to as long as one cares about jazz' (3).
In 1964 Webster was offered his first engagement at Ronnie Scott's and he never went back to America. Instead, he toured Europe, made several trips back to England, and in 1966 he became a tenant in a house in Amsterdam owned by Mrs. Hartlooper, a widow in her seventies. She mothered him as if he were her long lost son, though after a few years, Webster's heavy drinking and long phone calls into the early morning to America became too much even for his adopted mother, and Ben moved to Copenhagen.  He continued to tour and record, but in early September 1973 after a concert in Leiden, Holland, he suffered a stroke.  Ben Webster died a few days later, on 20th September, in Lucas Hospital, Amsterdam.
Although at the time of his death Webster had a Selmer Mark VI tenor saxophone, he also had another tenor sax, his favourite instrument, which he called 'Ol' Bessie' or 'Ol' Betsy'.  This was a Balanced Action Selmer he had bought second-hand in the late 1930s and which he used for most of his life.  While in Lucas Hospital, Webster had requested that, after he had gone, no one should play his favourite tenor.  His Selmer Mark VI eventually went to Dexter Gordon, himself a legendary jazz star. In 1979, unplayed since Webster's death, Ol' Bessie was placed in the jazz museum in the Institute of Jazz Studies at Rutgers University, New Jersey, next to the Conn on which Lester Young, Webster's early teacher, had initiated a new style of tenor playing during his time with Count Basie and on which Lester had accompanied Billie Holiday on many of her finest recordings.
As for other memorials, in 1972 a group of jazz writers and publishers proposed that 52nd Street should have a special pavement, like Hollywood Boulevard, that would have what author Arnold Shaw described as "medallions with the names of the great performers who made it the Jazz Mecca of the world".  'Swing Street' would then have remembered Webster alongside Hawkins, Tatum, Charlie Parker, Billie Holiday and many others.  Alas, the scheme was not pursued.
In Europe, albeit a few years after his death, Webster was accorded a memorial. Jeroen de Valk describes it in these terms: "In Holland, it took years before Ben Webster was awarded a lasting monument. In the eighties, however, a street was named after him in the neighbourhood of Zevenkamp in Rotterdam. The Ben Websterstraat is a short, angular street, with the appropriate cross streets of Fats Wallerstraat and Art Tatumstraat.  The Coleman Hawkinspad and Duke Ellingtonstraat are a short distance away.  Webster would have been delighted with this token of appreciation."
Ben Webster deserves to be remembered in such elevated company.
Peter Gardner
November, 2016
Acknowledgements
This is my seventh piece for Dawkes' Newsletter and I haven't yet thanked the person who first invited me to write for Dawkes, who edits what I produce and finds suitable photos. He is one of Dawkes' woodwind specialists and someone who has helped me greatly, Sam Gregory. I must also thank Steve Marshall for his patience and knowledge.
Endnotes
(1) The CD 'Ben Webster – Stan Tracey, Soho Nights', Vol. 1, Resteamed , RSJ 106, was recorded in Scott's Club about one year after the evening I refer to and it features Webster accompanied by  Stan Tracey playing 'Danny Boy'/'Londonderry Air'.
(2 Both 'Cotton Tail' and 'All Too Soon' can be found on the strongly recommended double CD 'Duke Ellington, Highlights of the Great 1940-1942 Band', Avid  AMSC 1143.
(3)There are other albums from the 1950s and early 60s that could be strongly recommended, several of which are available at present on low priced compilations, such as: 'Ben Webster: Three Classic Albums Plus', Avid Jazz, AMSC 1038, which contains the excellent album 'Soulville'; 'Ben Webster, Seven Classic Albums', Real Gone Jazz, RGJCD 343, which contains 'Soulville' and the wonderful 'Ben Webster Meets Oscar Peterson';  and 'Ben Webster, The Complete Recordings, 1959-1962', Enlightenment, EN4CD 9066, which has 'Ben Webster Meets Oscar Peterson'. The last two compilations also have the tracks from the LP 'Gerry Mulligan Meets Ben Webster'.
Some Sources Used
Jeroen de Valk, Ben Webster: His Life and Music (Berkeley Hills Books, California, 2001).
Benny Green, Notes for 'Art Tatum: The Complete Pablo Group Masterpieces', Pablo, 6PACD-4401-2.
Nat Hentoff, Liner Notes for LP 'Gerry Mulligan Meets Ben Webster' reprinted in Notes for 'Gerry Mulligan Meets Ben Webster', Verve 841 661-2.
Gene Lees, Waiting for Dizzy (Oxford University Press, New York, 1991).
Arnold Shaw, 52nd Street: The Street of Jazz (Da Capo, New York, 1977).
Gunther Schuller, The Swing Era: The Development of Jazz, 1930-1945 (Oxford University Press, New York, 1989).
Tags:
Art Tatum
|
Ben Webster
|
dawkes music
|
Duke Ellington
|
Gerry Mulligan
|
Lester Young
|
Peter Gardner
Benny Carter: 'The King'
           …he is a king, man!  You got Duke Ellington, Count Basie, and my man the Earl
            of Hines, right?  Well, Benny's right up there with all them cats.  Everybody
            that knows who he is call him King!  He is a King!
                                                                                               Louis Armstrong
Generations of jazz fans grew up in the firm belief that the three greatest alto saxophone players were Johnny Hodges, Benny Carter and Charlie Parker.  Of this wondrous trio, only one could claim to be multi-talented; he was Benny Carter. His principal instruments were the alto sax and trumpet, which prompted someone with the pen-name of Snooty McSiegle to wax poetic:
Johnny Hodges
Sounds Gorgeous.
He knows how to jump it.
But Benny Carter is smarter.
He doubles on trumpet.
Carter was also a very fine clarinettist and, in addition, he recorded on tenor and soprano saxophones, on trombone, piano and as a vocalist, and is reported as being able to play every dance band instrument. His recording career spanned over seven decades and his output was phenomenal; one chronological discography is over three hundred and seventy pages long.  Some of his first arrangements were for the influential Fletcher Henderson Orchestra in the 1920s and in the decades that followed, including a spell in the 1930s when he wrote for the BBC's Dance Orchestra, he proved himself to be an arranger that very few could ever hope to equal and arguably his writing for saxophones has never been bettered.  He was also a respected bandleader, who helped further the careers of such modern thinking musicians as Miles Davis, J. J. Johnson and Max Roach, and he was composer, with standards and numerous film and television scores amongst his credits.  His trailblazing work in Hollywood in the 50s and 60s and his work with musicians' unions opened doors, once firmly shut, for Afro-American arrangers and players. Quincy Jones expressed his gratitude this way: "Benny opened the eyes of a lot of producers and studios, so that they could understand that you could go to blacks for other things outside blues and barbecue.  He's a total musician.  He was the pioneer, he was the foundation.  He made it possible for that doubt to be taken away."
And Carter never seemed to slow down.  Writing in 2001 his biographers observed: "Since turning eighty in 1987, he has written and performed six extended works; recorded some sixteen albums… composed dozens of new songs…toured the world many times, including ten trips to Japan and his first visits to Poland and Thailand…garnered seven Grammy nominations and (won) two Grammys…"(Berger, Berger and Patrick, p. 403).  In fact, Carter received many prestigious music awards and numerous honorary degrees, he has a star on the Hollywood Walk of Fame, he was honoured and feted by presidents and taught at Harvard, Princeton and Rutgers.  On the occasion of his eighty-ninth birthday the Wall Street Journal carried an article with the headline: Benny Carter: 70 Years in Jazz (So Far). Oct. 7th is Benny Carter Day in Los Angeles, Oct. 8th is Benny Carter Day in New York City, in San Francisco it's Dec. 5th…
Carter's tone on alto was sweet with a slightly sultry edge, and his solos, invariably rich in decorative detours, were imbued with an elegance that no other alto player has ever approached, and they had structure and completeness; Carter's improvised solos, though effortlessly spontaneous, could never be seen as works in progress.  Little wonder that he was called "the Fred Astaire of the saxophone". Gene Lees had this to say about Carter the altoist: "If you're familiar with his playing, you can identify Benny Carter in about one bar.  Nobody in the world phrases like him, no one inflects notes the way he does, no one has that urbane, gentle, aristocratic tone."
Memorable Carter alto solos are to be found from all stages of his career, but one that I would like to draw particular attention to comes from a famous jam session that impresario Norman Granz organised in the summer of 1952.  As luck would have it, Johnny Hodges, Charlie Parker and Benny Carter were all in Los Angeles at the same time and Granz arranged for the three alto stars to meet up in LA's Radio Recorder studios with a wonderful rhythm section consisting of Oscar Peterson, Barney Kessel, Ray Brown and drummer, J. C. Heard. Tenor players, Ben Webster and Flip Phillips, and trumpeter, Charlie Shavers, were also added to the all-star line up.  On the tantalizingly slow and delightfully simple 'Funky Blues', Hodges takes the first solo and produces, as he frequently did on the blues, a solo of moving simplicity that never sounds in the least contrived. Parker follows with two choruses that mix an earthiness with some of bop's edginess and harmonic innovations.  Next we have Carter.  For someone who came to the fore in the swing era, we would not expect a display of bebop's angularity, and in Carter's two-chorus solo we certainly don't find the rhythmic sparks  that first made Gillespie, Parker and their coterie sound so eccentric in many people's ears. Yet, from a harmonic perspective, Carter's solo shows he has command what bebop brought to the jazz table.  But, because of its effortless construction, his solo's harmonic extravagance hardly draws attention to itself.  The same might be said of Carter's technical mastery.  As Cannonball Adderley observed, "Benny could, and can, play as many notes as anyone, but he makes it look so easy.  Some of the younger players make it look hard and therefore spectacular."
Tracks from the Granz jam session appeared on the CD 'Charlie Parker, Jam Session', Verve 833 564-2, which includes 'Funky Blues'. The tracks from the Verve CD also appear in 'Charlie Parker: Legendary 1952 Jam Session', Definitive Records, DRCD 11254.
Those wanting to develop an appreciation of the first twenty years or so of Carter's career will find the four CD set 'Benny Carter: The Music Master', Proper Box 64, with detailed notes by Joop Visser, well worth searching for.  This particular collection begins with Carter's recordings with The Chocolate Dandies, in New York in 1930, has several recordings made by Carter in England, Holland and France during the 30s and ends with four tracks Carter recorded with the Oscar Peterson trio plus drummer, Buddy Rich, in 1952.  Another useful collection is Quadromania's four CD set, 'Benny Carter: Royal Garden Blues', Membran 222416-444, which devotes most of its first two CDs to Carter's 1930s recordings in Europe, and the whole of its fourth CD is made up of Carter's recordings in the 1950s with Oscar Peterson groups.  Unfortunately neither the Proper nor the Quadromania collection have four wonderful tracks recorded in Paris in April, 1937, by Coleman Hawkins and His All Star Jam Band, a group that, in addition to Hawkins, featured Benny Carter on  alto, trumpet and as arranger, and guitarist, Django Reinhardt.  These particular tracks are most likely to be found on Reinhardt compilations, such as 'Djangology: Django Reinhardt, the gypsy genius', Giants of Jazz CD 53002.  Another attractive Carter compilation, though you may need to shop around to avoid some sellers' high prices, is Membran's double CD 'Jazz Ballads, 14, Benny Carter' 222544-311.  This starts with the Benny Carter Orchestra in New York in 1940 and includes six tracks from the 1954 session where Carter recorded with the legendary pianist, Art Tatum.
Benny Carter has also appeared in some more recent releases. The Avid double CD, 'Benny Carter: Four Classic Albums Plus', AMSC 1048 has many examples of Carter's effortless soloing  and three of the chosen albums, 'Jazz Giant', 'Swingin' in the '20s' and 'Sax ala Carter' allow us to hear Benny in relaxed small-group settings in the company of such illustrious musicians as Ben Webster, Earl Hines and Jimmy Rowles.  Talking of illustrious companions, it would be seriously remiss of me if I did not mention the CD, 'Benny Carter, Further Definitions', Impulse 12292, part of which consists of tracks from a 1961 recording session that featured a similar line-up to the 1937 All Star Jam Band recordings and involves some examples of Carter's wonderful writing for saxophones and some eloquent playing from the likes of Coleman Hawkins, Charlie Rouse, Phil Woods and, of course, Carter himself.
In an article written over thirty years ago, Earl Okin considered Carter's "status as jazz's first great alto voice" and whether he was still one of the greats.  Faced with the fact that Carter was no longer topping jazz polls, Okin argued that such polls tend to favour those who have "attempted to take jazz in new directions", which was never Carter's way.  Carter's versatility was also seen as a weakness;   "The public …seem not to be able to believe that one man can do several things at the same high level".  But despite Carter never being a jazz "revolutionary" and despite his undoubted versatility, Okin pugnaciously concluded: "He is still the finest alto player in the world.  Now does anyone want an argument?"
Irving Mills, when manager of Duke Ellington, is said to have given Benny Carter the title 'King' in the 1930s.  No one familiar with Carter's talents and achievements has ever doubted that such a title was warranted, though some of his many fans may have sought a more elevated accolade for their hero.  After all, as one headline writer put it, Benny's From Heaven.
Benny Carter died on 12th July, 2003, just a few weeks before his ninety-sixth birthday.
Peter Gardner
October, 2016.
Acknowledgement 
I am grateful for the help of David Nathan, Jazz Archivist, National Jazz Archive, Loughton Library, Trapps Hill, Loughton, Essex, IG10 1HD.   
Some sources used
Morroe Berger, Edward Berger & James Patrick, Benny Carter: A Life in American Music, Vols. I and II (Scarecrow Press,  Lanham, Maryland, 2002).
Gene Lees, Waiting for Dizzy (Oxford University Press, New York, 1991).
Earl Okin 'Benny Carter: the cat with nine lives', The Wire, Issue 9, Nov., 1984.
Tags:
Benny Carter
|
Benny Carter Sax
|
Benny Carter Story
|
Benny Carter Trumpet
|
dawkes music
|
Jazz Blog
|
Peter Gardner
Dawkes Music strives to support musicians throughout their journey, and from the very beginning.  A couple of events we were present at in September are perfect examples of how we are always here to help create, support and inspire musicians of all ages.
On Friday 2nd September, Dawkes Music was invited to attend the joint conference for teachers for both Oxfordshire County Music Service and Berkshire Maestros held at the Oxford Music Centre, Headington.  The day consisted of various teacher training sessions inspired to share ideas and techniques in order to support and improve music students across both counties.  With an opening talk from local MP Ed Vaisey on how important it is to keep the Arts active in schools, the Arts Council of England also spoke of the various ways they support with funding and resources.
It is with our thanks to both Music Services for inviting us to be there for the day and we look forward to continuing our help and support to you and all your teachers.
On Saturday 10th September, Dawkes Music attended South Berks Concert Band's very own "Learn to Play Day" held in Mortimer.  It was a delightful day, extremely well organised and by the looks on their faces, enjoyed by everyone!
As part of the "BBC Get Playing this Summer" initiative, South Berks Concert Band, with support from Dawkes Music, welcomed over 50 budding musicians from the local community to the day where everyone was given the opportunity to try lots of different instruments, from drums to glockenspiel, flute to saxophone, and trumpet to euphonium.
Feedback on the day from parents was really encouraging. Comments included:
•"Very good introduction to music for little ones. Nice they had the freedom to "play". Very helpful and nice musicians who took the time to help my daughter play & learn about the different instruments. Thank you"
•"My son loved trying out all the instruments and so did I. All instructors were so engaging and enthusiastic. A big thank you"
As a celebratory year from both Dawkes Music (established 50 years ago) and South Berks Concert Band (established 40 years ago), we all know the importance of inspiring people of all ages to pick up an instrument and learn to play music. The benefits are widely noted to help young people improve their overall studies at school and, playing an instrument reduces the likeliness of Alzheimer's and Dementia in later life.  More importantly, it's fun!
Coming up on Saturday 15th October, you can see South Berks Concert Band perform in St John's Church in Mortimer from 7:30pm.  For more information, and how to book tickets, visit http://www.southberksmusic.org.uk/events.html , email southberksconcertband@yahoo.com or call 07775 988 798.
Tags:
Music Education
The Shy Revolutionary
Join Jazz aficionado Peter Gardner as he takes a look at the glorious Lester Young…
By the autumn of 1936 someone who would become one the most influential and imitated of all jazz musicians had been 'on the road' for most of his twenty seven years, but hadn't yet been heard on record. Lester Willis Young had started out as a boy drummer in his father's band, though in early adolescence he discovered that by the time he had packed up his drums at the end of an evening, the girls had gone.  So, he switched to saxophone.  His inspirations were saxophonists he heard on records, like Frankie Trumbauer, who played a C-melody saxophone, and altoist Jimmy Dorsey, both of whom had light tones far removed from the full-bodied, heavily-tongued tenor sounds that were attracting attention in New York. Having split with his father, Lester played in various bands and had some disappointments along the way.  His big break seemed to have arrived in 1934 when Coleman Hawkins left the acclaimed Fletcher Henderson Orchestra and Lester was brought in as a replacement.  Unfortunately Lester's stay with Henderson was not a happy one. Henderson's musicians, used to Hawkins' full, robust tenor sax sound with its heavy vibrato, made fun of Lester's smoother, dryer tone.  Leora Henderson, Fletcher's wife, got involved as well: "Leora…would wake me early in the morning and play Hawkins's records for me so I could play like he did." After a few painful months with Henderson, Lester quit. "I left and went back to Kansas City.  I had in my mind what I wanted to play, and I was going to play that way". Lester had his own tone, his own lithe style; he wasn't going to follow the trend of most 1930s tenor players and try to copy the Hawk.
Lester's next big chance came when he was playing with Count Basie in Kansas City and the Basie band was 'discovered' by the influential jazz writer, promoter, record producer and one of the heirs to the Vanderbilt family's vast fortune, John Hammond.  (Hammond is also credited with discovering Billie Holiday, Bob Dylan, Aretha Franklin and Bruce Springsteen.) But before Hammond could set up any kind of deal, Basie, with little foresight, had signed a contract that committed him and his band to recording for Decca for the next few years for very little money.
Desperate to get some of the Basie and Lester sound on record before Decca, Hammond arranged to record a small group from the Basie band at the earliest opportunity.  That opportunity arose when the full thirteen-piece Basie orchestra were playing in Chicago in November 1936. To avoid contractual problems the recording group took its name from the trumpeter Carl 'Tatti' Smith, who was in Basie's trumpet section, and Jo Jones, Basie's drummer.  The five-piece group would be called Jones-Smith Incorporated and in addition to Smith and Jones, would involve Basie on piano, Walter Page on bass and Lester on tenor.  In his autobiography Hammond tells how the five musicians together with singer Jimmy Rushing met at ten in the morning on 9th November after appearing all night at Chicago's Grand Terrace ballroom and having had no sleep. The studio they used was just "a small room – about twelve feet by fifteen…too small for a grand piano".  Hammond had one engineer and decided to use just one microphone, though two were available. Even by the standards of the time, as Hammond admitted, "conditions were primitive", but the results were extraordinary.
If the matrix numbers for the Hammond session give us the order of recordings, the quintet began  with 'Shoe Shine Boy' and followed up with two numbers featuring vocalist Rushing, 'Evenin'' and 'Boogie Woogie'.  On what were thought of as the surviving takes of these tunes, Lester solos wonderfully and provides fill-ins and riffs behind both Rushing and Smith, perhaps bringing a slice of Kansas City spontaneity to the occasion.  But the best was still to come.  According to the matrix numbers, the last piece to be recorded was George Gershwin's 'Oh, Lady Be Good'. On what has been thought of as the only surviving take of this tune, Basie, with Page prominent, takes the first chorus before Lester enters for two choruses and delivers one of his greatest solos. Compared to the much-copied heavy Hawkins sound, Lester's tone is compact with little vibrato, and, while, for Hawkins, improvisation involved energetic chordal exploration, Lester's improvisations are said to be based on a concern for melody, which might suggest a lack of adventure. Yet, if Lester is improvising melodically on the master take of 'Oh, Lady Be Good', then his approach to melody is spring-heeled, buoyant and carefree. And he plays with tremendous swing, but with little obvious rhythmic emphasis. This is soloing for fun, free from stress or strain or awkward corners or abrasive edges. Where Hawkins would push, Lester flows. Nowadays when I hear this track I am reminded of Wynton Marsalis' remark: "The most important emotion in jazz is joy". Loren Schoenberg describes this performance as "sheer perfection"; "a work of genius" was Humphrey Lyttelton's honest appraisal. The recording session ended at one o'clock of the afternoon of 10th November and the musicians went to get some sleep. In three hours they had recorded four tunes and Hammond had master takes plus alternative takes of each tune (1).
Lester's recording debut had been a triumph. Unlike many musicians, he had entered a recording studio for the first time with his style already well-formed and, whatever the drawbacks of the venue or the hour, he had played superbly. Because of his ground-breaking role, Coleman Hawkins was often heralded as 'the inventor of the tenor saxophone'. Schoenberg says that in these 1936 recordings from Lester we can hear "the reinvention of the tenor". When discs from the November session were released, they became compulsive listening for the young Charlie Parker in Kansas City and, as part of his woodshedding, he would learn Lester's 'Oh, Lady Be Good' solo note for note.
Having made his first recordings, Lester's career started to pick up pace.  Before the end of 1939 he would have made another thirty-eight or more trips to the recording studios, sometimes as a member of the memorable small groups that accompanied Billie Holiday (2) and, most frequently, as a member of the Count Basie Orchestra.  In addition, he had crossed America with the Basie band, had featured in numerous radio broadcasts from across the country with Basie and had appeared at Carnegie Hall on three occasions, first as a guest star at the famous Benny Goodman Concert in January 1938 and then in John Hammond's Spirituals to Swing Concerts in December 1938 and December 1939. And the pace didn't slacken for most of 1940.
Such exposure began to attract disciples, and not just in Kansas City. In fact, according to one authority, "What eluded Coleman Hawkins despite his life-long heroic strivings, namely, domination of the saxophone world, virtually fell into Lester's lap" (Schuller, 1989, p. 547).  The idea of a person like Lester, who was shy, retiring, gentle, sensitive, soft-spoken and used an almost private language that many couldn't fathom, dominating other musicians surely has to be contradictory.  But, when we consider the evidence, the sheer number of saxophonists who fell under Lester's spell, saxophonists who, in time, would become leading lights in the world of jazz, we will also realise that dominance doesn't have to come through force.  Amongst the legions of tenor players who would be indebted to Lester's revolution we could list Al Cohn, Allen Eager, Stan Getz, Jimmy Giuffre, Warne Marsh, Brew Moore, Zoot Sims and Herbie Steward. (These white musicians were referred to by Lester as "the grey boys").  Other tenor players who were strongly influenced by Lester were Dexter Gordon, Wardell Gray, Illinois Jacquet, Hank Mobley, Paul Quinichette, Frank Wess and, in this country, Ronnie Scott.  Two alto saxophonists strongly indebted to Lester were Charlie Parker, whose impact on jazz would be seismic, and Lee Konitz, and amongst the baritones, Serge Chaloff.
For reasons that are still not entirely clear, Lester left Basie at the end of 1940, though he would return late in 1943. In 1944 he was drafted into the US Army and spent most of his military service in detention barracks in Georgia. During the 1940s, for which his military experience might provide some explanation, Lester's style changed. His light tone became thicker and darker, and joy frequently gave way to melancholy.  Lester carried on playing until shortly before his death, aged forty-nine, in March 1959.  To this day critics continue to argue about how his later recordings (3) compare with those he made when he burst onto the scene with Basie and Billie Holiday.  That was when, as Billie herself recalled, "I started calling him the President. It got shortened to Prez, but it still means what it was meant to mean – the top man in this country". For a few glorious years he was the top man anywhere.
Peter Gardner
September, 2016
Acknowledgements
I am most grateful for the knowledge and encouragement of Ted Jenkins and Richard Temple.
Notes
(1) All four master takes from the Hammond session of 9th November, 1936, plus an alternate take of 'Shoe Shine Boy' are available on 'Classic Columbia, Okeh and Vocalion Lester Young with Count Basie (1936-1940)', Mosaic MD 4-239.  Writing in 1990 Frank Buchmann-Muller said the that the three other alternate takes had been lost, but Mosaic's recent 8 CD set 'Classic 1936-1947 Count Basie and Lester Young Studio Sessions', Mosaic MD 8-263, includes the 'lost' alternate takes of 'Evenin'', 'Boogie Woogie' and 'Oh, Lady Be Good'. The master takes of 'Shoe Shine Boy' and 'Oh, Lady Be Good' are available on 'The Lester Young Story', 4 CD, Properbox 8.  Secondhand copies of this collection can still be found for reasonable prices. 'Shoe Shine Boy' and 'Oh, Lady Be Good' can also be found on 'Lester Young/Basie Days', Saga Jazz 07, and you may find some of the Hammond sides in other Lester Young collections. You may also find that the date for the Hammond session is wrongly given in some collections as 9th October, 1936.
(2) 'Billie Holiday and Lester Young, Complete Studio Recordings', Essential Jazz Classics, EJC 55683 is a highly recommended 3 CD set.
(3) Two later albums that are well thought of are 'Lester Young with the Oscar Peterson Trio' from 1952 and 'Jazz Giants '56' with Roy Eldridge and Teddy Wilson. Both albums are to be found on the competitively priced 'Lester Young; Seven Classic Albums', Real Gone Jazz, RGJCD 473.
Some sources used
Buchmann-Moller, Frank (1990) You Got To Be Original Man! The Music of Lester Young (Greenwood Press, New York).
Hammond, John with Townsend, Irving (1977) John Hammond on Record (Penguin, Harmondsworth).
Hentoff, Nat (1958) 'Lester Young' in N. Shapiro and N. Hentoff, eds., The Jazz Makers (Peter Davies, London).
Schoenberg, Loren (2008) Notes for 'Classic Columbia, Okeh and Vocalion Lester Young with Count Basie (1936-1940)', Mosaic MD 4- 239.
Schuller, Gunther (1989) The Swing Era (Oxford University Press, New York).
Tags:
Count Basie and Lester Young
|
dawkes music
|
Jazz Tenor Sax
|
Lester Young
|
Peter Gardner
Flute Masterclass – 6th October, 2016
Together with Pearl Flutes we're delighted to be supporting a Flute Masterclass with top European flautist Krzysztof Kaczka in Oxfordshire on October 6th…
Details:
Where: Oxfordshire County Music Service, Centre for Music, Bayswater Road, Oxford, OX3 9FF
When: Thursday October 6th (5pm – 7pm)
Suitable For: Any advancing flautist from Grades 2/3 onwards
Cost: FREE (Parents & Pupils all welcome)
Booking: Direct through OCMS: (Tel) 01865 816 999 (Email) paul.bruce@oxfordshire.gov.uk
More Info: If you'd like any more info please contact events@dawkes.co.uk or call us on 01628 630 800 (Contact Name: Karen or Linda)
Krzysztof is an experienced professional flautist having performed in numerous music festivals and professional orchestras. He has performed in Europe, Asia, Australia and even the world famous Carnegie Hall in New York, USA. As principal flautist of the Guangzhou Symphony Orchestra he as performed with classical greats such as; Maxim Vengerov, Long Yu, Yo Yo Ma, Lang Lang and many more.
This is a great opportunity to learn from this amazing flautist and should be great fun with other like minded flautists.
Tags:
dawkes music
|
Flute Masterclass
|
flutes
|
Krzysztof Kaczka
|
Oxfordshire County Music Service
'Bagpipe Lung' – Cleaning Care Advice & Gear for Wind Instruments
Many of you will have seen the recent article and report warning players of so-called 'bagpipe lung' infections. So, what's the truth behind the situation and what can you do to ensure you keep your instrument clean and safe…
The BBC article stated "Trumpeters, saxophonists and pipers beware – playing a wind instrument could damage your lungs, UK doctors warn in the journal Thorax." Now, I'm no journalist but I'm pretty sure that using the phrase 'playing a wind instrument could damage your lungs' is a pretty sloppy and shamelessly 'attention grabbing' way to start the article off. Let's be clear there is no inherent danger in playing a wind instrument at all, the danger is actually in not cleaning your wind instrument correctly, or at all! In the same way not cleaning your kitchen, bathroom, or even your hands presents certain dangers from infections and bugs.
The short and tall of it is that leaving any wind instrument without regular cleaning is (perhaps rather obviously) a bad idea. However how seriously do people really take this? Did you know quite the extent of the damage that could be done? The moisture that gets trapped in the instrument or mouthpiece can be a breeding ground for bugs and microbes of all kinds and so we would urge you all to take care, and regularly clean your instruments out!
Top 5 Cleaning Tips for Woodwind Instruments:
Dry and clean out your instrument each day by using a pull through or swab. Various materials are available including cotton, silk and chamois. We find the chamois offer the best moisture clearing.
Wash the swab you are using to clean your instrument! There's no point dragging a dirty swab through your instrument and re-applying the bugs.
Use a sterilising spray like Sterisol on a regular basis to kill germs and neutralise odours.
Don't forget to clean your mouthpiece as well. A daily swab can be used and also kitchen cleaning paper can be useful. For plastic mouthpieces you can run them in warm water (being careful to keep the cork area covered), BUT if you have an ebonite (hard rubber) mouthpiece don't use hot water, lukewarm is acceptable if used sparingly. The hot water can trigger a reaction in the rubber which will make it discolour, smell and taste bad, and can make it dangerous to use because of the sulphur reaction internally.
Try and leave the case open to 'air' the instrument and the case internal material. Drying and cleaning your instrument (and swab) and then letting them 'air' is a good way to ensure it's thoroughly dry.
Useful Links:
Clarinet Cleaning & Care Advice

Top 5 Cleaning Tips for Brass Instruments:
Clean your mouthpiece regularly with cold soapy water and/or use a sterilising spray to help kill bugs and neutralise odours.
Wash out your instrument with lukewarm soapy water. There are specific instrument soaps available, and it's best to do this in the bath or shower…just be careful to keep hold of any small items and parts before washing, and remove any valves before washing, i.e. don't let them near the water!
Use flexible brushes to scrub through the inner tubing of your brass instrument. Many of these tubes are 'hard to reach' and just the flushing through of water will not be enough to remove any detritus and/or bugs.
Consider using 'Spitballs', these are another good way to get to the hard to reach tubing of your instrument.
Allow the instrument time to dry by leaving it and the case open in a safe place. This way you can be sure it is thoroughly dried out, you don't want to put it in a closed case still wet.
Useful Links:
Piston Brass Cleaning & Care Advice
Trombone Cleaning & Care Advice
French Horn Cleaning & Care Advice

Tags:
Bagpipe Lung Article
|
Cleaning a Clarinet
|
Cleaning a Flute
|
Cleaning a Sax
|
Cleaning a Trombone
|
Cleaning a Trumpet
|
Cleaning Care Advice
|
dawkes music
|
Maintenance