Reed Dr – Event (Sat 13th May, 2017)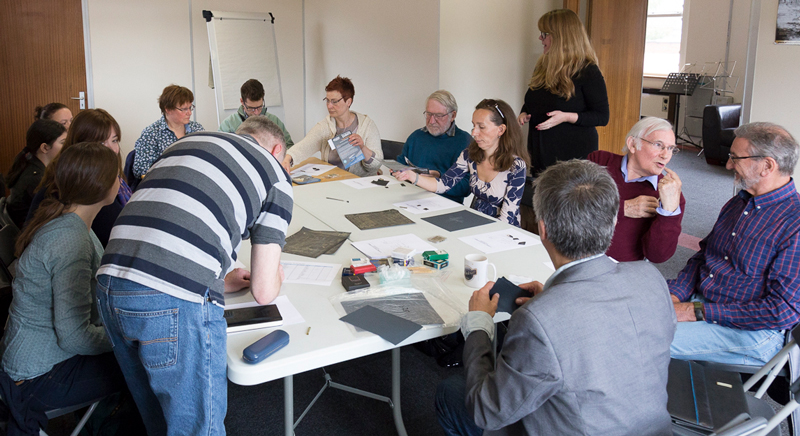 We were delighted to welcome Anthony Pike to the shop on Saturday to host our 'Reed Dr' event. Anthony is a long established professional player who has taken a hands on approach to adjusting and maximising each reed he uses. We held two sessions due to the demand and both were informative and engaging for all involved.
We had a mix of players and experience with one or two youngsters all the way up to very experienced professional jazz saxophonists. It was great to get 'hands on' in these sessions and hopefully everyone took away a good number of practical tips so they can feel more confident adjusting their own reeds. Anthony discussed the design structure of reeds and also highlighted the fact that in the early stages logical experimentation is required but certain rules generally apply.
It was fantastic to see some attendees have that "eureka" moment as they made small adjustments and play tested it to find it had improved their sound!
Thanks once again to Anthony for coming along and of course all the attendees for signing up.
Useful Gear
Reeds Reeds Reeds Book (£4.95) – A very useful and neat little book outlining some practical ways to modifying and adjusting your own reeds
Reed Rush (£6.30) – This can be used to carefully adjust the reed surface
Vandoren Reed Resurfacing Kit (£60.20) – The reed resurfacer features a washable tempered glass and etched surface that is nearly impossible to wear out. Designed to help players precisely customise and personalise their reeds.
Vandoren Reed Adjusting Stick (£23.85) – The stick is one part of the full kit above, can be used separately with an alternative flat surface
Reed Cutter (£40.75) – The Cordier reed cutter allows for precise trimming of the reed tip
Gallery
Tags:
Clarinet Reeds
|
Reed Adjusting
|
Reed Dr Event
NEW! Select Jazz Tenor Sax Mouthpiece…
The new 'Select Jazz' Tenor Sax mouthpiece from D'Addario has just recently been released, it's priced at just £155 (May 2017), is immaculately made and blows the house down, but is that enough? Shouldn't it be more expensive? Why isn't it hand finished on the eleventh moon of the solstice? You get the idea, it's from a big multinational company, how can it possibly have the nuances we all desire? Well, read on to find out why we don't give a monkeys about any of the above – blowing is believing and this thing rocks!
We get the thoughts of Sam from our Woodwind Dept after he catches up with Kevin Garren (Designer in Chief) about this new model, plus Nick from our Sax Dept gives the mouthpiece a road test on the video below…
Our Thoughts:
We mention in the video this is "modelled off the old Links" and we say that because it references some of the hallmarks of those designs, BUT we really want to get across to you that this is not a Link copy, it may borrow some elements but this mouthpiece has far more to offer than a normal Link, and as Nick alluded to in the video we mean this primarily in terms of projection and flexibility. In my chat with Kevin Garren (below) it was interesting to hear some of the motivations behind the design of this mouthpiece, and it coming from the actual demands of the players, not from the perceived demands.
Some players can't connect with fully CNC made mouthpieces, they feel the romance of 'hand-crafting' is missing and claim that can be felt in the mouthpiece. Personally I absolutely value consistency, it should help remove some of the worries about testing multiple mouthpieces of the same type, looking for 'the one'. I've got to say, forget that, life is far too short and I'd rather spend my time playing than obsessing.
We could argue this is (a) too cheap (b) too consistent and (c) too good to be priced where it is, but that's the price so we shouldn't complain! (£155 at time of print). This mouthpiece has genuinely captivated us. It's not £500 – because it doesn't need to be, it's not hand finished (with varying degrees of success) – because it doesn't need to be. It isn't named after a Hindu God, a Pro Playing Star, a holy river etc – because it doesn't need to be. It does what it needs, and it does it far better than anything else under £200, in fact it does it far better than pretty much anything else on our shelves…

Is this mouthpiece for you?
Do you like mouthpieces that are easy to play? Reed friendly? Well priced? Lively and responsive? Even across the whole register? Ok, I know that sounds too good to be true, it won't make up for hours of practice or be to everyones personal taste but this is truly a fantastic addition to the Tenor Sax mouthpiece options. If you had set aside upto £200 to upgrade your mouthpiece, I can't for any worldly reason understand how someone could prefer a Link or Meyer out of the box – because this has all they can offer and tonnes more. In fact, compared to some pieces twice the price this more than stands up.
So, if you're playing Jazz, Big Band, Funk, Blues etc – basically pretty much everything except high volume Rock n' Roll or straight up Classical – then this mouthpiece is worthy of your attention.
Suggested Combos:
Want to try one on 14 day approval for yourself or a pupil? We can send you one out so you can put it up against your mouthpiece and test it out, if you don't get on with it just simply return it to us for a refund (minus £3 cleaning & re-stocking fee).
If you're a more experienced player you will know what tip opening you generally prefer, if you're thinking of this as a first upgrade we'd suggest the D6M or D7M, feel free to contact us for a personal recommendation based on your circumstances – we love helping people get the right combo. Just click the banner below to try one out.
D6M (.100″ tip) : Try it with a Jazz Select Unfiled 3S/3M (click here) or a Vandoren V16 #3 (click here)
D7M (.105″ tip): Try it with a Jazz Select Unfiled 2H/3S (click here) or a Vandoren V16#2.5 (click here)
D8M (.110″ tip) : Try it with a Jazz Select Unfiled 2M/2H (click here) or a Vandoren V16 #2 or #2.5 (click here)
D9M (.115″ tip) : Try it with a hernia belt in place – honestly no one needs to be playing a 9, we're not kidding, it's not big or clever!

Full Interview with Sam & Kevin Garren (Chief Designer)
Q: Tell us about your involvement in the Select Jazz Tenor Mouthpiece research and design process?
For this project, I collected vast market research, led the engineering and machining team through the design, managed the budget and timeline to launch, and worked alongside our project lead artist Jeff Coffin to evaluate the prototypes and make suggestions for modifications. I also recruited and coordinated the artist test panel and conducted market evaluations. Once we had the confidence to launch, I supervised the production of the first few thousand mouthpieces, auditing the inspection process by measuring, visually inspecting, and play testing all the mouthpieces. That last step helped our engineering team to set our tolerances for the product and calibrate our inspection equipment to catch any defects caused during the production.
Q: With a plethora of options on the market already, what were you striving to achieve to set this mouthpiece apart?
I surveyed several hundred saxophonists around the world to gain insight into the type of product that the market wanted. We sought to find market problems, and create a solution for the players' needs. The market intel told us that they didn't want another Link copy, they wanted something that had greater versatility, higher quality and consistency, and a price point that is accessible. The information gathered also directed the individual design features, from facing to tip opening, baffle & chamber style, tip rail, etc. We set out to achieve not what we thought we should make, but what the market thought we should make.
Q: Can you expand on why the particular hard rubber you use for production was chosen? 
The formulation that we used for tenor matches that of our professional alto and clarinet models, and was selected by an expert panel of professional musicians based on its performance attributes and quality. We tested numerous formulations from several suppliers in blind studies, and the formulation that we used scored highest not only in manufacturing quality, but most importantly, in playability.
Q: Can you explain the benefits to the player of the chosen production method with computer controlled machinery compared to a traditional process?
The largest benefit to the players is consistency; there is much less variation in our process than in a traditional injection molding/hand-finishing process. Our CNC process is designed to keep extremely tight tolerances, and our computerized inspection also insures the highest form of quality, inspecting to the same degree as high-precision aerospace or medical device tolerances. This is not to say that hand-finishing is necessarily always a bad thing…there are several boutique artisans that make beautiful hand-finished mouthpieces, but their volumes are much lower, and price points are usually at least double that of D'Addario's mouthpieces.
As for the high volume manufacturers, the hand finishing is done to clean up flaws left by their process, and is performed with high variation from one worker to the next. The variation is notoriously found when players are trying to find a mouthpiece, and have to try several of the same model before they find one that performs well. Our process insures a high level of consistency and quality, with the added benefit that if a player loses or damages their D'Addario mouthpiece, they can rest assured knowing that they can readily find another D'Addario mouthpiece that plays similarly to the one that they loved.
Q: What were the main points of reference for the facing length and style of curve?
The D7M was the first model that we made, and it was originally based on the curve on Jeff Coffin's mouthpiece. The original facing had a length of 25mm, but it ended at 24mm once we balanced the radius to eliminate some discontinuities. It ended up being a great balance between the facing curve and the profile of our Select Jazz reeds, resulting facing resulted in excellent performance. The remaining facings were slightly modified to balance the various tip openings that we wanted to make available, and then tested by our artists to confirm performance.
Q: What are your thoughts about how the mouthpiece plays across a variety of genres?
My career as a studio musician demanded that I be as versatile as possible. As a result, I've collected numerous mouthpieces over the years to help me achieve a certain sound that my employers were looking for. With the Select Jazz mouthpiece, I can do just about anything (Aside from intense classical playing…the Reserve line of sax mouthpieces is coming soon to address that!). It is tremendously exciting to be playing on ONE MOUTHPIECE! I really like the balance of bright and dark, and the ability to project is outstanding. I like to use the full range of the instrument when improvising, and the response and balance of all registers, from low Bb all the way to the top altissimo notes, allows for great ease and freedom when soloing.
Q: Why should players who already have a good quality HR mouthpiece try out this Select Jazz? 
I think that whatever a player can do to make life easier when playing will be of great benefit. The combination of the excellent performance and reed friendliness of these mouthpieces make them very exciting to check out. I used to play a very valuable vintage mouthpiece, which was a gift from a legendary studio musician. That was a great mouthpiece, but the Select Jazz just has higher performance and flexibility comparatively. This allows me to keep my vintage piece locked away as a memento, and the Select Jazz mouthpiece has a permanent home on my tenor now.

Tags:
D'Addario Select Jazz
|
D'Addario Woodwinds
|
New Saxophone Mouthpiece
|
Select Jazz Tenor Mouthpiece
|
Tenor Sax Mouthpiece
Learn To Play Day – Success Story #3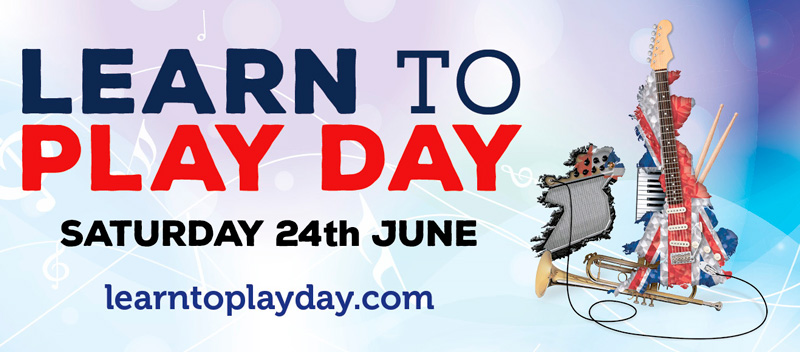 In preparation for this years national 'Learn To Play Day' we are chatting with some new players who started their musical journeys at a previous Learn To Play event. Whatever your age, there's nothing to stop you picking up an instrument and achieving your musical dreams! Over to you Joshua…
Joshua – Saxophone
When I was eight years old I wanted to play a musical instrument and I was very keen on the Saxophone. My Dad filled in the forms for me to have lessons at school however we received a note from the music teacher at school saying that I might be too small to play. The teacher suggested going to a music shop to try out some instruments to see if I was big enough. I visited Dawkes 'Learn to Play Day', trying out the Saxophone, Flute and Clarinet. The Saxophone was my favourite!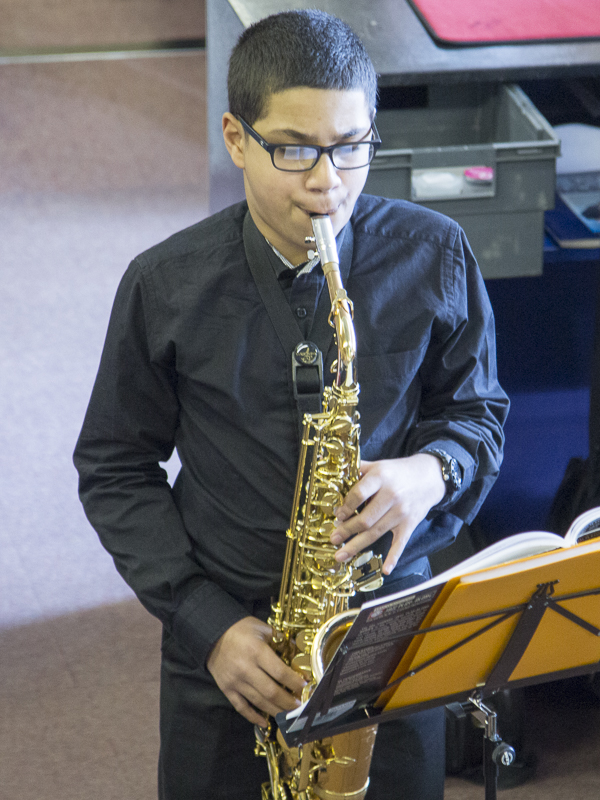 Jon at Dawkes helped me choose my first Alto Saxophone which was a Yamaha 280. I have been playing for about 3 ½ years now and worked very hard with my practising. I have passed my Grade 3, Grade 5 and Grade 6 ABRSM exams all with distinction. I also passed my Grade 5 ABRSM theory exam with a distinction at age 11. I am currently working on my Grade 8 ABRSM and will be taking the exam in the summer of 2016. I am also looking to audition for the Royal College of Music Junior Department.
I currently play in a number of different bands. At the High Wycombe Music Centre I play in the Senior Concert Band, Sax Choir and Big Band One. I am the youngest member of all three bands. At school I play in the First Wind Band and Swing Band. Jon at Dawkes helped me to upgrade my first Alto Saxophone from the Yamaha 280 and I now play a Yanagisawa AWO20. In addition, I play Tenor Sax in some of the bands and again Jon helped me choose which was the best instrument for me. I have a Yamaha YTS62 Tenor Saxophone.
I have played for the Woman's Institute (WI), Rotary club, taken part in the Wycombe Orpheus competition as well as playing at the Albert Hall with the High Wycombe Music Centre. The highlight of playing the Saxophone was performing at Ronnie Scotts Jazz Club which was amazing! I can't wait to get a chance to go back again!
Joshua – Aged 13

Tags:
Joshua - Sax
|
Learn The Sax
|
LTPD
|
LTPD Success #3
|
Play The Sax
Learn To Play Day – Success Story #2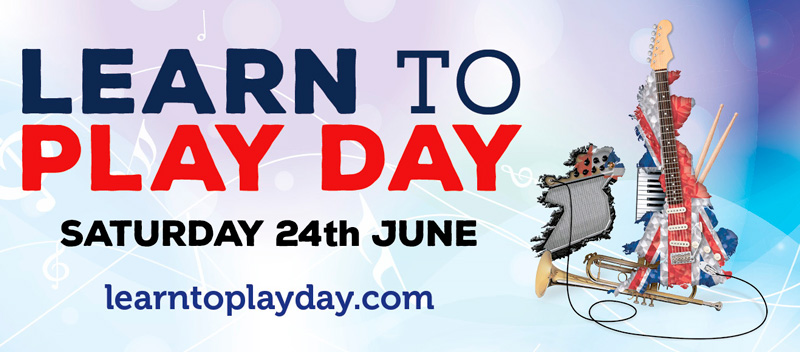 In preparation for this years national 'Learn To Play Day' we are chatting with some new players who started their musical journeys at a previous Learn To Play event. Whatever your age, there's nothing to stop you picking up an instrument and achieving your musical dreams! Over to you Jinny…
Jinny – Clarinet
I saw an advertisement in the local paper in March 2012 inviting adults and children to take advantage of The National Learn to Play Day which was being supported by my local Woodwind Shop, Dawkes Music of Maidenhead.
I decided it was an opportunity (not to be missed) to try playing a clarinet, how would it feel? Will I manage to get a note out of it?
I went along quite early on the Learn To Play Day; everyone in Dawkes Music was welcoming and the atmosphere was friendly and encouraging.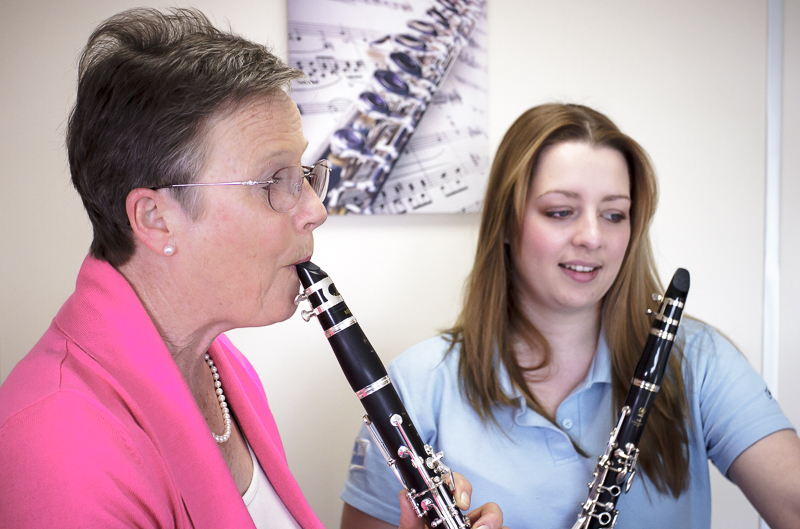 I had a 20 minute session (with the clarinet set up for me) with one of the staff and I'm still playing the clarinet 4 years later. Having achieved a few notes during the Learn to Play Day session I was completely hooked! With a hired clarinet from Dawkes (not expensive) I started weekly lessons in the April of 2012, joined the Dawkes/MyMusic monthly Sunday play group/band in the autumn and joined Windsor Community Orchestra in January 2013.
I am now working towards my Grade 5, which I plan to take in the Summer this year. It's been great meeting other people who are enthusiastic about playing their favourite instrument, saxophones, oboes, flutes; well good for them but the one for me is definitely the clarinet!

Tags:
clarinet
|
Jinny - Clarinet
|
LTPD
|
LTPD Success #2
|
Play The Clarinet
Learn To Play Day – Success Story #1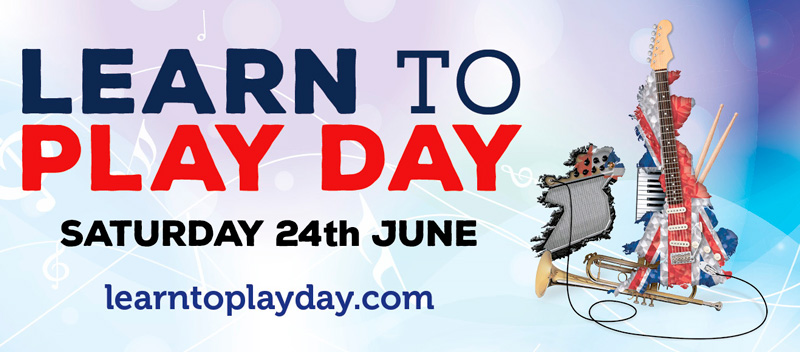 In preparation for this years national 'Learn To Play Day' we are chatting with some new players who started their musical journeys at a previous Learn To Play event. Whatever your age, there's nothing to stop you picking up an instrument and achieving your musical dreams! Over to you Heather…
Heather – Saxophone
Following a chance conversation with a fellow participant on a pottery course,  where I related that I had always wanted to learn the saxophone, I discovered that  it was now quite affordable to hire a musical instrument on a monthly basis.
Armed with this nugget of information I started trawling the  web in early 2016 for information to realise my  re-awakened dream.   However  it was not until I found the 'Learn to play day' link on Dawkes website for March 2016 that I had the courage to visit a music shop  with a view to trying out an instrument."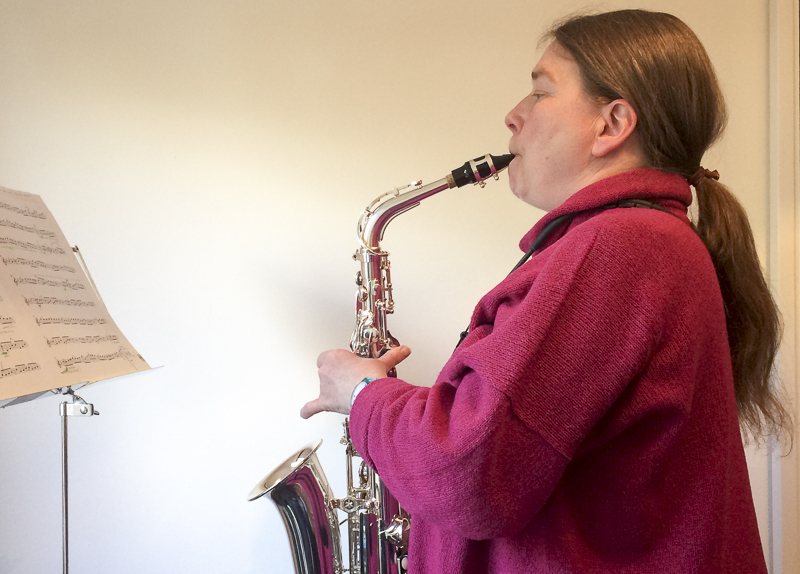 I booked myself in for two sessions; one for the clarinet and one for saxophone mainly on the grounds that the former was smaller and possibly less likely to annoy the neighbours if I did take it up. When the day came any fears I had were rapidly dispelled as each group was small (about 5-7 people as I recall),  most of the participants were adults and it felt very relaxed as the tutor showed us how to prepare a reed and to handle the instrument.  Almost before we knew it we were attempting the simple tunes of 'Hot Cross Buns' and 'Three Blind Mice'.
I tried the clarinet first and then the saxophone session. I found the notes slightly easier to produce on the saxophone and the note fingering is at first similar to a descant recorder, reviving some memory from the only instrument I had played as a child.
After the sessions we were free to browse and try the instruments in the showroom. I initially planned on hiring an instrument – but ended up spending the whole afternoon in the shop and became smitten with a silver plated alto sax that I finally purchased in the closing minutes of the day.
I was lucky enough to find a teacher  (through Dawkes) living not far from my home and have been taking weekly lessons  ever since.  After about 3-4 months I could play just about enough to join in the monthly  'My Music' session at Dawkes and even played with them for some pieces in the Henley Bandstand in the Summer. I (and my teacher) have worked 'our' way through most of one learner book and as well as some additional short pieces such as some James Rae short jazz  works. I am now beginning to attempt some longer pieces. Among the current ones I have one piece that everyone knows on my practice list –  "The Girl from Ipanema". It is still an early work in progress, but I am further  on than I might have thought  when first playing 'Hot Cross Buns in March 2016.

Tags:
Heather Sax
|
LTPD
|
LTPD Success #1
Benny's Tales
Join Jazz aficionado Peter Gardner as he explores the great Benny Goodman… 
It has become part of jazz folklore that once upon a time in a Chicago slum, shortly after the end of the First World War, a desperately poor Jewish father, who had emigrated to America from Eastern Europe, decided that some of his children might benefit from learning to play musical instruments.  On hearing that a nearby synagogue ran a band for boys, the father took three of his twelve children to meet the synagogue's band master.  The three boys were duly matched by age and physique to musical instruments: the largest of the three, Harry, was provided with a tuba; the next was given a trumpet; the smallest, Benjamin David, who was about ten years old, was given a clarinet. Within the space of just a few years, Benjamin, still in short pants, was astonishing the musicians who heard him with his tone, his technique and his ability to improvise chorus after chorus even on tunes thought of as having difficult changes.  By the age of fourteen Benny Goodman was a professional musician playing in and around Chicago.
Another piece of jazz folklore is that in the summer of 1935, Benny Goodman began a tour that would take him and his band from New York to America's West Coast.  The tour turned out to be a disaster with the band playing to unresponsive, even hostile, dancers in ballroom after ballroom as it made its way to California, and there were times Benny thought of jacking the whole thing in.  The problem was that the band had been broadcasting late at night from New York, playing hot driving music, spurred on by the flamboyant and crowd-pleasing drummer, Gene Krupa, and the same music was not going down well with those who wanted a mixture of quick steps, waltzes and the occasional polka.
When the band opened up at California's Palomar ballroom on 21st August, it began with the sweet music that had at least kept audiences peaceful in other venues, but after about an hour Benny decided that if he was going to go down, he would go down fighting.  So, the band began playing its hot arrangements. The result was that the dancers surged round the bandstand, roared their approval of each new number and cheered every hot solo. The Swing Era was born right there and then in that ballroom on that night.  Goodman's stay at the Palomar was extended through September until October and the tour back across America was a resounding success as he and his band broke box office records wherever they appeared. The press would crown Goodman 'The King of Swing', king of an era that would last another eleven years or so.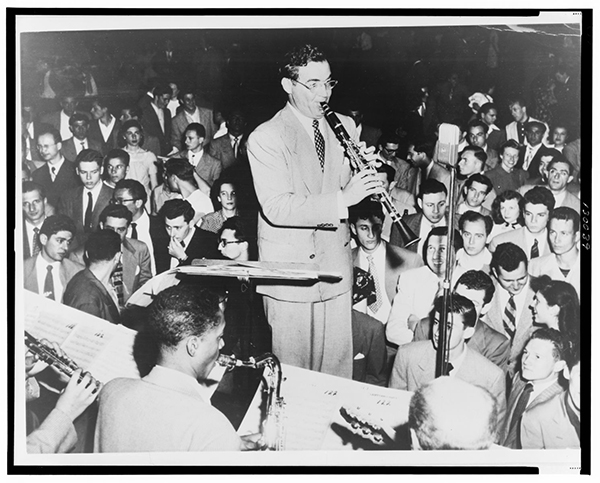 Our third tale involves someone who learnt to play the drums and, then, the xylophone in a band organised by the Chicago Defender newspaper mainly for its paperboys, but who would later move to Los Angeles. He would eventually become one of the jazz world's great showmen. In the summer of 1936, when Goodman and his orchestra had returned in triumph to America's West Coast, in addition to his star-studied orchestra, a Goodman evening would also feature the Benny Goodman Trio (1). The trio consisted of Goodman, clarinet, Krupa, drums, and on piano a young African American, who as a youngster had studied with Art Tatum and had honed his skills in the bands of Louis Armstrong and Benny Carter.  He was Teddy Wilson.  The trio had first recorded in July 1935 and, through its best selling records, public appearances and radio broadcasts, would become one of the most famous trios in the history of jazz. While on the West Coast someone told Goodman that a musician at Los Angeles' Paradise Club would be worth checking out.  Benny decided to pay the club a visit and took his clarinet along.
Some accounts say that the Paradise's principal musical attraction was also a waiter, a bartender and, probably, a bottle-washer.  But, whatever his other duties, Lionel Hampton had switched from the xylophone and had become a marvellous soloist on what at the time was something of a novelty instrument in the jazz world, the vibraphone.  Goodman, who was thrilled by Hampton's playing, spent the early hours of 20th August 1936 jamming with Hampton, returning later that evening with his trio and the four musicians jammed through the early hours of 21st August. Not content with that, the four met up in a Hollywood studio later in the morning to record a sumptuous version of 'Moonglow'.  The Benny Goodman Quartet was born.  At Goodman's famous Carnegie Hall appearance in January 1938 the Quartet's version of 'I Got Rhythm', with Krupa and Hampton show-stoppingly prominent, brought the first half of the concert to a feverish close (2).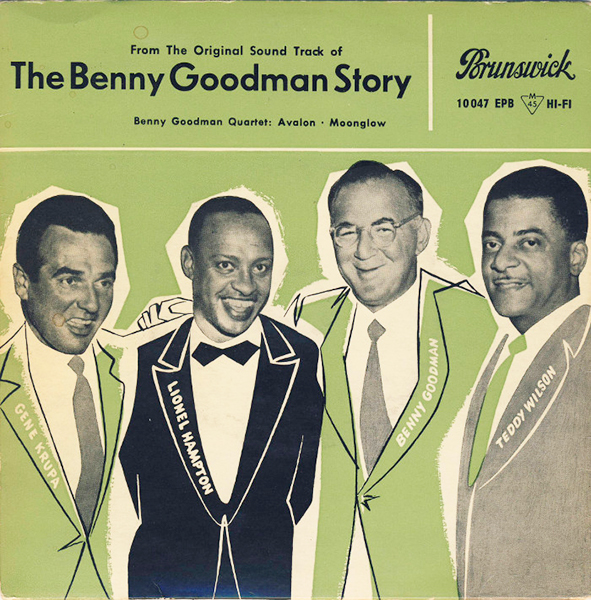 Our fourth piece of jazz folklore comes from 1939 and concerns a young man with extraordinary talent and vision, and a tragically short life.  Pianist and arranger, Mary Lou Williams, had been singing the praises of a young man in Oklahoma City, Charlie Christian, who was doing wonderful things on the new-fangled electric guitar.  John Hammond, a well-connected record producer, jazz columnist and talent-spotter, went to hear the young guitarist and brought him to Los Angeles to play with Goodman.  Goodman initially showed no interest in the garishly dressed youngster, but Hammond, undaunted, took Christian to the Beverley Hills venue where Goodman was appearing.  During an interval he led the guitarist onto the stage and made sure that Christian was plugged in and ready to play when Benny returned.  On spotting the youthful interloper, Goodman called for 'Rose Room', a tune that had been composed over twenty years earlier, and which, being an old song, he hoped wouldn't be one the young guitarist knew. However, Christian quickly joined in and jammed with Benny on 'Rose Room' for forty-five minutes.
For the next few short years Goodman's small groups would usually feature America's first master of the electric guitar. Before the end of 1939 Charlie Christian would have appeared with Goodman's sextet at the Hollywood Bowl, on record, on several radio broadcasts and twice at Carnegie Hall, first in October for a concert for the American Society of Composers, Authors and Publishers and then in  December for the second of John Hammond's 'From Spirituals to Swing' concerts.  Alas, while Christian's career flourished his health deteriorated.  He died of tuberculosis in March 1942, a few months short of his twenty-sixth birthday. Christian's solo explorations and compositions were not just warmly received by Goodman; they were already paving the way for the music that Charlie Parker, Dizzy Gillespie and Bud Powell would later perform with revolutionary zeal.  Christian was welcomed at Minton's Playhouse, where the boppers were cutting their teeth, not because he played with the most famous bandleader in the country, but because he was in tune with the new developments in jazz.
Of course, even if jazz folklore and historical truth have a nodding acquaintance, they have never been formally introduced.  So, tales of how Benny got started, how he had his big breakthrough at the Palomar, how he met and jammed till dawn with the waiter, bartender and vibes player, Lionel Hampton, and how he tried to give the brush off to a brilliant guitarist in outlandish clothes, who would play an important role in the development of bebop, may all have been given more than a little polish over the years.  But what needs no embellishment is that Goodman's rival clarinettists in the entire history of jazz can be numbered on the fingers of one hand, and, as far as most critics are concerned, his only true rival was Artie Shaw, whose career was much shorter and whose social impact was much less that Benny's. Goodman would appear in over twenty films, he would be the superstar and, in many people's eyes, the instigator of what was known as 'The Swing Era' and he would be known internationally as 'The King of Swing'.
On 18th January 1938 Benny Goodman and His Orchestra would give one of the first jazz concerts at New York's famed home of classical music, Carnegie Hall, and he would eventually appear at Carnegie Hall on at least twenty-four occasions.  Between 1931 and 1953 he would have one hundred and sixty-four hit records and his recordings of the Mozart Clarinet Concerto would be best sellers.  Long after the Swing Era had become history he would carry on fronting big bands for special events and leading hot small groups with undiminished zeal. He would make international tours on behalf of the American State Department, Hollywood would make a film of his life, 'The Benny Goodman Story', he would be one of the very first white bandleaders to employ and appear in public with groups that included African American musicians – Teddy Wilson, Lionel Hampton and Charlie Christian might all be mentioned here – , and Goodman would carry on performing until shortly before his death in June 1986.
An astonishing musician and an astonishing career, with or without the folklore.
Peter Gardner
April, 2017.
Acknowledgement
I am most grateful for the help and patience of Steve Marshall.
Endnote
(1) The double CD 'Benny Goodman, Trio and Quartet Showcase', Primo PRMCD 6040, is a low priced and useful introduction to the Goodman trios and quartets in their heyday.
(2) Recordings from the famous Carnegie Hall Concert are available on various compilations.  The competitively priced 10 CD boxed set, 'Milestones of the King of Swing', Documents, 12281, contains recordings from the Carnegie concert plus many other albums, including several tracks from   'Benny Goodman in Moscow, 1962'. One of the tracks from the Moscow album, called 'Medley', which includes 'Avalon' and 'Body and Soul' amongst other tunes associated with Goodman, is an absolute tour de force. If you are a budding or even a well-bloomed clarinet player, try to listen to 'Medley'.
Some Sources Used 
Firestone, R. (1993) Swing, Swing, Swing: The Life and Times of Benny Goodman (Hodder and Stoughton, London).
Goodman, B. and Kolodin, I. (1961) The Kingdom of Swing (Frederick Ungar, New York).
Hammond, J. with Townsend, I. (1981) On Record (Penguin, Harmondsworth).
Hancock. J. (2008) Benny Goodman: The Famous 1938 Carnegie Hall Jazz Concert (Prancing Fish, Shrewsbury).
Tags:
Benny Goodman
|
Jazz Blog
A Forgotten Man?
by Peter Gardner
In the UK his name rarely crops up in discussions about jazz saxophonists and no saxophone student I have talked to recently has ever heard of him.  I suspect the same goes for many of those students' teachers as well.  Even if you look on the websites of the famous jazz stars he played and recorded with, his name is at best infrequent.  There is one biography about him.  It was published in French five years ago and has not yet been published in English, and since it is twenty years since he died, you might fear that his music will become confined to those with long but failing memories and groaning shelves of dust-gathering recordings. And that would be a great shame because Barney Wilen, I would argue, particularly in his later years, produced music of great charm and gentle emotion that marked him out as a truly original talent.
Bernard-Jean Wilen, to give him his full first name, was born in Nice on 4th March, 1937, to a French mother with aristocratic connections and a well-off American father, who was said to be both a dentist and an inventor.  The Wilens went to America at the start of the Second World War, where they lived with various relatives and their son became something of a fan of the big bands and singers he heard on the radio.  While in America young Wilen was also given an alto saxophone as a birthday present and soon he was playing in school ensembles.  The family returned to the south of France at the War's end and the Nice Jazz Festival in February 1948 seems to have been something of an eye-opener for the ten-year-old saxophonist; according to one source, when he heard 'The Bob Shots', a Belgian combo that featured Bobby Jaspar on tenor and has been described as Europe's first bebop group, Barney came to the conclusion that Europeans, not just Americans, could play jazz.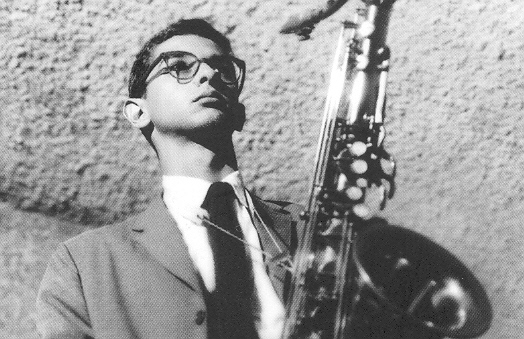 Barney's musical development, whether measured by American or European standards, was rapid.  By the age of seventeen, having already come to prominence in Nice, he was starting to make a name for himself as a tenor saxophonist in Paris' jazz clubs, playing with and frequently astonishing visiting American musicians and getting favourable mentions in the French magazine Jazz Hot, which in 1954 described Barney's favourite musicians as "Lester, Lester and Lester, and…Al Cohn".  Barney's fondness for Lester Young is evident in his first recording in October 1954 with a group billed as the Roy Haynes Band that, in addition to Haynes on drums, also featured Joe Benjamin on bass.  Undaunted by recording with such American masters, Barney sounds like the fifth brother.
Over the next six years Wilen would appear and record with such American stars as John Lewis, Percy Heath, Kenny Clarke, Miles Davis, Milt Jackson, Duke Jordan, Kenny Dorham, Bud Powell, Dizzy Gillespie, Clark Terry, Lee Morgan and Wayne Shorter,  he would make LPs with his own quartets and quintets, he would work with Miles Davis on the soundtrack of Louis Malle's film Ascenseur pour l'Echafaud and with Blakey's Jazz Messengers, where he replaced Hank Mobley, on the soundtrack of Roger Vadim's film Les Liaisons Dangereuses.  In addition, he would be awarded the Django Reinhardt Prize by the Academie du Jazz, he would win readers' polls, he would be seen frequently on French television, he would appear at the Cannes Jazz Festival alongside Don Byas, Stan Getz and Coleman Hawkins and he would play at the Newport Jazz Festival.  All this before he was twenty-four!
Listening to the twenty minutes or so that were recorded of Wilen at the 1959 Newport Festival, we find a boppish tenor player, who could have stepped straight out of Rudy Van Gelder's studio, and who is indebted, not to Lester or Al Cohn, but to Parker and the rising tide of hard-bop reed men (1). Barney also had a surprise for his American audience.  Bearing in mind that it would be over a year until Coltrane recorded on soprano saxophone and quite a few years before tenor players doubling on soprano became common place, Barney's use of soprano at the start of ''Round Midnight' must have surprised the Newport crowd and helped set the young Frenchman apart from the host of fast, post-Parker tenor players who seemed to be flooding the scene in the late 1950s.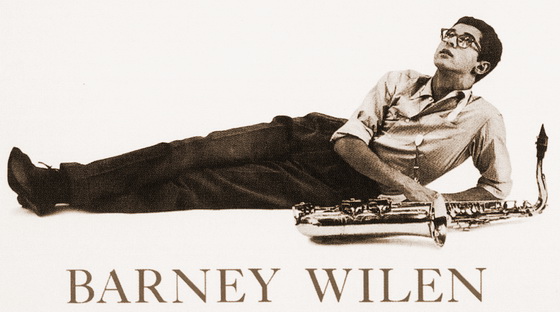 Perhaps a clearer picture of how Wilen had developed as a musician comes, not from his appearance at Newport, memorable though it must have been for the twenty-two-year-old from the Old World, but from his performances on an album from the previous year, 'Jazz sur Seine' (2). Recorded in Paris 'Jazz sur Seine' has Wilen in the wonderfully supportive company of Milt Jackson, on piano, not vibes, Percy Heath, bass, and Kenny Clarke, drums, and Wilen's ballad playing on 'Vam' and 'Nuages' shows that he has acquired a soft lyricism to go alongside his mastery of bop's demanding harmonic and instrumental necessities.  The fact that four of the twelve tunes on 'Jazz sur Seine' were by the French composer and singer, Charles Trenet, also shows Wilen's fondness for songs  with a Gallic flavour.
But Wilen had a restless spirit. By 1966 he had moved into free jazz, which led to the album 'Zodiac' and then he organised an expedition to document the music of Pygmies and recorded the album 'Moshi', an album said by one source to be "an eccentric effort fusing avant jazz sensibilities with African rhythms, ambient sound effects, and melodies rooted in American blues traditions…this is music with few precedents or followers, spanning from extraterrestrial dissonance to earthbound, street-legal funk".  Then there was a period in Barney's life that the French jazz authority, Pascal Anquetil, describes as "a voyage of initiation" during which the former jazz musician lived for years in Niger and Mali among the native people and some accounts tell of him smuggling medicines into war zones.  Wilen returned to Nice in 1977. Over the next few years, he didn't make any jazz recordings and, according to Anquetil, he was seen as "a musician who was such a has-been".  However, things changed dramatically in 1986.
Although no one had sought any kind of permission from him, Barney discovered that he was the subject of a comic strip, Barney et la note bleue, in the Franco-Belgian comics magazine, A Suivre,   published by the Belgian based company, Casterman. This prompted Barney to go along with guitarist Philippe Petit and play on the Champs-Elysees, under the apartment of the comic strip's writer, Philippe Paringaux.  As a result, Paringaux became involved in Barney's affairs and an appearance in a Paris club was soon arranged. On opening night, writes Anquetil, "only a handful of devotees turned up, but the next day a miracle occurred! Both Liberation and Le Monde published a front page article hailing "The Return of Barney Wilen".  That very night, a compact queue formed outside the club…and it stretched several hundred metres…Like phoenix reborn from its ashes, "Wilen was back again" one last time."
Following France's rediscovery of her former teenage prodigy, record companies began to record Wilen frequently, some of the notable resulting CDs being: 'La Note Bleue', 1987, 'French Ballads', 1987, 'Wild Dogs of the Ruwenzori', 1988, 'Never Let Me Go', 1990, where Wilen guests with altoist Jacques Pelzer, who had played in 'The Bob Shots' in Nice in 1948,  'Sanctuary', 1991, 'Dreamtime', 1992, and 'The Osaka Concert', 1994.  If I were to choose two from this selection, one would be 'French Ballads', where Michel Legrand's songs are well-represented and Barney just about manages to show there is some ballad potential in Jacques Revaux's 'My Way'. As for my   personal favourite, it has to be the trio album, 'Sanctuary', which features Wilen on both soprano and tenor together with the outstanding Swedish bass player, Palle Danielsson, and the inventive and resourceful Belgian guitarist, Philip Catherine.  Wilen's tone is now light and resonant, his ideas are melodic and frequently touchingly gentle and his style might be thought to owe more to Paris than Kansas City.
Unfortunately, as you will discover if you go online, some of the CDs just listed belong in a sellers' market and prices are becoming increasingly steep. But is hope at hand? Well, the French label Fremeaux has recently issued a three CD set 'Barney Wilen, Premier Chapitre, 1954-1961', FA 5487. The set includes a track by Barney with the Roy Haynes Band from '54, tracks by Barney's early quartets and quintets from '57, both 'Vamp' and 'Nuages' from 'Jazz sur Seine', ''Round Midnight', with Barney doubling on soprano, from 59's Newport Jazz Festival, and lots of other recordings that give ample proof of Wilen's early flowering and of his ability to do more than hold his own with established American jazzmen.  At the time of writing, I don't know how many chapitres Fremeaux has planned, but let us hope that copyright problems don't prevent there being   sufficient to include the recordings from the late 1980s and the 1990s when Barney was back "one last time".
Several accounts of Wilen's early days stress the influence of the poet, film-maker and novelist, Blaise Cendrars, who was, some writers say, a friend of Barney's mother. While Wilen's father was urging his son to study hard in order to practise law, Cendrars, in Barney's words, "told me to follow my instincts and my dream".  We should be grateful that he took the advice of a poet.
Barney Wilen died of cancer in Paris on 25th May, 1996, aged fifty-nine.
Peter Gardner
February, 2017
Acknowledgement
I am most grateful for the help of Auriel Mahoney, Steve Marshall and Dawkes' Sam Gregory.
Endnotes
(1) The Fresh Sound's CD 'Barney Wilen Quartet, Newport '59', FSR 165, would seem to have all the existing tracks from Wilen's Newport appearance plus tracks recorded in Paris by a quintet involving Wilen, Bud Powell and Clark Terry.
(2) The Gitanes Jazz CD 'Barney Wilen, Jazz sur Seine', 548 317-2, has all the tracks recorded by the Wilen-Jackson group on 13th and 14th February, 1958.
Some Sources Used
Notes by Pascal Anquetil for the CD 'Barney Wilen & Philippe Petit, Flashback', PJCP 222012.
Yves Buin, Barney Wilen: Blue Melody (Castor Astral, 2011).  This is the biography of Wilen that has not yet appeared in English.
Brian Morton and Richard Cook, The Penguin Jazz Guide (Penguin, 2011).
Tom Perchard, After Django: Making of Jazz in Postwar France (University of Michigan Press, 2015).  One of this book's seven chapters is devoted to Wilen with an emphasis on Wilen's involvement with free jazz.
Notes by Alain Tercinet adapted from the French text by Martin Davies for the three CD set 'Barney Wilen, Premier Chapitre, 1954-1961', Fremaux FA 5487.
Tags:
Barney Wilen
|
Jazz Blog
|
Jazz History
Sax Masterclass Recap – Hannah Marcinowicz (Sat Feb 25th, 2017)
It's always nice to welcome back a musician that left such a great impression the last time they visited. Hannah Marcinowicz (www.hannahsax.com) previously held a Clarinet Masterclass here at Dawkes which was met with universal acclaim from all those in attendance and another great session was enjoyed last Saturday with some Sax players, young and…well, let's just say more experienced players!
About Hannah
A former Purcell School pupil, Hannah graduated with first-class honours from the Royal Academy of Music, where she studied both saxophone and clarinet. Numerous awards, including a major scholarship from the Leverhulme Trust, enabled her to continue her conservatoire studies in Paris, with international soloist, Jean-Yves Fourmeau. She was awarded the prestigious Médaille d'Or twice.
She has performed with the UK's leading orchestras, including the London Symphony Orchestra, Philharmonia Orchestra, BBC Concert Orchestra, Royal Philharmonic Orchestra, London Philharmonic Orchestra, BBC National Orchestra of Wales, Royal Northern Sinfonia and London Concert Orchestra. A regular performer at the BBC Proms, she has appeared as a featured soloist under Sir Colin Davis and Paul Daniel. Her international performances include concertos and recitals in the Middle East and Far East. She has also appeared as a guest soloist with the European Union Chamber Orchestra.
Hannah plays mainly Yamaha instruments including the YSS-875EX Custom Soprano and YCL-CSGIII Clarinets.
"Excellent mix of genres. Hannah was a great communicator and her explanations were great" – Attendee
On the Day
It was great to see a wide range of participants and attendees, from youngsters going through their first few grades, a student at a major music college and some more experienced adult players. We also transitioned through the repertoire range from Classical to Jazz with a few pit stops in-between, something of a theme for the day that I'll touch on later.
Usually at these types of events we have an audience of around 25-30 with 4-5 volunteers (victims?!) who perform a piece to the assembled audience with either a CD backing or in this case we also had a real life pianist if they wanted. It's quite something to stand up in front of a group of people you've never met and play a piece of music to someone who's about to critique you on it in front of everyone, so well done to all that volunteered.
Common topics usually arise about stance, filling the instrument with the correct air stream, preparing to play, coping with technically demanding passages etc. No doubt some of these topics are touched on in normal weekly lessons but sometimes it takes another angle or way to explain things to help the pupil take ownership of these challenges and act on the solutions. It's a great buzz to see a connection and engagement from the younger players especially who are like sponges and eager and able to take on advice so quickly.
In between volunteer performers Hannah performed a few pieces with her pianist Philip Mountford. It's here that the professionalism shows and the strata of experience levels becomes even more apparent. There is a security in listening to a good professional play, everything is under control however demanding technically the piece may be, and importantly the piece is delivered in the correct style to represent the 'story' of the composition. It was great to hear Hannah on both the Alto, and also showcasing the Soprano which she really got to sing.
"Excellent session for all things saxophone!" – Attendee
Conclusion
All too often our days in Music Retail are dealing with the nuts and bolts of the Retail side of things. Fulfilling orders, customer service queries, chasing suppliers, paying bills etc. It's so refreshing to actually re-engage with the 'dots' and hear some customers at various stages of their musical journey and give them the opportunity to work with people like Hannah to enthuse and encourage them onwards. Also, hearing Hannah and the other performers who chose to use the pianist also cemented how important it is to make music together with others, yes CD backings are helpful when practicing but to actually make music nothing beats playing alongside someone.
The day finished off with a customer performing the jazz classic 'Naima', it was a captivating performance highlighting the vast spectrum of tone that the Saxophone can produce. From this rich, melancholic subtlety to the vibrancy and sweet singing tones we'd heard earlier in the day, it was a great reminder that the Saxophone is such a versatile instrument with a tone very close to the human voice. It was a nourishing afternoon for all and a perfect excuse to indulge in all things Saxophone for a couple of hours. Thanks to all who came along and of course to Hannah and Philip.
"Really engaging, really enjoyable and really informative!" – Attendee
*Should you wish to take part in any future masterclass events please sign up to our Saxophone Newsletter to receive notifications of events.
Tags:
Hannah Marcinowicz Sax Event
|
Sax Masterclass
|
saxophone