NEW – Yamaha YTR-5335G Trumpets…
22nd January 2011
It's new product time again, and this time it's the Yamaha YTR-5335G Trumpets, available in Lacquer and Silver Plate. Complementing Yamahas range from 1335 all the way up to 9335 the only real gap in the range was between the YTR4335 and YTR6335…thus the new model.
NAMM – Final Day News…Bach 42B Trombone, Yamaha YSL897Z Trombone, Eric Marienthal & Gordon Goodwin…
17th January 2011
So the final day of our NAMM show experience for Dawkes was packed full of more new products and artists.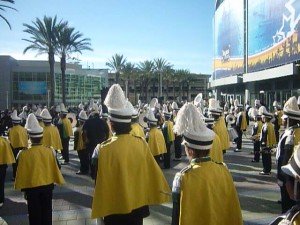 The day started with a pre-show performance by a High School Marching band. Not something we have many of in the UK, it was great to see 60 or so kids playing without any printed music, in formation and also bursting into dance routines halfway through! You have to say this style of band is quite inspirational, all are included and all play and practice regularly. You would imagine many skills are learnt in this environment, not just musical skills, perhaps a variant of this program would be a breath of fresh air for the UK education provision.
NAMM – Day 2 News…Yamaha Neo Euphonium, Mighty Bright Lights, iPad Holder & More…
15th January 2011
So here we are, Day 2 of the NAMM show and this is the Dawkes Music blog on what's new and interesting from the biggest show on the planet.
NAMM – Day 1 News…Yamaha Soprano Saxophones, New Vandoren Products, New Mutes
14th January 2011
So the first day of NAMM 2011 is done and as usual it was a long but interesting day.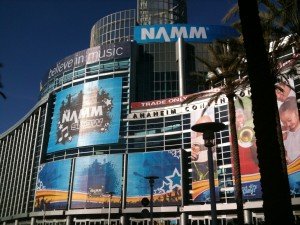 The NAMM show is probably the biggest trade show for the Music Industry and is usually the first place to find new products hitting the market. The NAMM (National Association of Music Merchants) association is highly regarded in the US for improving the exposure for all music making and the importance to education. The show is the place for worldwide manufacturers and retailers to talk business, instruments and education.