Selmer Reference 54 Alto – DragonBird Collector's Edition
22nd October 2011
VIP Package…for a VIP Saxophone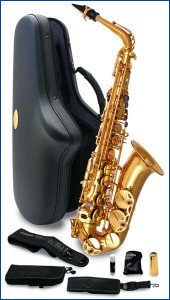 We're delighted to be selling one of these Selmer Ref 54 DragonBird Collector's Edition Alto Saxophones. Only a select number (400) of these special reference 54's have been made and they complete the final year of the 'Tribute to Bird' series that Selmer have been running. The series, which was launched in 2005 has seen a 'bird' reference for each continent; Hummingbird/America, Kookaburra/Australia, Flamingo/Africa, Firebird/Europe…and now the final DragonBird/Asia.
Rare Boosey & Co 4 valve Tenor Horn
7th October 2011
This very rare Boosey & Co 4 valve Tenor Horn came into the Brass Workshop this week. It was made around 1920 and has been converted to low pitch. What makes it rare is the fourth valve which could have been added to help with tuning.  We didn't know this model existed!