Dawkes Music – 2012 Award Winners…AGAIN!!! 'Best Classical Instrument Retailer'
23rd November 2012

The annual MIA (Music Industry Association) awards took place last night at the Emirates stadium in London. A gathering of all corners of the music industry from small independent retailers to large world renowned manufacturers meet at these annual awards to sort the 'best from the rest'.
Live @ Dawkes III – Vive Le Saxophone!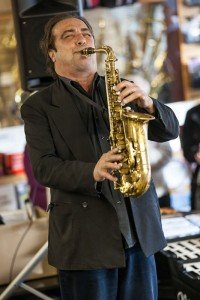 The third 'Live @ Dawkes' on Nov 10th 2012 featured a fantastic Jazz quartet consisting of Selmer saxophone artist Greg Abate, and a crack hot rhythm section of Geoff Eales on Piano, Dave Richmond on Bass, and Clark Tracey on Drums. The chaps took to the stage at 2pm and let rip with a 1hr 20min tour de force of some classic jazz charts and a sprinkling of lesser known originals and new tunes. The Alto playing of Greg Abate was a joy to hear, with ample dexterity and a polished sound he thrilled all the crowd with some dazzling playing.