Cannonball artist Gerald Albright in the UK…
31st January 2014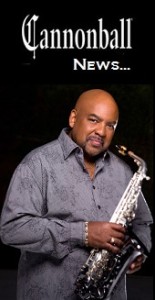 I was lucky enough to meet Gerald Albright a couple of years ago at the NAMM show in the USA where the great and good of the music industry assemble (and me!). I had been  an admirer of his playing for some years, his CV is pretty impressive with 16 solo albums to his name and well over 1 million records sold…1 million! For an instrumentalist that is a pretty major output! He's also recognised for his work as a touring live Saxophonist with great Pop stars such as Whitney Houston and most commonly Phil Collins. This work has propelled him onto a world stage and I'm pretty sure he must be one of the most 'seen' live Saxophonists because of this.
Buffet R13 vs Buffet RC – Which to Choose
30th January 2014
For many years the Buffet range of clarinets has been quite dominant in the upgrade and professional clarinet market. Whilst the competition has certainly come on strong in the last few years (Bliss & Yamaha in the mid range and Selmer & Yamaha CSG in the pro range) it's fair to say that for many players and teachers the Buffet is still first on the list to start the comparisons.
Trumpet DIY Repair Tips – Stuck Mouthpiece
29th January 2014
PROBLEM: MOUTHPIECE IS STUCK
This is a problem for pretty much all brass players at one time or another. It can be caused by a dirty mouthpiece shank, or dirt in the mouthpiece receiver. It can also be caused by the mouthpiece taking a knock and getting shunted a little too far into the receiver. Depending on how stuck the mouthpiece has become, this is a repair you can attempt at home, but can often require a repair technician.
Allen Vizzutti Video Series – Episode #2 (Warm up advice)
Top US Trumpet professional Allen Vizzutti spent some time with us discussing all things Trumpet related.