5% OFF – Top 10 Saxes Offer
6th March 2018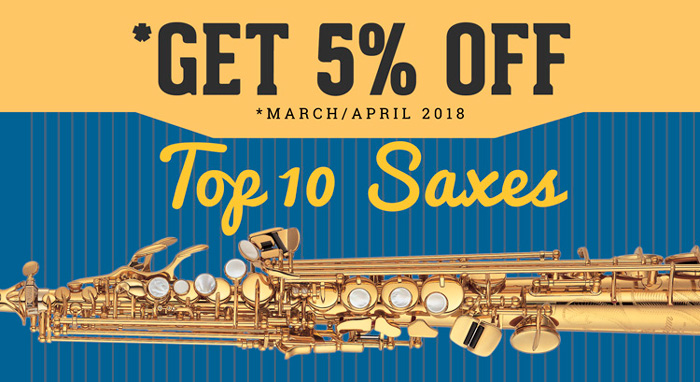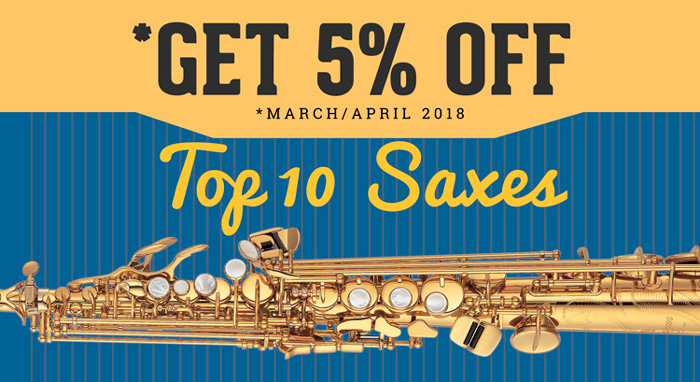 We're delighted to be offering an extra 5% discount off our Top 10 Saxophone models until April 30th, 2018. There is limited stock available across a variety of brands including Yamaha, Selmer & Yanagisawa. So, don't miss this chance to grab a bargain for either a beginner, upgrader or pro player – we've got something for everyone.
Each instrument comes with the following:
Professional Set-up and Pre-Sale check in our Woodwind Workshop
Minimum 1 Year Warranty (others more)
14 Day Approval
Case and Mouthpiece Supplied (unless stated otherwise)
Simply Use Code TOP10 At Checkout Or In-Store To Claim Your 5% Discount.
Yamaha YAS280 & YTS280: The 280 series from Yamaha are amazing beginner or first upgrade models. The quality of build coupled with the ease and excellence of how they play make these the most highly recommended first Sax models. These 280 models are our top selling Saxes simply because you cannot go wrong, and now with the extra discount it's a great time to buy.
YAS-280 Alto Sax: Usual Discount Price £755 – Now £717.25 with code TOP10 (shop now)
YTS-280 Tenor Sax: Usual Discount Price £1225 – Now £1163.75 with code TOP10 (shop now)
Yamaha YAS62 & YTS62: Suitable for a wide variety of playing styles the Yamaha 62 models are arguably the measuring stick we hold all other Saxophones against. The latest models features a 62 Neck which has a slightly narrower bore than the previous model, this ensures the intonation from top to bottom is very controllable and bang in tune. It also gives the 62 a more centred solid sound.
As ever the strength of the 62 comes from the core brass chosen to make it and also the integrated keyposts that run down the whole length of the body and join the key pillars to the main tube. These added brass plates offer solidity to both the build and tone. If you're seeking a quality upgrade without totally breaking the bank this is a great place to look!
YAS-62 Alto Sax: Usual Discount Price £1975 – Now £1876.25 with code TOP10 (shop now)
YTS-62 Tenor Sax: Usual Discount Price £2405 – Now £2284.75 with code TOP10 (shop now)


Yamaha YSS475 Soprano: The YSS-475II Soprano Sax delivers professional qualities at an intermediate price. Much of its design is based upon the more expensive Pro and Custom saxes, and it shares many of the same features. The 475 offers outstanding response, tone, and intonation, as well as a comfortable playability.
Many saxophonists moving from alto or tenor saxophone can sometimes find the soprano sax harder to play. The 4C mouthpiece supplied with the YSS-475II makes the instrument very free blowing whilst the lightweight body makes it easy to hold. The body is designed to give maximum response and good intonation whilst giving the player optimum tone quality.
Usual Discount Price £1635 – Now £1553.25 with code TOP10 (shop now)
Yamaha YAS82Z & YTS82Z: The evolution of the Yamaha Custom Z continues. With a powerful sound and the ability to play fast passages without difficulty, the Z is crafted to meet your highest expectations. They have been re-examined from the neck to the bell and are now equipped with a one-piece bell for increased resonance and the highly regarded V1 neck for the optimal combination of response and control.
If you're looking for a modern classic this new 82Z range is the place to look!
YAS-82Z Alto Sax: Usual Discount Price £3125 – Now £2968.75 with code TOP10 (shop now)
YTS-82Z Tenor Sax: Usual Discount Price £3695 – Now £3510.25 with code TOP10 (shop now)


Selmer Seles Axos Alto: Designed for the advancing and upgrading player the Seles range captures some of the magic of the Selmer sound and feel but at a more approachable price than their SA80 and Reference series. Selmer have developed effective ways of reducing hand involvement and thus costs in this Seles range, making them more approachable for players wanting a high level instrument sub £2500.
We've found this Seles Axos Alto Sax really does have that classic Selmer sound which is rich, full and powerful. The brass used in Selmer Saxes plays a large part in this sound and resonance and they've really encapsulated this in the Seles Axos.
Usual Discount Price £2320 – Now £2204 with code TOP10 (shop now)
Selmer Reference 54 Alto: The Selmer Ref 54 Alto Sax is part of a Reference series that has re-shaped the modern day perception of the Selmer brand. Produced to pay homage to their MKVI Saxophones that began production in 1954, the Reference series was designed to bring a new level of tone and ergonomics to the worlds leading Saxophone brand.
The 54 is a clear tip of the hat to 1954 when the MKVi was first produced and the look of the new instrument oozes class and character. The dark lacquer is deep and rich and the intricate hand engraving really delivers on an aesthetic level but most importantly the sound concept and intonation is spot on
Usual Discount Price £4765 – Now £4526.75 with code TOP10 (shop now)


Yanagisawa AWO1 / TWO1 / SWO1: These new Yanagisawa's replace the old 901 series and have managed to build on their predecessors excellent success. With a whole new internal bore design, different tone hole positions and additional plates for added weight at critical parts of the tube, this new range adds more power and dynamism to the tone.
AWO1 Alto Sax: Usual Discount Price £2295 – Now £2180.25 with code TOP10 (shop now)
TWO1 Tenor Sax: Usual Discount Price £2685 – Now £2550.75 with code TOP10 (shop now)
SWO1 Soprano Sax: Usual Discount Price £2695 – Now £2560.25 with code TOP 10 (shop now)
Yanagisawa AWO2 / TWO2: Boasting all of the new technical developments as mentioned above, these beautiful bronze body Yanagisawa models have a wonderfully rich and elegant tone. The additional copper in the core material adds complexity and richness to the sound and make these bronze models quite unique compared to any other Saxes at this price point. For those looking for an elegance of tone these O2 models should be your first destination.
AWO2 Alto Sax: Usual Discount Price £2860 – Now £2717 with code TOP10 (shop now)
TWO2 Tenor Sax: Usual Discount Price £3175 – Now £3016.25 with code TOP10 (shop now)


Yanagisawa B901 Baritone: It couldn't be a 'Top 10' without including a Bari Sax! And what a Bari to include…the B901 is our most popular Baritone, chosen by players for all genres, the B901 has amazing ergonomics (it's like playing a Tenor) and has a well balanced tone from top to bottom. There's plenty of rich, fat, oozing low end and the higher register has a sweetness that is often missing on Bari's. If you want to scratch your Bari 'itch' now's the time to do it…
Usual Discount Price £4575 – Now £4346.25 with code TOP10 (shop now)
Wood Stone New Vintage AF Tenor: The Wood Stone 'New Vintage' Tenor Saxophones are the result of years of technical expertise and know-how from the wonderful technicians at Ishimori, Japan.
The Ishimori repair centre/shop in Japan is regarded by some of the worlds finest sax players as THE mecca of Saxophone repair and customisation. Out of the years of experience of these highly skilled Technicians comes the Wood Stone 'New Vintage' Tenor Sax; a culmination of their technical expertise, coupled with the meticulous study of vintage saxes of years gone by with the application of modern design and acoustical advances.
The AF model is an antique finish, this gives the Sax a dark, warm tone that is equally resonant and rich throughout the whole range.
Usual Discount Price £4395 – Now £4175.25 with code TOP10 (shop now)