Best Clarinet Set-Up: Under £2,000 (Non-Classical!)
4th October 2023
In this blog with accompanying video, we discuss and demonstrate a range of Clarinets and mouthpiece/reed set-ups for under £2,000. The emphasis is on non-classical playing such as jazz, commercial and band. We compare models from Buffet, Yamaha and Backun. We also get the input of a professional player on his preferred mouthpiece and reed set-up for this combination.
What's the Brief?
We wanted to demonstrate a Clarinet set-up (instrument, mouthpiece, ligature, reed) that could be successfully used for a wide variety of playing scenarios. This could combine a little classical/grades but mostly focussed on jazz, commercial, musical shows, concert band and other all-round playing situations. The budget was set up to £2,000 as we think this is what you might need to spend to get a long-term professional quality set-up.
Clarinet #1: Buffet E13
A very popular model for many decades. The Buffet E13 has recently been upgraded to include white leather pads for longevity and durability. It also now has the Buffet RC bell design which features a flat end to help clean up the projection and resonance on the notes emitted from the low-end of the instrument.

Many people choose the E13 if they've started on a Buffet student model because it feels familiar. The sound is bright and clean and the keywork sits comfortably for most players. It is available with a traditional hard case or with a softer gig-bag style case.
Clarinet #2: Yamaha YCL-CXII
The first of Yamaha's Custom level Clarinets, the Yamaha YCL-CXII is a couple of hundred pounds more than the Buffet. In our test we found it felt very similar to the Buffet and was comfortable under the fingers. Simon (in the video) felt he could push the dynamics and projection more on this Yamaha vs the Buffet. Perhaps it's more suited to a slightly more advanced player who is happy to put more air through the instrument to get more sound out.

This might sound simplistic but some mid-range instruments are actually designed to be more 'controlled' and thus you hit something of a barrier in the projection. Perhaps the E13 does have this slight limit which to the advanced player may feel restrictive. That said, the Buffet would reward players who are still early in their progression with a centred sound.
Clarinet #3: Backun Protege
Available in a variety of woods the Backun Protege is supplied in 'normal' Grenadilla and also in Cocobolo such as we used in the video. In general terms the Cocobolo models will be a little warmer sounding with less 'ping'. The Grenadilla models have a brighter more direct tone with a little more projection. Backun are a Canadian company who have been producing Clarinets for over 20 years now. Their range of ugprade and professional level Clarinets have high quality materials and features.

We find the Backun has a quite unique sound which some people really fall in love with. They also look a little different but the keywork still feels comfortable under the fingers. Like the other Clarinets it has an adjustable thumb-rest and comes with an optional left hand Eb lever key. The Protege models are available with silver plated or gold plated keywork.
Mouthpiece, Reed & Ligature
Simon is using a BG B3 Clarinet Mouthpiece. This model is a really great all-round mouthpiece that can do a bit of everything and is very reed friendly. Talking of reeds, Simon uses the Vandoren V12 reeds. The outfit is complete with a BG Tradition Black ligature.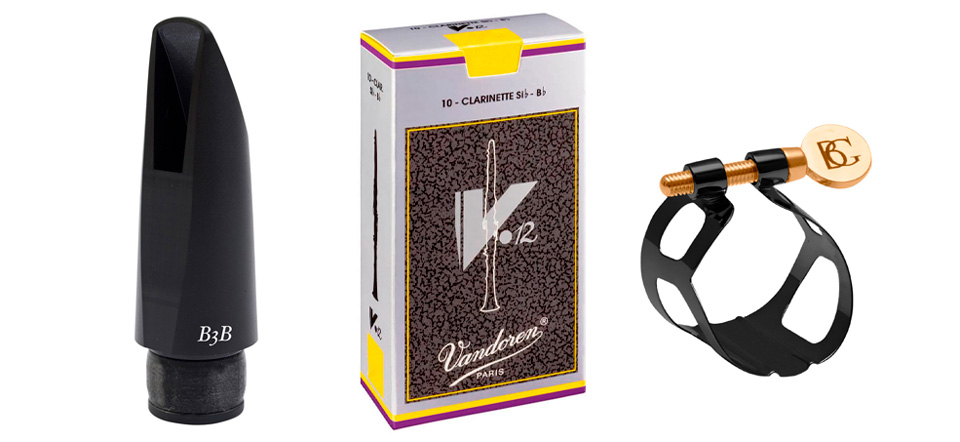 Any Questions? Please don't hesitate to contact us and one of our award-winning team will get back to you as soon as possible.