Learn to Play Day, March 31st and Live @ Dawkes Gig #2!
5th April 2012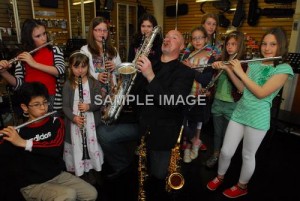 March 31st 2012 saw the first ever 'National Learn to Play Day' and Dawkes were commited to doing their part to help inspire and create new musicians in the community. Free taster lessons were available throughout the day to visitors young or old. We saw people aged 5 to 80 and gave over 60 people tuition on the day, everyone left able to play 'hot cross buns' and we even heard a few scales starting to come out. We were helped out by 3 or 4 local teachers who generously gave their free time to help people play and encourage new beginners, we'd like to thank Jon Woodhouse, Rachel Riordan and Michaela Bell for their time.
There were also instrument demonstrations at 11am and 1pm, Simon Bates (Yamaha Performing Artist) played through the Soprano, Alto and Tenor Saxes and delighted the audience with flute and clarinet. We were pleased to see lots of kids in the crowd, hopefully inspired to play.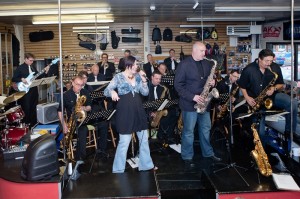 The day was finished off with a bang, we were joined by Blakes Heaven Big Band on the Live @ Dawkes stage. The band played two sets of funk inspired arrangements and were complimented by the guest soloists Tom E Politzer (Tower or Power) and Simon Bates. The shop was packed to the rafters with over 120 in attendance. We can't thank Tom and Simon enough for putting on a real show and also Nick Blake who studiously writes charts and runs Blakes Heaven Big Band. Mostly though we'd really like to thank everyone who came and tried an instrument or supported the gig, we want music in our area to flourish and hope these events can inspire and encourage more people to enjoy the benefits of instrumental music.