Sam's Liberation Band
20th January 2022
"…he took over Artie Shaw's band after the latter's discharge and developed it into one of the most magnificent bands of all time."

George T.Simon
Late in 1943 a twenty-five year-old musician went to Washington with a mission.  The future of his band was uncertain.  Maybe he could persuade the admirals his band should keep on playing. He was Sam Donahue and, fortunately, he was successful.
(more…)
Fletcher Henderson
15th February 2020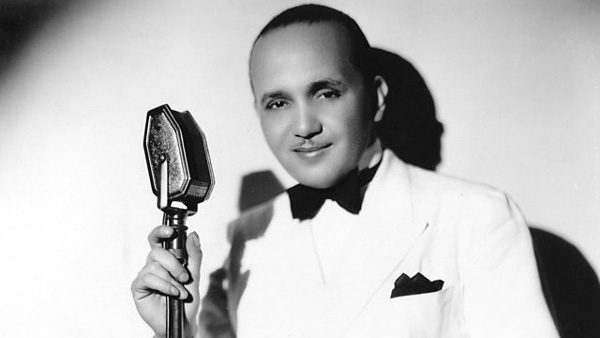 "If Benny was the "King", what then was Fletcher?"
– Gunther Schuller
"Goodman…opened the whole wide world of jazz to hundreds of thousands
who had never heard of Benny Carter or Fletcher Henderson."
– Tom Scanlan
Henderson "made great recordings of his own compositions, which sold a
minimal number, only to have the same tunes and arrangements cut by Benny
Goodman with astronomical sales. No question about it; he was frustrated."
– John Hammond
(more…)
…and then came Phil and Lew
6th December 2019
The musical revue, 'A to Z', opened on 11th October, 1921, at the Prince of Wales' Theatre in London's West End. It would run for 428 performances. Ivor Novello is credited as being the composer of 'A to Z', though other songwriters contributed pieces of their own, including the revue's most durable song. Composed by Philip Braham with words by Douglas Furber, 'Limehouse Blues' would become something of a jazz standard or, if you have grown tired of musicians battling over its accommodating changes at breakneck speeds, maybe you would prefer the description 'jazz warhorse'. Recorded by Paul Whiteman in the early 1920s and, several decades later, by the Sun Ra Arkestra, 'Limehouse Blues' certainly has staying power. It has also proved quite enticing to post-bop saxophonists wanting to give their awesome techniques a workout while providing their rhythm sections with a wake-up call. But more of them later.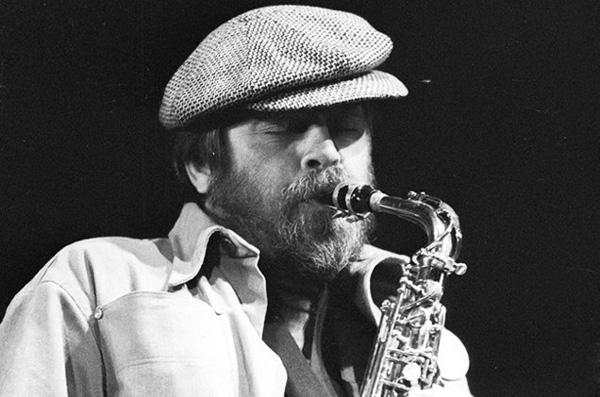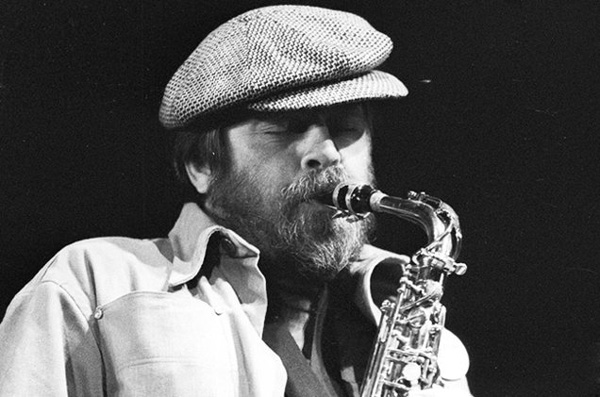 (more…)
Jazz and Swing Music in the 30s and 40s
23rd November 2019
All across North America, jazz and swing music dominated the airwaves and the dancehalls during the 1930s and 40s. Though the former had enjoyed widespread popularity since the turn of the century, it gave birth to swing in the late 1920s and by the following decade, had been usurped by swing as the most popular form of music in the USA.
Though jazz and swing are intrinsically linked and share many common facets, swing differs quite noticeably from the former in its celebration of the weaker or off-beat pulse of the music. It was first popularised by musicians like trumpet player Louis Armstrong and pianist Earl Hines. Although it would see its heyday diminish by the mid-1940s, the style of dancing (swing dancing) which it inspired would live on and enjoy huge popularity until the present day.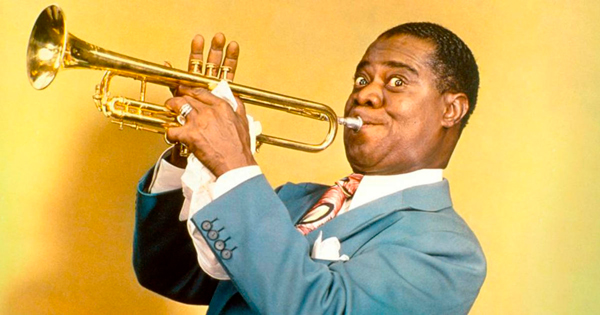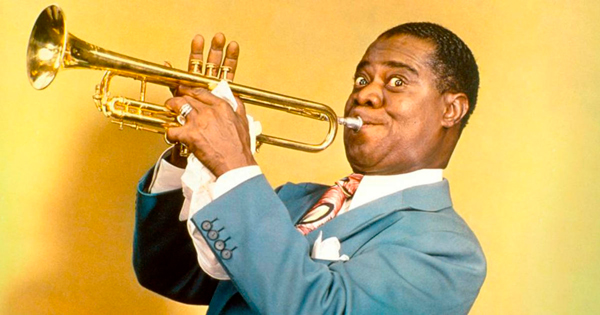 (more…)
The Birth of Bebop – Jazz in the 40s
21st November 2019
Bebop, also known as rebop and bop, was birthed in the early to mid-1940s as a direct response to the swing-style music that had come before it. Whereas its predecessors had focused on creating music to dance to, bebop concentrated solely on the music itself, allowing for faster tempos, asymmetrical chord progressions, advanced harmonies and freestyle improvisation.
The name bebop comes from the nonsensical words and phrases used by scat singers to accompany their music and transform the human voice into a more flexible instrument. Though that term is believed to have been coined in the 1920s, bebop music itself didn't enjoy widespread popularity until some 20 years later.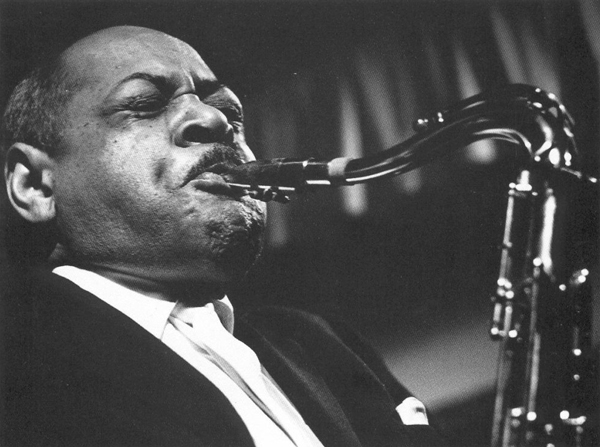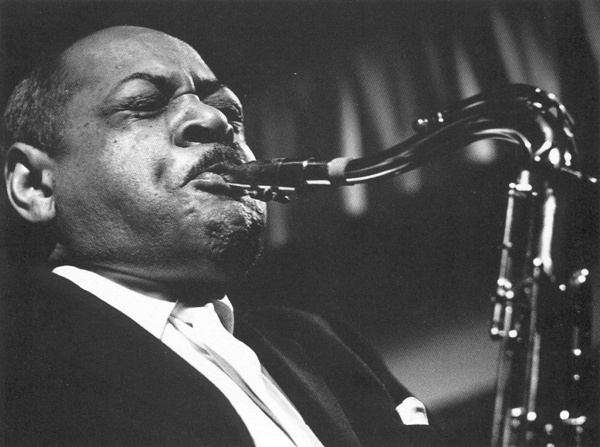 (more…)
Free Jazz – Jazz in the 50s and 60s
18th November 2019
Free jazz, sometimes known as avant-garde jazz, is an approach to the genre which arose in the late 1950s and developed throughout the 1960s. While jazz has always been a genre characterised by improvisation, that improvisation has traditionally taken place against a set of pre-defined conventions, such as regular tempos, recurring chord changes and specific tones.
Free jazz attempted to distance itself from that by dispensing with those conventions, thus emphasising the importance of the improvisational abilities of the performer. All pre-established forms and templates are discarded and the musician is free to play whatever notes, rhythms and compositions he feels, as well as elicit new sounds from his instrument while doing so.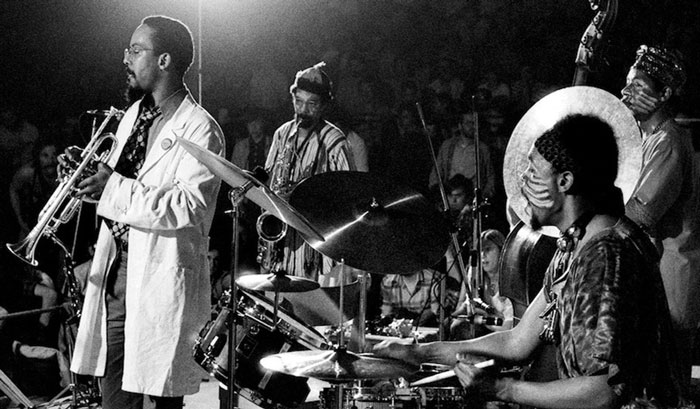 (more…)
Women In Jazz – Female Pioneers in Jazz History
16th November 2019
While jazz music has perhaps traditionally been associated with male composers and performers, there has been plenty of room for female influence in the genre, as well. Indeed, during the Civil Rights Movement of the 1960s, many female jazz singers and musicians used their platform to campaign for greater equality both between genders and between races.
While singers such as Ella Fitzgerald, Billie Holiday and Nina Simone might be the most glamorous names attached to the female jazz scene, there have been plenty of composers, writers and instrumentalists who have made waves in the genre, as well.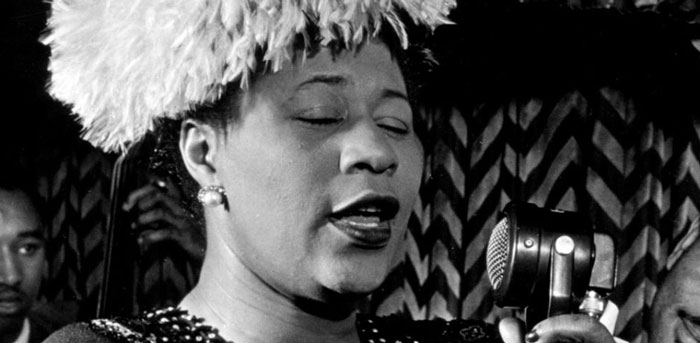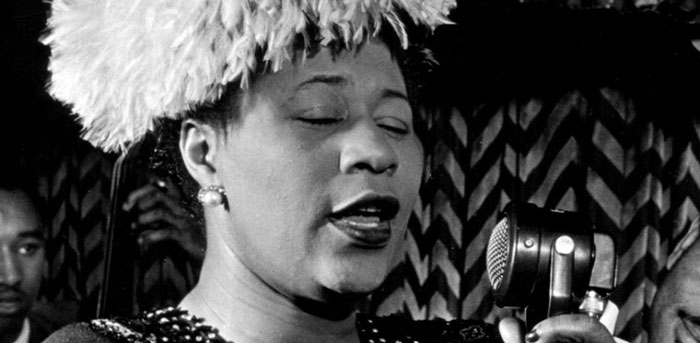 (more…)
Ultimate Guide: The History of Jazz
24th October 2019
Jazz is one of the most iconic genres of music and it's a music style with so much history and context. Jazz is a type of music that was born in the USA, and has it's history entwined and rooted through the country's own sociological and political history too.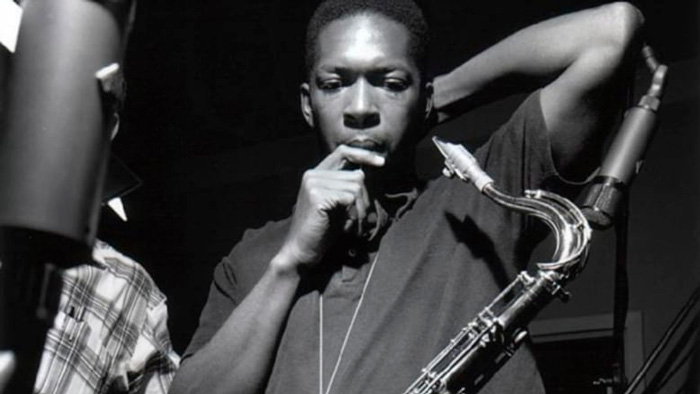 (more…)
'Chu'
1st October 2019
"…had he lived there is no doubt that he would be ensconced in the jazz pantheon alongside Coleman Hawkins and Lester Young. He was that good."
– Dan Morgenstern
"(Charlie)Parker even gave his first son, born in January 1938, the middle name of Leon, after his idol."
– Jeffrey Magee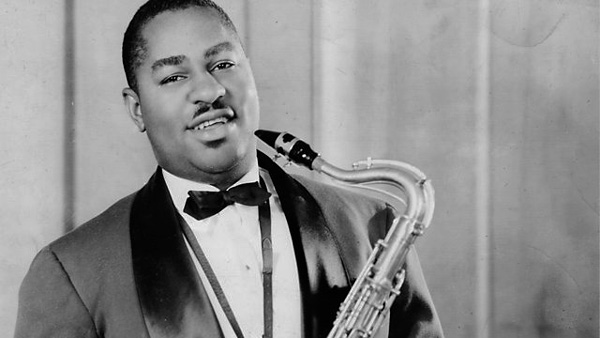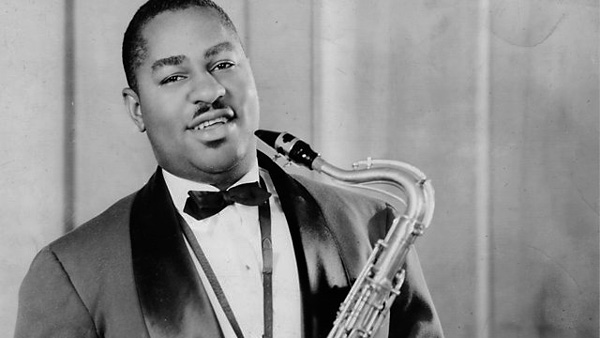 In late October, 1941, one the most extrovert bandleaders of the Swing Era and his band were playing a dance in Youngstown, Ohio. The next engagement for Cab Calloway and His Orchestra was scheduled to be in Buffalo, New York. When the Youngstown engagement finished, saxophonists Andy Brown and Leon 'Chu' Berry decided to travel ahead of the band bus in trumpeter Lammar Wright's new car. Calloway's bass player, Milt Hinton, recalled that the bus followed on about half an hour later and about fifteen minutes into its journey the bus stopped at the scene of an accident. There was no street lighting, but what could be seen in the band bus's headlights was that Lamar Wright's car was badly damaged and on the wrong side of the road.
(more…)
'Summits and Beyond'
13th August 2019
Peter Gardner
Accounts of when Soprano Summit's musicians first got together all mention that it was at the end of one of the Dick and Maddie Gibsons' annual jazz parties. It was early September 1972 and the party, which was held at the Broadmoor Hotel in Colorado Springs, had nearly run its course. For the last few days the Broadmoor's guests had heard some wonderful musicians. Amongst the trumpeters who had taken to the stage were Ruby Braff, Clark Terry and Joe Wilder. Buster Cooper, Urbie Green and Frank Rosolino were some of the trombonists who had entertained the party crowd and saxophone masters Budd Johnson, James Moody and Flip Phillips along with legendary pianists Hank Jones and Teddy Wilson had all played their parts.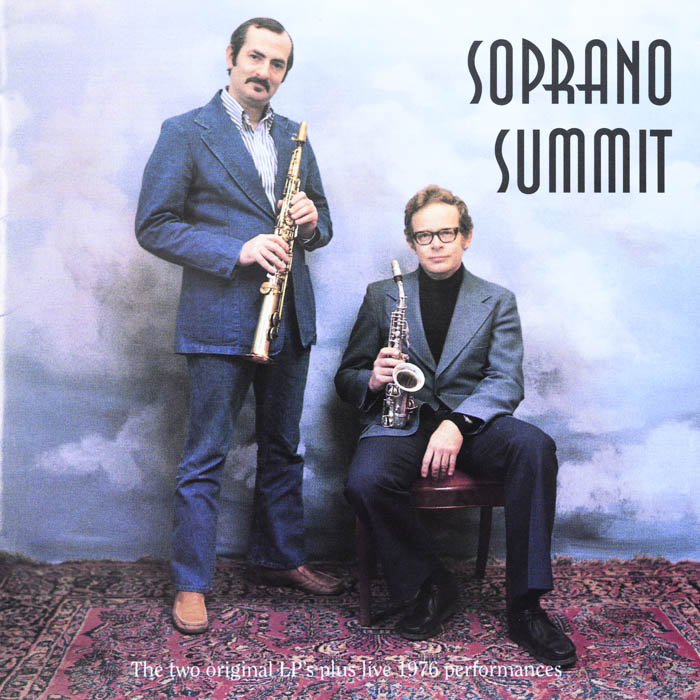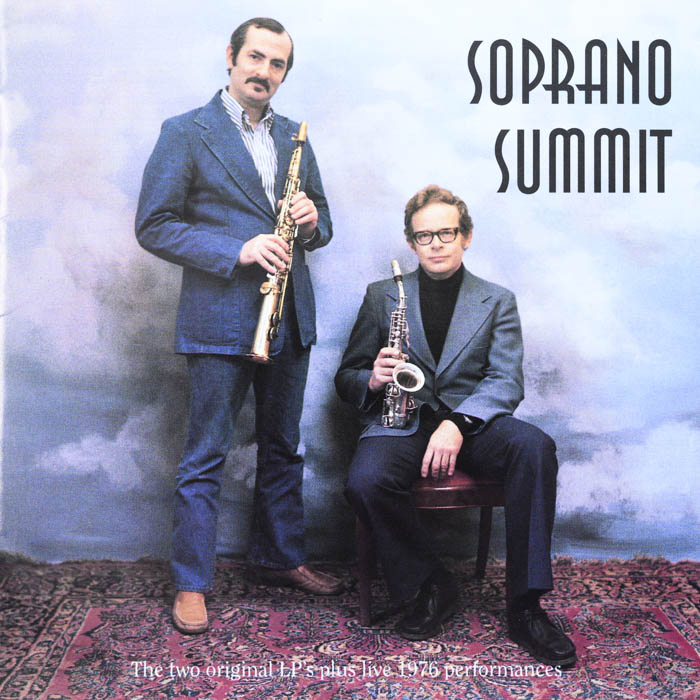 (more…)
Russell Procope
15th June 2019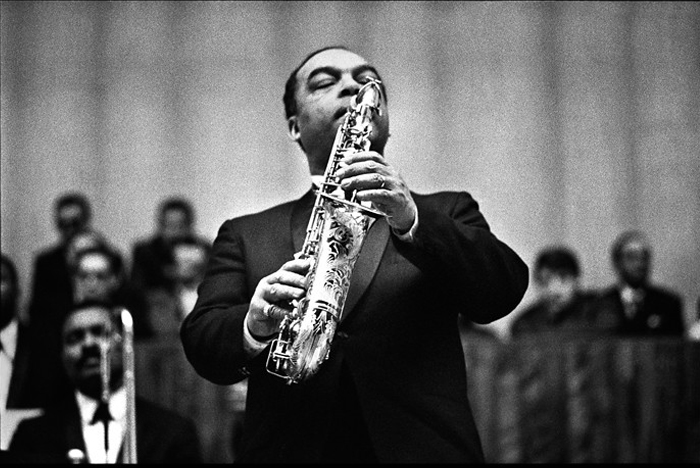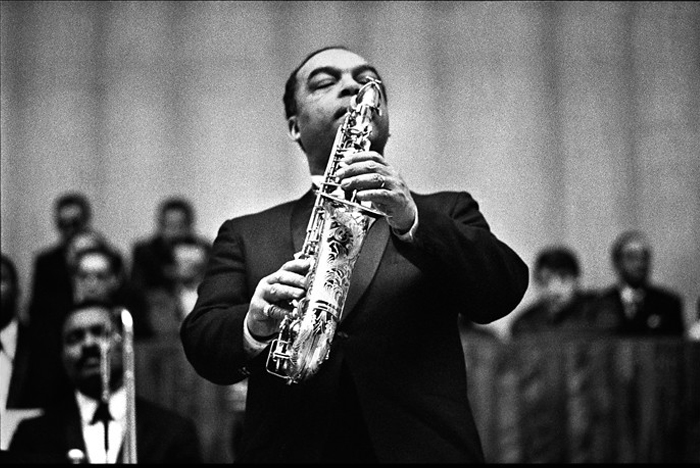 On 6th December, 1928, and not yet twenty-one, he entered a New York recording studio as part of Jelly Roll Morton's Orchestra. He would play clarinet on two sides. The first, 'Red Hot Pepper', a lively piece full of unexpected breaks. The second, 'Deep Creek', a slow blues. On 3rd June, 1976, at the St. Ivo Centre, St. Ives, Huntington, he would be guest star with Chris Barber's Jazz and Blues Band. With Barber his clarinet would be heard on 'Mood Indigo' and 'The Mooche', his alto on 'Take the 'A' Train' and 'Just Squeeze Me' amongst other Ellington favourites. In the nearly forty-eight years between playing with Morton and playing with Barber, Russell Procope would be a member of some of the greatest groups in jazz history.
'Ike's Last Hurrahs'
23rd April 2019
Accounts of his short life usually stress he made a promising start to his career as a saxophonist, for in his early years he recorded on numerous occasions and became a principal soloist with the Cab Calloway Orchestra.  The second period of his career, which covers most of the 1950s, is seen as a bleak battle with a heroin addiction, few well paid jobs and few recording opportunities. Third, and finally, there is a golden sunset, where our saxophonist was able to make recordings and gave performances that showed him at his best.  Of course, real lives are never this simple or so neatly compartmentalised, and Ike Quebec's was no doubt more complicated than this brief summary suggests, but I also suspect that most who knew Ike would recognise him from the picture we have painted.
Jug – Gene Ammons
19th February 2019
"When I heard (Gene) Ammons play that saxophone, I knew that I was going to become a saxophone player.  There was no doubt in my mind about it."
Johnny Griffin
"His big sound and driving beat established him as one of the giants of modern jazz saxophone."
Leonard Feather and Ira Gitler
In August 1947 Albert Ammons, whose business card read, "Albert C. Ammons – King of Boogie Woogie", went into a Chicago studio to record for the Mercury label.  As he had done off-and-on during his career, Ammons would be recording with a group named as 'Albert Ammons and His Rhythm Kings', and guitarist, Ike Perkins, and bassist, Israel Crosby, who were part of the 'Rhythm Kings' when the group first recorded in 1936, would be part of the 1947 ensemble. But the twenty-two year-old tenor saxophonist was new to the group.  The tenor player was Albert's son, Gene.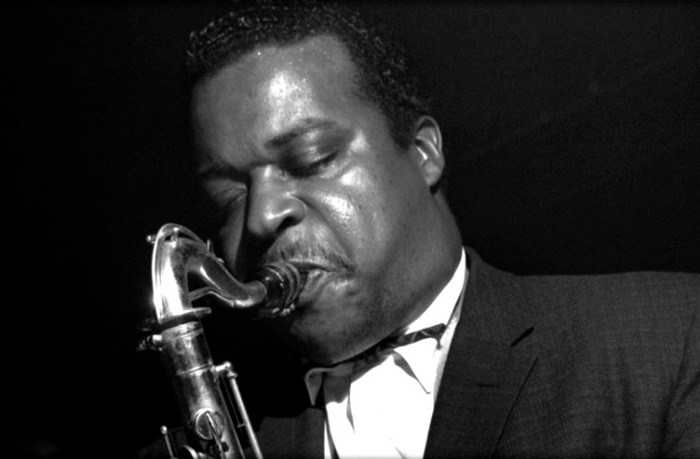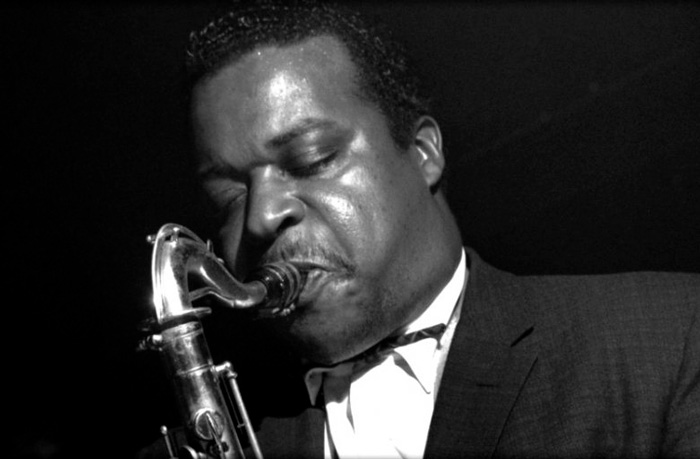 About Sonny Criss – Jazz Saxophonist
17th November 2018
'Hootie Blues' was recorded by Jay McShann and His Orchestra in April, 1941. After the opening chorus there is a brief saxophone solo. Ross Russell would later write that the saxophonist's twelve bar solo was "heard as a sermon from the mount."  The saxophonist was Charlie Parker. A young alto player is said to have first heard a recording of 'Hootie Blues' in Los Angeles and become a convert. He was reported as saying, "That solo on 'Hootie Blues' started me in a completely new direction."  The young musician was Sonny Criss.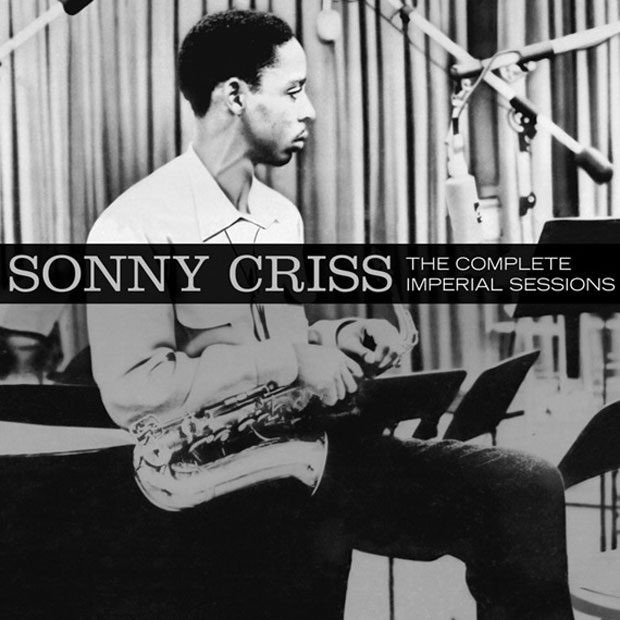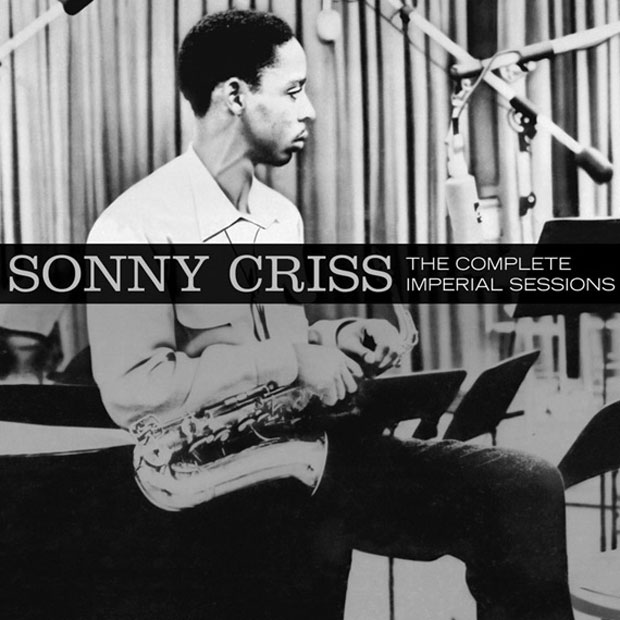 The Dawkes Music Story – Jack Dawkes (part 1/2)
2nd November 2018
Here at Dawkes we're proud to be a family business, in fact the fourth generation has just started working with us full time! We wanted to share some of this history through the words of our founder Jack Dawkes over two blogs.
In this first part Jack looks back at his early life including his first musical studies and his time in WWII including the Normandy campaign…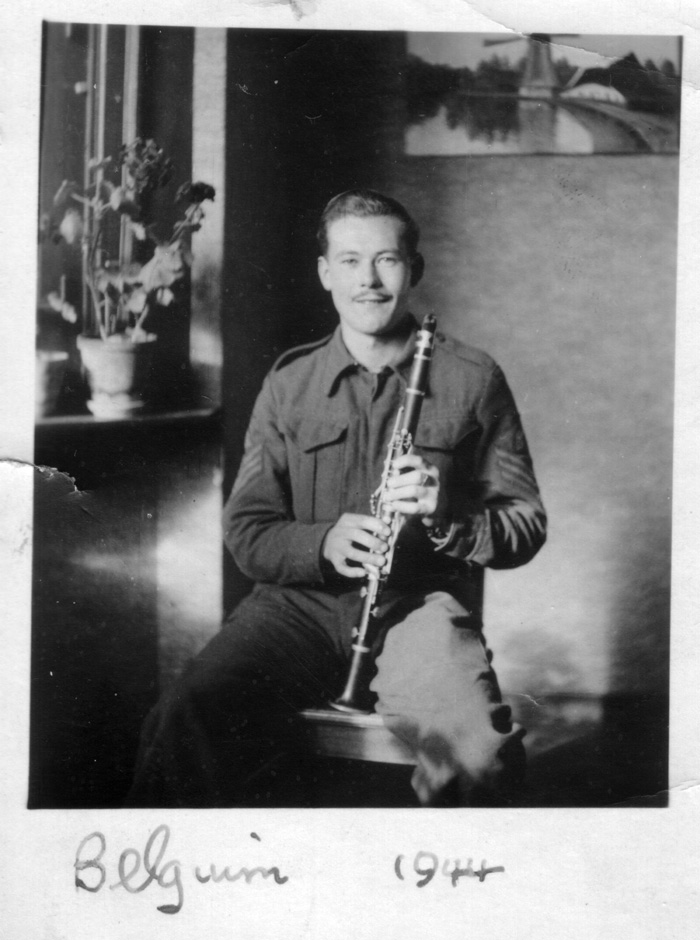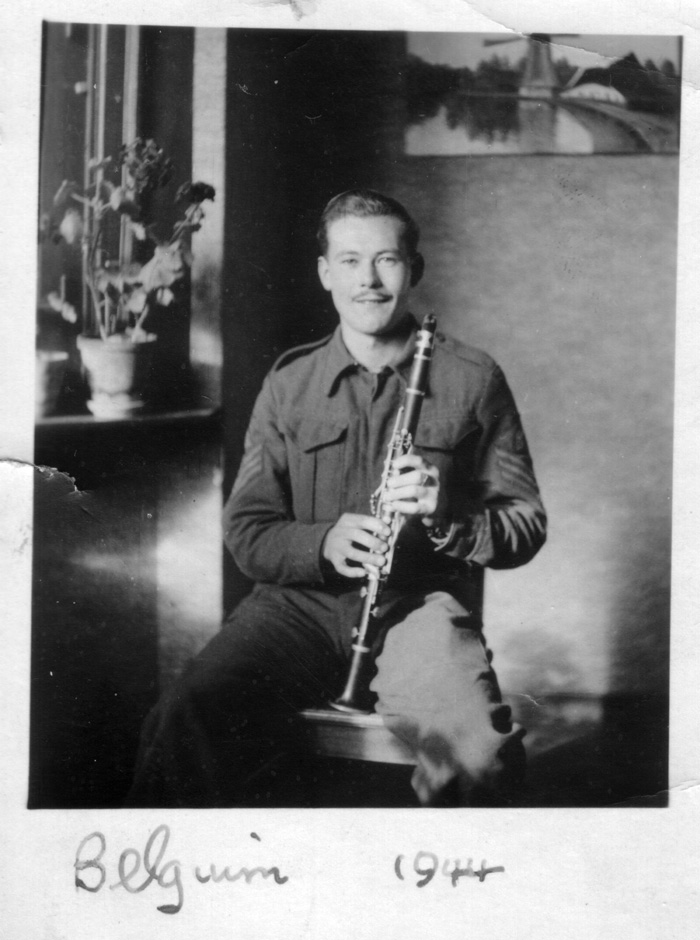 Johnny Hodges: Small Group Maestro
15th September 2018
"Johnny Hodges had the most beautiful tone of any saxophonist in jazz."
– Scott Yanow
"Johnny Hodges was one musician who never had to sell himself.  All he had to do was blow."
– Budd Johnson
"His way of playing, whether smooth or passionate, his incisive attack and extraordinary skill in the art of glissandi, always made him instantly recognizable."
– Boris Vian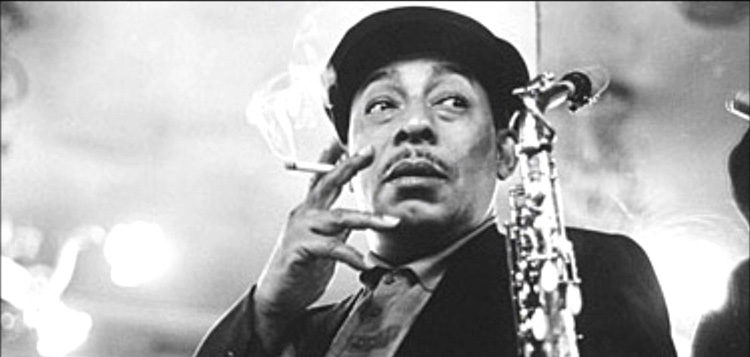 I have talked to several people who, like me, were privileged to see and hear Johnny Hodges, and frequently they speak about his apparent lack of involvement. "He just walked to the front and played. I don't even think he tapped his foot" and "He seemed slightly bored" are some of the comments I have heard over the years. Critics also commented about his demeanour: "the super-placid Johnny Hodges" is how George Avakian described the great saxophonist; Philip Larkin referred to him as "the inscrutable altoist".
John Hammond's 'From Spirituals to Swing'
10th August 2018
Most of his biographers mention that he found some very talented performers and brought them to the attention of wide and appreciative audiences. Count Basie, Billie Holiday, Charlie Christian, Aretha Franklin, Bob Dylan and Bruce Springsteen are just some that get named as being amongst his 'discoveries'.
…and finally 'Lotus Blossom'
19th April 2018
I travelled with a young saxophonist who had never seen the great man before. The journey was uneventful and we arrived on time at Preston railway station. Then we made our way to Preston's Guild Hall for the second concert of the evening. In a foyer we came across a large crowd of people facing closed doors that led into the auditorium. The doors were manned by a number of ushers and security staff. Word quickly spread that the start of the first of the evening's concerts had been delayed and that the first concert would end in about thirty or forty minutes. As a result, the second house would be starting late. The ushers and security staff, more than willing to try to explain what had caused the delay, went through the foyer chatting to groups and answering our questions.
The Duke, Hawk and maybe Lorenzo
23rd March 2018
According to John Chilton, despite all the musicians who met up at the recording studio on that August afternoon being "hard bitten veterans who had made thousands of records between them", nevertheless the occasion "seemed special".  This was going to be no ordinary recording session; it would involve two musical legends who, or so they insisted, had been intending to get together for decades. But record producer Bob Thiele had finally made it happen.  The date was 18th August, 1962.
"Faz" by Peter Gardner
9th March 2018
The number of great clarinet players who were born or learned to play in New Orleans when jazz was in its infancy is quite amazing.  Johnny Dodds, Edmond Hall, Albert Nicholas, Omer Simeon, Leon Roppolo, Jimmy Noone, Barney Bigard, Sidney Bechet and Irving Henry Prestopnik are just some that come to mind. If the last of these is not too familiar, maybe you know him under the Mediterranean name for 'beans', possibly acquired as a term of commendation, or because in his early days he only played from music in a prim and proper or 'fah-so-lah' kind of way.  Still, whatever its etymology, 'Fazola' replaced the east European name of his father, 'Henry' was dropped and for most of his adult life he was known as Irving Fazola or 'Faz'.
'Jaws'
23rd February 2018
"I didn't buy an instrument for the sake of the music…I wanted the instrument for what it represented. By watching musicians I saw that they drank, they smoked, they got all the broads and they didn't get up early in the morning.  That attracted me.  My next move was to see who got the most attention, so it was between the tenor saxophonist and the drummer.  The drums looked like too much work, so I said I'll get one of those tenor saxophones.  That's the truth."
A Golden Age?
1st February 2018
Nostalgia isn't history; it's too caught up with sentiment and rose-tinted recollections to let the facts and diligent research get in the way.  So, forgive me if accuracy and well-grounded judgement are casualties in my trip down memory lane to an age or at least a time which for me was and still is golden.  As The Good Book says, giants walked on the earth in those days.  And please don't think I am setting out to brag; it just so happens that I was fortunate enough to have experienced a wonderfully rich period of jazz, and only desperate people brag about sheer good fortune.
The Fastest Tenor in the West
17th January 2018
He was a seventeen year-old alto saxophone player when he first joined Lionel Hampton's band in 1945, but Gladys Hampton, Lionel's wife, who also managed Lionel's band, insisted that the teenager with the alto had been hired to play tenor saxophone, and no one argued with Gladys. So, Johnny Griffin started to play tenor. Before too long he was duetting with the band's star tenor player, Arnett Cobb.  Eventually the routine of playing Hampton's big hits night after night became tiresome.  Griffin left Hampton's band, and, though he returned for a brief spell, he finally quit for good shortly after his nineteenth birthday.
Artie Shaw – The Last, the Very Last, the Final Gramercies
8th December 2017
Join jazz aficionado Peter Gardner as he discusses the excellent late recording work of clarinettist Artie Shaw…
It wasn't until about twenty years ago that I realised that such marvellous recordings existed.  I was in a large bookshop in the north of England and I had been told the bookshop also stocked some jazz CDs.  As I recall, there weren't too many jazz CDs there and most seemed to be by John Coltrane and Miles Davis. But somewhere near the end of the jazz shelves, perhaps between Rollins and Tatum, I came across a double CD whose attention-grabbing title had the words '…The Last Recordings Rare and Unreleased'.
The First Great Jazz Saxophonist
3rd November 2017
"Sidney Bechet was, by an impressive margin of several years, the first great jazz saxophonist."
                                                                –   Humphrey Lyttelton
One day in 1920 a trumpeter in his very early twenties and a clarinettist, who may not have been much older, were walking down London's Wardour Street.  The trumpeter had been born in the West Indies, but had spent most of his early years in South Carolina.  The clarinettist, who had toured with various groups since a teenager, was originally from New Orleans.  He was a Creole; most of his forbears were African Americans, but at least one was French. Both the trumpeter and the clarinettist had come to England from America with Will Marion Cook's Southern Syncopated Orchestra in 1919.  In the window of J. R. Lafleur's music shop at 147 Wardour Street the clarinettist spotted a shiny straight soprano saxophone.
'Ronnie Peters', 'Buckshot La Funke', Julian 'Cannonball'…
8th September 2017
Join jazz aficionado Peter Gardner with his look back at the one and only Julian 'Cannonball' Adderley…
Some accounts of his arrival on the New York jazz scene read like an exaggerated piece of jazz folklore.  Aged twenty-six, already a successful high school music teacher, he was in New York with a view to starting graduate studies to add to his already impressive educational CV. On Saturday 19th June, 1955, he had his alto with him and rather than leave it in a car, which could be fraught with danger in New York, he took it with him into Café Bohemia to hear a group led by bassist Oscar Pettiford. Pettiford's tenor player, Jerome Richardson, hadn't shown up and neither had his dep.
Not 'The Lion' and Hamp in Pasadena
18th July 2017
Join jazz aficionado Peter Gardner with his look back at one of the premier, but lesser known, lead Alto Saxophonists in jazz history…
If your CV included playing lead alto in the bands of Jimmie Lunceford, Harry James, Duke Ellington, Billy May and Charlie Barnet as well as spells with Jazz at the Philharmonic and Gene Krupa trios, and you had played on one of the most famous jazz records, we might expect that you would be quite well known to any modern saxophonist who has more than a passing interest in the history of jazz and big bands.  Sadly this is not the case, and when you mention this saxophonist's name, people with some knowledge of jazz history often think you are talking about a famous stride pianist. So, let me clarify. Willie Smith, or to give him his full name, William McLeish Smith, was the lead alto saxophonist with the more than impressive CV.  Willie 'The Lion' Smith was a justifiably famous, bowler-hatted, cigar-chomping, extrovert stride pianist.
Benny's Tales
19th April 2017
Join Jazz aficionado Peter Gardner as he explores the great Benny Goodman… 
It has become part of jazz folklore that once upon a time in a Chicago slum, shortly after the end of the First World War, a desperately poor Jewish father, who had emigrated to America from Eastern Europe, decided that some of his children might benefit from learning to play musical instruments.  On hearing that a nearby synagogue ran a band for boys, the father took three of his twelve children to meet the synagogue's band master.
A Forgotten Man?
24th March 2017
by Peter Gardner
In the UK his name rarely crops up in discussions about jazz saxophonists and no saxophone student I have talked to recently has ever heard of him.  I suspect the same goes for many of those students' teachers as well.  Even if you look on the websites of the famous jazz stars he played and recorded with, his name is at best infrequent.
Barrow to Broadway: a White Christmas Story by Peter Gardner
7th December 2016
On Tuesday 11th March 1879 The Barrow Herald, one of the local papers for Barrow-in-Furness in the north west of England, reported that on the previous day a vessel had been launched by the Barrow Shipbuilding Company and that "Miss Welch, daughter of the American minister in London, gracefully performed the ceremony of naming the vessel, the launch being of the most successful character."
'Big Ben' by Peter Gardner
3rd November 2016
In January 1967 Ben Webster was playing a short season at Ronnie Scott's Cub in London.  As often happened back then, star soloists who were playing at Ronnie Scott's would play some out of town gigs.  That was how, a few months earlier, I had heard Johnny Griffin in Coventry's Leofric Hotel. Griffin, 'The Little Giant', 'The Fastest Tenor in the West', had left his audience enthralled and somewhat drained by his astonishing speed, unquenchable imagination and stamina.
Benny Carter: 'The King'
11th October 2016
           …he is a king, man!  You got Duke Ellington, Count Basie, and my man the Earl
            of Hines, right?  Well, Benny's right up there with all them cats.  Everybody
            that knows who he is call him King!  He is a King!
                                                                                               Louis Armstrong
Generations of jazz fans grew up in the firm belief that the three greatest alto saxophone players were Johnny Hodges, Benny Carter and Charlie Parker.  Of this wondrous trio, only one could claim to be multi-talented; he was Benny Carter. His principal instruments were the alto sax and trumpet, which prompted someone with the pen-name of Snooty McSiegle to wax poetic:
The Shy Revolutionary
22nd September 2016
Join Jazz aficionado Peter Gardner as he takes a look at the glorious Lester Young…
By the autumn of 1936 someone who would become one the most influential and imitated of all jazz musicians had been 'on the road' for most of his twenty seven years, but hadn't yet been heard on record. Lester Willis Young had started out as a boy drummer in his father's band, though in early adolescence he discovered that by the time he had packed up his drums at the end of an evening, the girls had gone.  So, he switched to saxophone.
The Making of a Masterpiece…
16th August 2016
Join Jazz aficionado Peter Gardner as this time he takes a look at the origins of 'Body and Soul'…
It would become one of the world's most recorded songs. One recorded performance would reach artistic heights rarely exceeded in the history of jazz. As the result of that performance, the tune would become something of a test piece for jazz musicians, particularly tenor saxophonists. Yet, some accounts of the song's origins give little hint of the memorable things that were to follow.
When Johnny Hodges Doubled…
10th June 2016
Join Jazz aficionado Peter Gardner as he takes us back to 1938 & that famous Carnegie Hall Concert with many of the Jazz greats…
On the evening of 16th January, 1938, Benny Goodman and His Orchestra played before a packed house at New York's Carnegie Hall. Billed as 'The First Swing Concert in the History of Carnegie Hall', it was not the first time jazz had been played in what Down Beat called the "sanctum of long-hairs", but it was the first time an entire Carnegie concert had been devoted to such music.
Stan Getz: Delving back…
9th May 2016
Join Jazz aficionado Peter Gardner as he delves back into the family history of Stan Getz, one of the very greatest Jazz Saxophonists…
When The Observer's jazz critic Benny Green heard Stan Getz playing at Ronnie Scott's Club in March 1971 he spoke of Getz as "one of the greatest jazz masters of all time" and he added: "It is doubtful if Getz has ever played better in his life…Getz's genius has flowered again".
UK Jazz History…
17th March 2016
Preface: I have spoken to Peter for many years via telephone whilst working for Dawkes. Throughout that time he has regaled me with his jazz related historical stories and teachings. In fact, in preparing to give jazz related talks in the North West he's often sent me a copy of the talk with accompanying CD. I felt it was time for some of these fascinating stories to be re-told to our customers, for its on these building blocks that the current genre of jazz in the UK was born…Sam @ Dawkes.