About Sonny Criss – Jazz Saxophonist
17th November 2018
'Hootie Blues' was recorded by Jay McShann and His Orchestra in April, 1941. After the opening chorus there is a brief saxophone solo. Ross Russell would later write that the saxophonist's twelve bar solo was "heard as a sermon from the mount."  The saxophonist was Charlie Parker. A young alto player is said to have first heard a recording of 'Hootie Blues' in Los Angeles and become a convert. He was reported as saying, "That solo on 'Hootie Blues' started me in a completely new direction."  The young musician was Sonny Criss.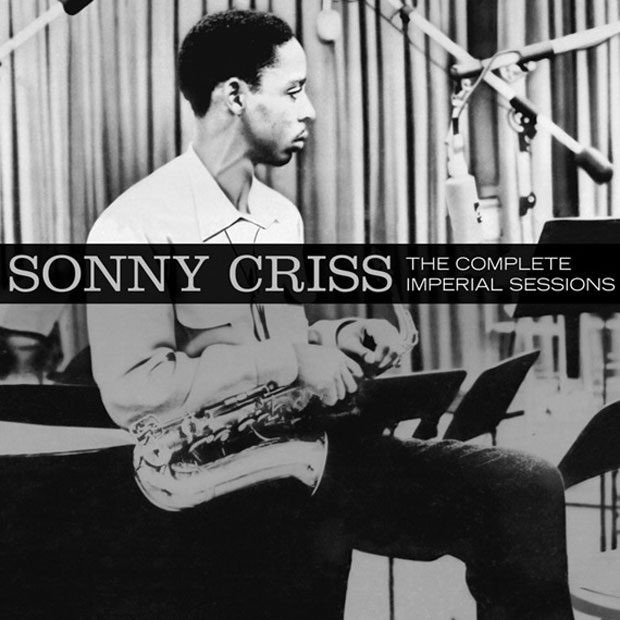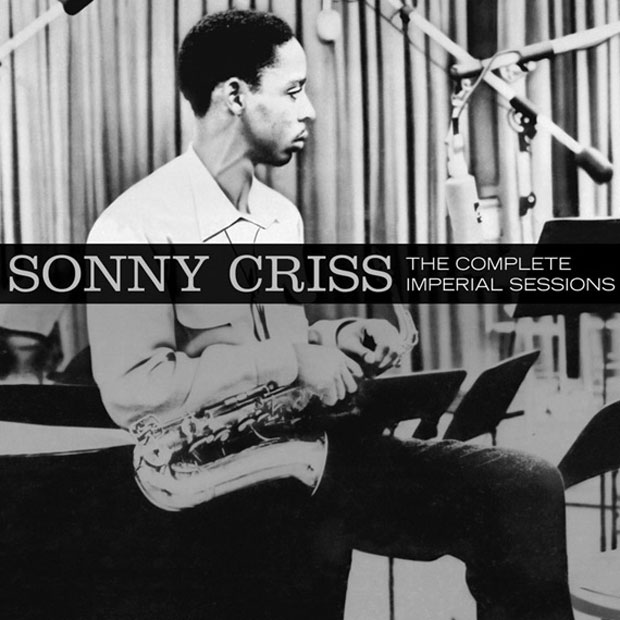 The Early Days
Ted Gioia, a leading authority on West Coast jazz, tells a different tale. According to Gioia, Sonny Criss was learning the alto in his home town of Memphis when he first heard Parker on record playing with McShann and Parker's soloing did not make a great impression. "At that time", writes Gioia, "Criss was more impressed by his teacher Hank O'Day, one of the top saxophonists in Memphis during the war years." Later Criss would listen to what he called "all the established players", Eddie 'Cleanhead' Vinson, Johnny Hodges, Benny Carter, Louis Jordan, Pete Brown …, but everything changed when his mother came back from Chicago with some records, including 'Congo' by the Red Norvo Sextet, which had Parker on alto and Dizzy Gillespie on trumpet. After that, says Criss, "I didn't think about any other musician but Bird…I liked everybody.  Till I heard Bird; it was all over." The second helping of Parker on record proved decisive, and if the young altoist had any lingering doubts about what direction to take, they disappeared when he heard Parker with Gillespie at Billy Berg's club in Hollywood in December, 1945, this being the first visit of Bop's superstars to America's West Coast.
William 'Sonny' Criss was born in Memphis, Tennessee, on 23rd October, 1927, and by the age of eleven his part-time job enabled him to save enough money for the down payment on a saxophone. His parents completed the payments. In 1942 the Criss family moved to Los Angeles, where the young alto player became friends with a teenage pianist Hampton Hawes.  Soon he was playing in local clubs and coming to the attention of musicians like Teddy Edwards, Howard McGhee, Wardell Gray and Dexter Gordon, musicians keen to pursue the latest developments in jazz.
Tours & Recordings
Some of Criss's earliest recordings were with the Howard McGhee Sextet in April 1947.  On such Bop standards as 'Groovin' High', 'Hot House' and 'Bebop', Criss plays with the energy and fire of a determined young man, but with a tone that owes more to the Swing Era (and Willie Smith?) than his idol.  Criss has clearly mastered the demanding mechanics of Parker's music, though some critics might say his solos are more like a series of exercises than the coherent structures of the master.  A session, just a few months later, in October 1947, by the Sonny Criss All Stars, featuring Al Killian, trumpet and Wardell Gray, tenor, has a less frantic altoist showing something of his gentler side.  He was still a few days short of his twentieth birthday (1).
By November 1948 Criss was starting to move in elevated jazz circles. Jazz impresario Norman Granz in collaboration with Mercury Records promoted a twenty-eight concert Jazz at the Philharmonic tour that began at the Carnegie Hall on 6th November. The stars of the tour were Coleman Hawkins, Charlie Parker, Flip Phillips and Howard McGhee, but twenty-one year-old Sonny Criss was part of the show. Criss also joined the tour that saw Ella Fitzgerald begin her JATP career at Carnegie Hall in February 1949, the star names this time, in addition to Ella, were Charlie Parker, Bud Powell, Fats Navarro and Coleman Hawkins.
In October 1951 Criss was again part of a Norman Granz tour.  The headliner for this tour was Billy Eckstine and one of the sets from a performance at the Shrine Auditorium, Los Angeles, was recorded. Criss was appearing with an all-star septet that included Bennie Green, trombone, Joe Newman, trumpet, Eddie 'Lockjaw' Davis, tenor, and Kenny Clarke, drums. The tape of this set seems to have gathered dust on a shelf for over thirty-five years.  Eventually issued on the Pablo label in 1988 as 'Sonny Criss, Intermission Riff' (2), this is rightly seen as Criss's album. Green, 'Lockjaw' and Clarke play well, but Criss's assertive flamboyance means that he is the dominating force; as Richard Cook and Brian Morton observe, "any hint of diffidence or uncertainty has long since evaporated." Criss's solo on 'Perdido' speaks volumes about his certainty and confidence.
In June 1952 Criss was recorded playing with hero, Charlie Parker. They met at The Trades Winds, a club in Inglewood, California, on 16th June and shared front-line duties with trumpeter Chet Baker (3). Far from being overawed by Bird's presence, Criss is on fine, assertive form, taking two impressive solos on the up-tempo blues, 'The Squirrel' before Bird's entry.  If anything, it is Chet Baker who shows signs of being intimidated.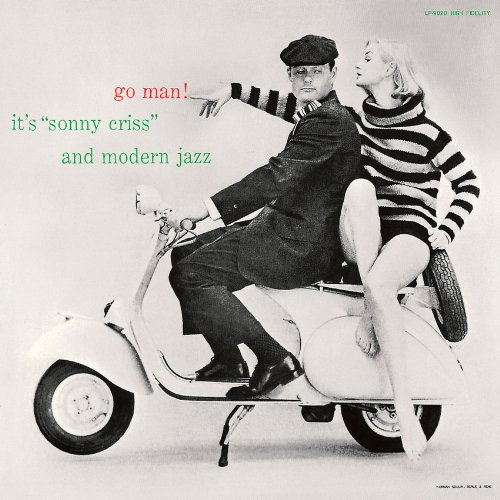 Record producer, critic and broadcaster, Bob Porter, has written that during the early part of the 1950s few recording opportunities came Criss's way, until Imperial Records, a label with little jazz experience, recorded three Sonny Criss albums, and the music on all three was "uniformly excellent". Criss is the main soloist on all three of the Imperial albums with musicians of the quality of Barney Kessel, Kenny Drew, Sonny Clark and Leroy Vinnegar playing supportive rolls. On his first Imperial album, 'Sonny Criss – Jazz U.S.A', there are ballads, blues and a frightening version of 'Sweet Georgia Brown'. On 'Sonny Criss – Plays Cole Porter' there are ten of Porter's greatest hits and on 'Sonny Criss-Go Man' standards, like 'Memories of You', 'Until the Real Thing comes Along' and what Bob Porter calls a "blazing" 'The Man I Love' dominate (4).
Changing Fortunes
But there were difficult times ahead. There were occasions in the 1950s when the only work Criss could find was as part of a trio in strip clubs, and by the early 1960s, as French writer Alain Tercinet reported, "Sonny Criss was weary.  Deeply attached to his native California, he could see himself sinking into a kind of semi-anonymity…quite different from 1946, when he was 19 and one of the rising stars of West Coast modern jazz."  Like several jazz musicians had already done, Criss decided to try his luck in France. However, after three weeks in Paris, no one had contacted him. Desperate not to return home a failure, one night he took his horn and forced his way on to a bandstand. It worked. Soon he was playing in Paris with Americans like Kenny Clarke, Kenny Drew and Johnny Griffin, in Germany with Don Byas and Herb Geller and making records. One delightful album from this period, 'Sonny Criss: Mr Blues pour flirter',features Criss with a four-piece rhythm section that includes Rene Thomas, guitar, and Pierre Michelot, bass, and has Criss tackling such Hodges favourites as 'Don't Get Around Much Anymore' and 'Day Dream' as well as several blues (5).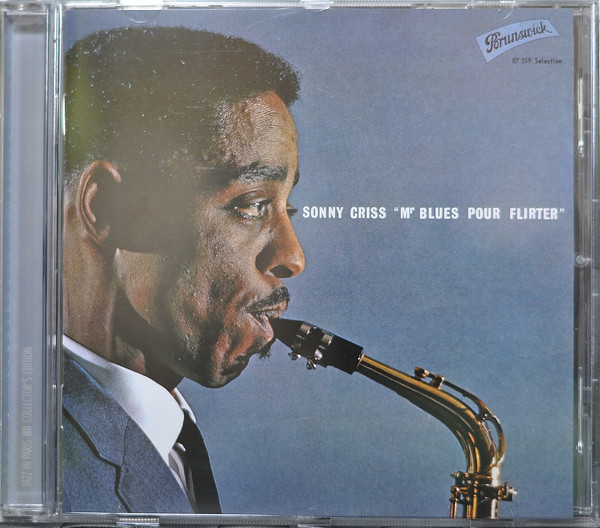 Though well-received and well-respected in Europe, California held a special place in Criss's affections and by 1965 he was back on America's West Coast looking for work. Two trips to the Rudy Van Gelder studios in New Jersey resulted in excellent albums for the Prestige label.  'This Is Criss', with Walter Davis' piano, Paul Chambers, bass, and Alan Dawson, drums, was recorded in October 1966.  It features a groovy 'Days of Wine and Roses', a surprisingly tender 'Sunrise Sunset' from Fiddler on the Roofand a blues, 'Steve's Blues', dedicated to Criss's son then serving in Vietnam. 'Portrait of Sonny Criss' recorded with the same rhythm section in March the following year includes a version of 'Wee' that is simply breathtaking, a soulful 'God Bless the Child' and version of Chaplin's tear-jerker, 'Smile', that is both flippant and tender. These Van Gelder albums show Criss at the top of his form (6).
Tragedy Ahead
By the early 1970s Criss was engaged in social work – he was a counsellor helping people with alcohol problems -, and he was also involved in jazz education in the Los Angeles school system. Yet, as the decade progressed, more opportunities to perform and record came his way.  In February 1975 he recorded an album for Muse Records called 'Crisscraft' with a fine rhythm section that included guitarist Ray Crawford, and a week later, accompanied by  a trio that included Barry Harris, piano and bassist Leroy Vinnegar, he recorded an album for the Xanadu label called 'Saturday Morning' (7).  Things seemed to be looking up. This was why Bob Porter, who was the producer on 'Crisscraft', was at a loss to explain the tragic event of 19th November, 1977:  "It didn't make any sense.  Sonny Criss took his own life shortly after his 50th birthday just as things were finally breaking for him.  After a hiatus of several years, he had resumed recording in 1975.  An album for Xanadu, two for Muse and a pair for Impulse had brought his name back before the public again.  He was preparing to make his first Japanese tour. He had toured Europe in 1973 and '74 and found that his popularity, especially in France, was still strong. Everything was finally falling into place. Again, it didn't make any sense."
Just as his prospects looked the best they had been for many a year, Sonny Criss shot himself. Why? Over a decade after his death, Mrs. Lucy B. Criss, Sonny's mother, who had helped complete the payments on her son's first saxophone back in Memphis, revealed that her son had stomach cancer, which was why he took his own life. "He kept still about it and worked for as long as he could."  That seems to have been the nature of the man.  He was a reserved individual, who kept his thoughts and his worries to himself.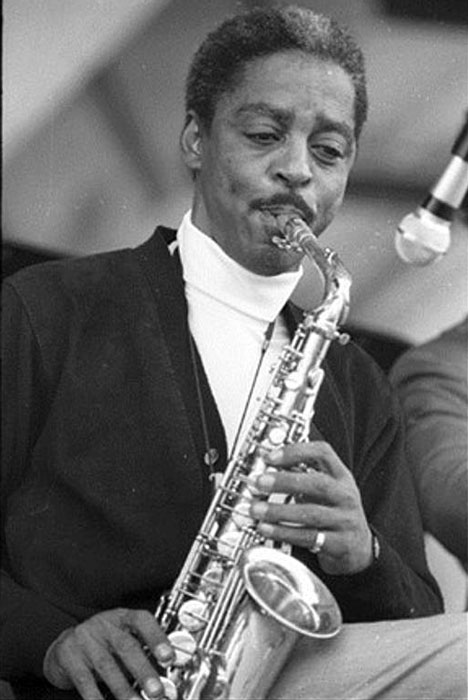 In Retrospect
Criss's recording career lasted thirty years. After his youthful outbursts, he brought a round, warm tone and gentle blues' inflections to the gospel according to Parker. But Criss was never a clone or a slavish copyist; he was his own man. Reserved, tasteful, controlled and moving. Thomas Owens, author of Bebop: The Music and Its Players, went further; "Often his expressive powers on ballads and slow blues, in which he employs his luscious tone quality and his expressive use of dynamic and pitch inflection, are second to none among alto players."
Semi-anonymity or worse should not be the fate of a musician as gifted and as giving as Sonny Criss. If you are not too familiar with his recordings, go and find them and be uplifted.  If you are already familiar with them, you will need nothing further from me.
Peter Gardner
December, 2018
Acknowledgements
I am grateful for the continued help of both Steve Marshall from Marshall McGurk, Maryport, Cumbria, and Dawkes' woodwind specialist, who finds all the illustrations for my pieces, Sam Gregory.
Endnotes
(1) 'Groovin' High', 'Hot House' and 'Bebop' by the Howard McGhee Sextet from 29thApril, 1947, and five tracks by the Sonny Criss All Stars from 17thOctober, 1947, can be found in 'The Wardell Gray Story', Properbox 55.
(2)This album is currently available as 'Sonny Criss, Intermission Riff', Original Jazz Classics, OJCCD 961-2.
(3) 'The Squirrel' and three other tracks from the Parker/Baker/Criss session at The Trades Winds, 16thJune, 1952, are on 'A Proper Introduction to Sonny Criss, Young Sonny', INTRO CD 2005.
(4) All three of the Imperial albums are included on the competitively priced 'Sonny Criss: Four Classic Albums' Avid Jazz AMSC 1182.
(5) 'Sonny Criss: Mr Blues pour flirter' was issued on the CD Gitanes, Jazz in Paris, 549 231-2.
(6) 'This Is Criss!' has been issued on the Original Jazz Classics CD, OJCCD 430-2 and 'Portrait of Sonny Criss' has been issued on the Original Jazz Classics CD, OJCCD 655-2. Another Prestige album recorded in the 1960s is 'The Sonny Criss Orchestra: Sonny's Dream (The Birth of the New Cool)', which has Criss doubling on soprano and involves a similar line-up to that used by Miles Davis on his 'Birth of the Cool' recordings. 'Sonny's Dream' has been issued on the Original Jazz Classics CD, OJCCD 707-2.
(7) 'Sonny Criss, Crisscraft' is available on the CD Savoy Jazz, SVY 17246 and 'Sonny Criss, Saturday Morning' has been issued on the CD 'Sonny Criss, Great Quartets', Jazz Lips, JL 762. This CD also contains the highly rated Sonny Criss album 'I'll Catch the Sun' recorded in January 1969, with Hampton Hawes, piano, Monty Budwig, bass, and Shelly Manne, drums.
Some sources used
Richard Cook and Brian Morton, The Penguin Guide to Jazz on CD, Fifth Edition (Penguin Books, Harmondsworth, 2000).
Ted Gioia, West Coast Jazz: Modern Jazz in California, 1945-1960 (Oxford University Press, New York, 1992).
Ira Gitler, Swing to Bop(Oxford University Press, New York, 1985).
Mike Hennessey, Klook: The Story of Kenny Clarke (Quartet Books, London, 1990).
Ted Hershorn, Norman Granz(University of California Press, Berkeley, 2011).
Thomas Owens, Bebop: The Music and Its Players (Oxford University Press, New York, 1995).
Ross Russell, Bird Lives! (Quartet Books, London, 1973).
I have also used the liner notes from several of the albums I have mentioned.