Russell Procope
15th June 2019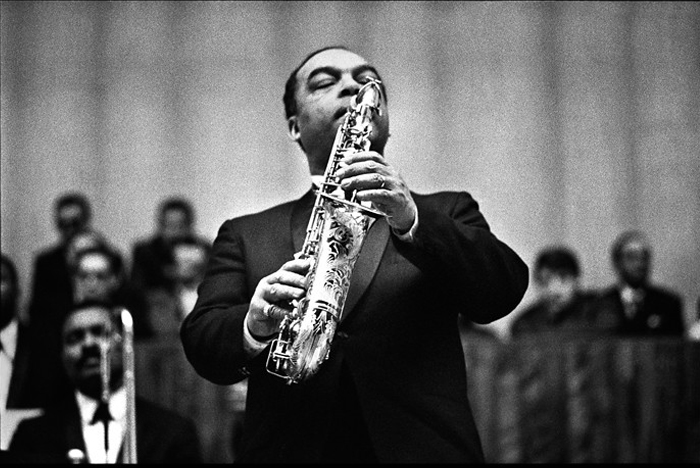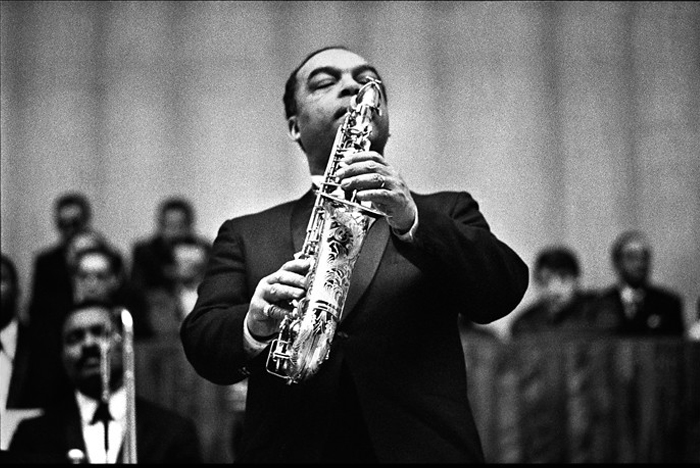 On 6th December, 1928, and not yet twenty-one, he entered a New York recording studio as part of Jelly Roll Morton's Orchestra. He would play clarinet on two sides. The first, 'Red Hot Pepper', a lively piece full of unexpected breaks. The second, 'Deep Creek', a slow blues. On 3rd June, 1976, at the St. Ivo Centre, St. Ives, Huntington, he would be guest star with Chris Barber's Jazz and Blues Band. With Barber his clarinet would be heard on 'Mood Indigo' and 'The Mooche', his alto on 'Take the 'A' Train' and 'Just Squeeze Me' amongst other Ellington favourites. In the nearly forty-eight years between playing with Morton and playing with Barber, Russell Procope would be a member of some of the greatest groups in jazz history.
Early Days
Born in August 1908 into an African American middle-class family, where classical music was seen as an important element in everyday life, the young Procope studied the violin and played in his prize-winning high school orchestra. Somehow he persuaded his mother to buy him both a clarinet and an alto saxophone, purchases, one gathers, not entirely welcomed by his father. And then there seems to have been a Damascene experience. Procope heard Louis Armstrong. It was during 1924 or '25 when Armstrong was playing with the Fletcher Henderson Orchestra in New York's Roseland Ballroom and according to Procope, "I didn't move away from the front of the bandstand…(I) stood there with my mouth open all night…And I think right then I decided what I was going to do with my life."
A busy life it turned out to be. After playing with Morton, Russell Procope joined Benny Carter's band and after Carter he had a spell with Chick Webb.  There was then some kind of 'swop', with Benny Carter, who had become a member of Fletcher Henderson's orchestra and Henderson's trombonist, Jimmy Harrison, going to Chick Webb's band and Russell Procope plus Chick Webb's trombonist, Benny Morton, moving in the opposite direction. According to the New York Age, "Fletcher hired two men from Chick's band, and Chick took Fletcher's two men. None of the musician's lost a day's work, and the principals are satisfied and think their orchestra is strengthened by this unprecedented incident."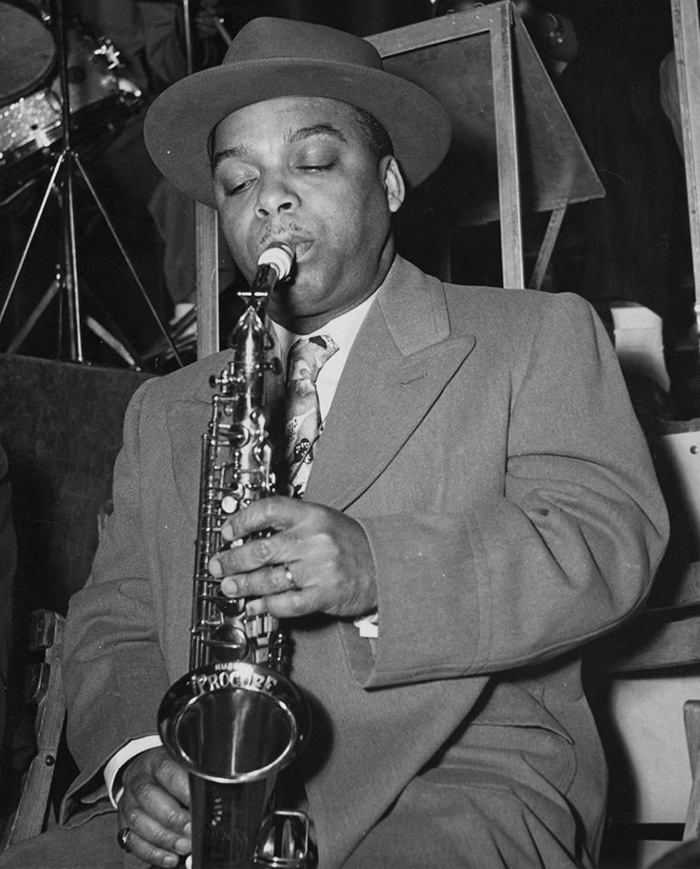 Procope stayed with the great Henderson outfit for over three years and played alongside such stars as Henry 'Red' Allen, trumpet, Dicky Wells, trombone, Hilton Jefferson, alto, and Coleman Hawkins, tenor. After the Henderson band dissolved in 1934, Procope had a short stay with Tiny Bradshaw's band and by 1937 he was part of Teddy Hill's band that toured Europe and played for five weeks at the London Palladium accompanying the Cotton Club Review. This band also included a nineteen year-old, who had recently joined the trumpet section, Dizzy Gillespie.
Procope was playing at the Palladium during the period when the British Musicians' Union had persuaded the Ministry of Labour to keep foreign, especially American, musicians from taking jobs that the Union believed could be filled by its own members. (1). According to Jim Godbolt, an authority on British jazz history, Teddy Hill's band was eventually allowed to appear at the Palladium providing its musicians "did not 'move', except in the mechanics of playing their instruments." (At the Windmill Theatre the nudes were not permitted to move at all.)
In the Biggest Little Band in the Land
In 1937 Fletcher Henderson's former clarinet virtuoso, Buster Bailey, was leading a small group at New York's Onyx Club that featured Frankie Newton, trumpet, and Pete Brown, alto. When Newton, Brown and some other musicians left, the group's bass player, himself another Henderson 'old boy', John Kirby, took up the leader's reins. Trumpeter, Charlie Shavers, and Russell Procope were brought in and with Buster Bailey formed the unusual frontline of trumpet, alto and clarinet. This frontline was backed by O'Neil Spencer, drums, Billie Kyle, piano, and John Kirby on bass. So, The John Kirby Sextet was born. Soon it would be known as 'The Biggest Little Band in the Land' and it was a phenomenon. Its records sold in their thousands, the sextet played at the most prestigious clubs for extended bookings and its musicians dressed immaculately, usually in tails, frequently in white with matching shoes.
The Kirby Sextet's arrangements, many by Shavers, were tight and disciplined, and solo space was often limited with solos integral to the arrangement. What the group played were not simplified charts from big bands, but intricate arrangements written exclusively for itself. Whether it was 'jazzin' up' Grieg in 'Anitra's Dance' or Beethoven in 'Beethoven Riffs On', it would apply the same precision and excellent musicianship when it turned to jazz's evergreens like 'Sweet Georgia Brown' and 'Royal Garden Blues' and to standards like Berlin's 'Blue Skies' and Arlen's 'It's Only a Paper Moon'.  Whatever the tempo the rhythm section was light and the front line, to use an expression from the next decade, was slightly on the cool side. This was jazz that swung with refinement.
After years of success, the sextet's popularity began to decline and its personnel began to change. In 1943 tuberculosis forced O'Neil Spencer to give up the life of a professional musician (He died in July, 1944.) and Procope and Kyle were called up for military service. A little later Shavers left to join Tommy Dorsey. Replacement musicians were brought in, but the group's appeal and, perhaps, its sound were on the wane. On 14th June, 1952, John Kirby was found dead in his sparsely furnished Hollywood apartment. Alcoholism, diabetes and poverty had resulted in a heart attack.  He was only forty-three.
With the Duke
In Part 1 of Duke's Diary, 1927-1950 Ken Vail tells us that on Friday 19thApril, 1946, Duke Ellington and his Orchestra began a one-week engagement at he Howard Theatre, Washington, D.C., and "During the week at the Howard Theatre, after a disagreement with Ellington, Otto Hardwick walks off the stage during a performance, never to return." The disagreement was, apparently, over Hardwick's girl friend. Otto 'Toby' Hardwick played saxophone with Ellington in the early 1920s and after a spell in Europe, he returned to the Duke's orchestra in 1932, where he would be the lead alto player for the next fourteen years, with Johnny Hodges playing second alto and soprano. According to Vail, by Saturday 27th April, 1946, when the Ellington band broadcast 'Your Saturday Date With The Duke', 16.00 to 17.00 for NBC, Russell Procope was in the Ellington saxophone section. He would stay for the next twenty-eight years.
With Hardwick's departure, Johnny Hodges took over most of the lead alto duties, and in the 1950s when Hodges left the band for a few years, Willie Smith and then Hilton Jefferson were the lead alto players. After Hodges' death in 1970 there were times when Harold Minerve was the lead altoist in the band. But for most of the years between 1950 and 1970 Procope along with Hodges, alto, Paul Gonsalves and Jimmie Hamilton, tenors, and Harry Carney, baritone, was part of what many still see as the greatest saxophone section ever. And, throughout all of this Procope remained, in Ellington's own words, "a conscientious, all-round musician, one always to be depended on."
As for his clarinet playing, it became an essential solo feature in Ellington concerts and recordings. Playing an Albert system instrument, Procope produced a rich, warm New Orleans sound, which stood in sharp contrast to the thinner fluidity of the quick-fingered Jimmy Hamilton. Procope's  early clarinet heroes, according to the Duke, were Buster Bailey, Omer Simeon and Barney Bigard, but Procope's sound was much heavier and darker than any of these fine players. Procope would help introduce the slow march theme, with its New Orleans roots, that grows and grows until the final crescendo in Ellington's famous 'Tone Parallel to Harlem'. 'Mood Indigo' would become one of Procope's regular solo pieces, and later in life '4. 30 Blues' (neither am nor pm was specified) had him playing movingly over rich, choral voicings from the Ellington orchestra.
And then…
Ellington died in 1974. That was when Procope left the band. Derek Jewell, Jazz Critic for The Sunday Times, caught up with Procope a little later when he was in London to play with Chris Barber. "Why did I stay twenty-eight years?" Procope said in response to a question from Jewell about Ellington. "Well, hell, I joined him because I loved his music. It was the greatest. Besides which it was a chance to go round the world. Besides which, it was security." Mercer, Duke's son, had taken up the reins of leading the band when his father died, but Procope didn't want to be a part of an old–Ellingtonians band. "There aren't many Ellingtonians left", Procope observed, and then added, "A lot of guys who played with Ellington are not Ellingtonians. He achieved what he did despite them rather than because of them. People say he didn't fire many people. Yeah, and he didn't hire many people either. It was special, very special. So that's why I don't want to play in no "Ellington" band now."
It was nearly time for him to take to the stage with Barber, but Procope had some final words, "Don't let nobody tell you any different.  While it was happening it was the greatest thing that ever took hold of your soul. When it ended, it ended."
Russell Procope died on 21st January, 1981, in New York.  He was seventy-two years old. 'Reliable', 'dependable', 'loyal', 'an excellent reader' and 'a superb section man' are the kinds of commendations that fill accounts of his musical life. He played with Jelly Roll Morton, Chick Webb, Fletcher Henderson, John Kirby, and the Duke. That's a most impressive CV. And whatever the criterion or criteria we use to identify the genuine from those who merely played in the band, Russell Procope has to emerge as a real Ellingtonian.
Peter Gardner
May, 2019.
Acknowledgements
I am grateful for the help of Dawkes' woodwind specialist., Sam Gregory, and Steve Marshall from Marshall McGurk, Maryport, Cumbria.
Endnote
(1) See my ''The Ban' – When Duke & Hawk were job-snatching aliens', Dawkes Newsletter, April 2016.
Some sources used
Walter C. Allen, Hendersonia: The Music of Fletcher Henderson and His Musicians (Walter C. Allen, Highland Park, New Jersey, 1973).
Duke Ellington, Music Is My Mistress (W. H. Allen, London, 1974).
Jim Godbolt, A History of Jazz in Britain, 1919-50(Northway Publications, London, 2010).
Derek Jewell, Duke: A Portrait of Duke Ellington(Hamish Hamilton, London, 1977).
Jeffrey Magee, The Uncrowned King of Swing: Fletcher Henderson and Big Band Jazz (Oxford University Press, New York, 2005).
Ken Vail, Duke's Diary, Pt. 1: The Life of Duke Ellington 1927-1950(Vail Publishing, Cambridge, 1999).
Alan Williams, Fall From Grace: The John Kirby Story (Alcoral Books, Pensacola, Florida, 1996).