NEW Yamaha YBS-82 Baritone Sax
16th November 2020
It's been a long time coming, but finally the Yamaha YBS-82 Baritone Sax is nearly with us. Rounding out the Custom 8 series from Yamaha, the Baritone 8 model has been conspicuous by it's absence in recent years. In this blog we're going to take a look at the new model, what's different and why it just might be the ultimate Bari Sax…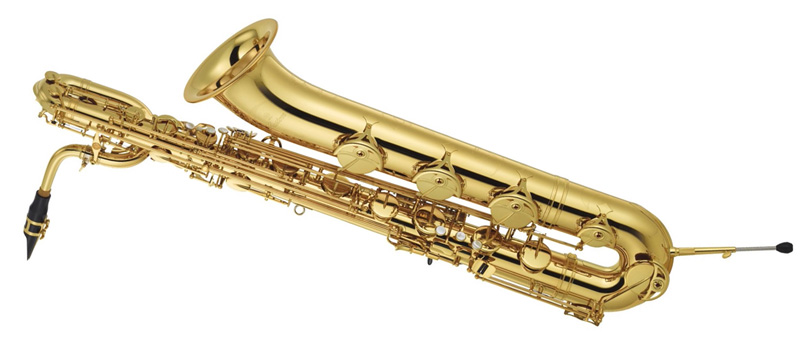 What's in a name?
If you're familiar with your Yamaha model nomenclature you'll be aware that on Soprano, Alto and Tenor they have both a 82Z and 875 model. However, here on Baritone the 'Z' is missing from this YBS-82 model name. To the best of our knowledge that's because there will only be x1 Custom 8 Series Baritone (YBS-82) doing the job of both the 82Z and 875 names. This writer suspects they weren't keen to add the Z and put off any potential classical style players but that's just speculation…
What's New?
There's a raft of visible and non-visible changes when compared to the YBS-62 which had been the current flagship Baritone. By the way, the 62 just happens to be an absolute stonker of a Baritone already and was seemingly the choice of most discerning professional players.
What you can't see on the new YBS-82 are some subtle modifications to the inner bore shaping and design to help intonation and speed of response across the whole range. Another attribute you won't really see is the use of 'Custom Alloy' which is the core material Yamaha use on all of their 8 series Saxophones. It's a more expensive compound that improves resonance and response.
In terms of physical changes you CAN see, here's the main attributes: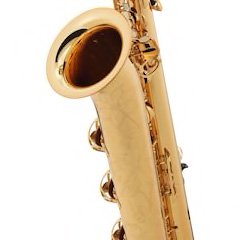 New Bell Design
The bell section has been made shorter and fatter. Whilst still accommodating the low A keys, it's likely it will look a little more like a low Bb bell.
Yamaha believe this positively affects the intonation and response. Anecdotally many players prefer how the shorter bell low Bb model Baritones 'speak' so this is an interesting development.
---
Custom Neck
The YBS-82 will come supplied with a C1 Custom neck. The C1 helps produce a centred, rich sound with easy slotting and control.
Interestingly, Yamaha will also be adding the E1 and V1 Custom neck designs to the Baritone Sax offerings. These can be bought separately to change up the sound and response of the Baritone. For more info on these custom necks, check out this previous blog discussing them for Alto & Tenor Sax.
---
Floor Peg
Very usefully Yamaha have added a strong floor peg and receiver. This allows players to achieve a better balance and feel when playing seated with the Baritone without necessarily having to resort to slings, straps or other contraptions.
---
Case with Wheels
Yes! Another sensible addition is the extra handles on the side of the case and the super-strong wheels that have been added to the base of the case. This will make it much easier to transport the instrument around.
---

Key Layout Changes
There have been various small tweaks to certain keys on the YBS-82:
The ring hook is slightly higher up the instrument to help balance it more positively.
The low A key and Octave key layout has been modified to make them easier to reach from the thumb button for any size hand.
The right and left-hand pinky keys have been re-designed to be slightly closer together so they are easier to reach and navigate at speed.
The left hand palm keys have also been modified in position and angle to promote easier dexterity and comfort.
In Summary
Yamaha both wanted and needed to complete their Custom range by introducing an 8 series Baritone. It makes sense to us to have introduced one Custom model on the Baritone, there's simply no need for a Z and 875. Knowing the level of detail Yamaha go into with regards key positioning and ease of play we have no doubt in saying this should feel like the best Baritone Sax under the fingers we've ever experienced.
In terms of the sound, the YBS-62 was (and still is) a stonkingly fun Baritone to play. The YBS-82 uses a higher quality and more responsive core material, as such we are expecting it to be like a YBS-62 but on steroids. Yamaha claim to have improved the bite and brilliance of the mid/upper range whilst also adding weight and solidity to the low register. We suspect the bell re-shaping has really helped this overall tonal balance and can't wait to bring you our video review on this new model.
How Do You Get One?
Stock is going to be VERY limited and rare across Europe for the first 6-12 months at least. We have stock on order and are currently accepting pre-orders. We are up at the front of the queue in Europe so will be supplying as soon as possible.
Check out our listing and get all the pricing and delivery info here: Yamaha YBS-82 Baritone Sax