NEW! Yanagisawa Saxophone AKZ Necks
16th August 2021
Yanagisawa have recently released a new 'AKZ' range of Alto Saxophone necks. These models differ from the standard necks that are supplied with instruments. As such they offer players the chance to upgrade their Yanagisawa set-up and play with new tonal colours and response.
Check out our guide below to the NEW models…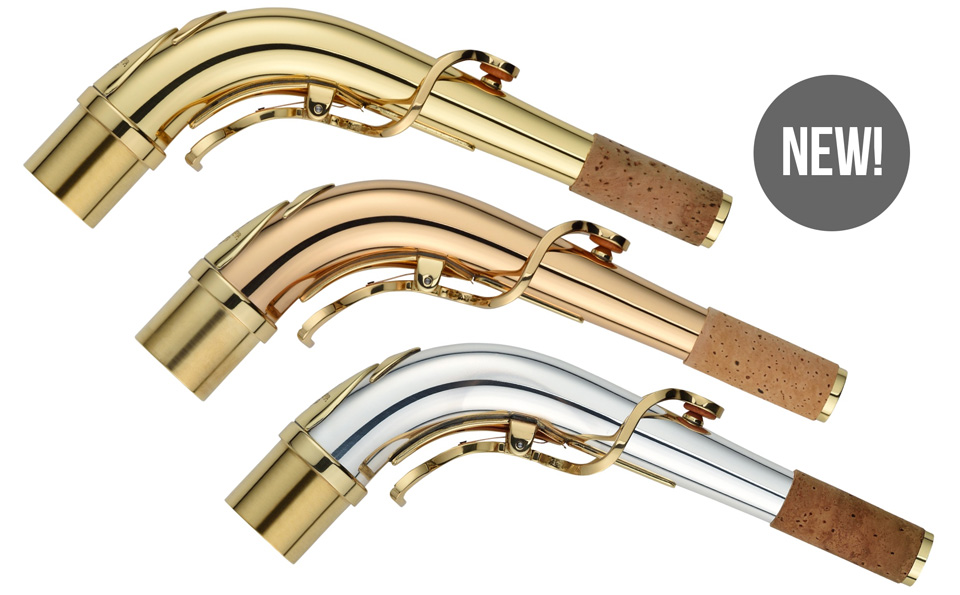 New Yanagisawa AKZ Necks
These new necks are compatible with all Yanagisawa Alto Saxophones old or new. Yanagisawa say "They feature two newly designed, front mounted plates to deliver a powerful sound and quick response."
The new models are available in 3 types: Brass AKZ1 / Bronze AKZ2 / Silver AKZ3. They all have the following features:
Underslung neck mechanism for fluid transitions
New double plates on the front to add weight at this important point
Range of finishes/materials
How Do They Play?
As yet there are no new models in the UK for us to test – However, looking at the spec and design we expect these crooks to add extra solidity and projection when compared to a normal Yanagisawa neck. The brass will be the clearest sounding, the bronze will offer extra warmth due to the material change, and the silver will be the 'biggest' sounding with gorgeous complexity of tone.
We've asked a few questions of Yanagisawa which we're waiting for answers on, primarily to do with the internal bore and if that is changed compared to the 'normal' necks. Stay tuned for future news and some video demo's.
How Do I Get One?
We have placed our initial order but we know that stock will be fairly limited in the coming months. As such we're advising anyone who is interested to pre-order via the links below. This ensures you will get your hands on one from the first UK delivery:
Yanagisawa AKZ1 Brass Neck (Alto Sax) – £375.60 inc.vat (order here)
Yanagisawa AKZ2 Bronze Neck (Alto Sax) – £389.40 inc.vat (order here)
Yanagisawa AKZ3 Silver Neck (Alto Sax) – £774.75 inc.vat (order here)
Why Change Your Neck?
The easiest way for us to explain this is that your neck plays a big role in the tone and response of your Saxophone. If you are quite settled on your mouthpiece/reed set-up and are reluctant to change them BUT you're looking to add something to your sound then we would advise testing a new neck.
The different materials offered on these models also mean you could customise your current set-up to give yourself another tone colour, it's like having 2 different saxophones, but just by adding another neck.
Customise Your Sound
For example, if you have a bronze Yanagisawa but are looking for a little extra clarify/bite to the sound we'd advise the brass neck. Or perhaps you have an older Yanagisawa A901 Alto with the standard key neck and would like to add something special to 'supercharge' your instrument without having to buy a new one – in this instance we'd advise adding the sterling silver neck which will add lots of projection and solidity to the sound of your A901.