Yamaha Neo Tenor Horn YAH-803S – New Product
15th May 2010
In a market place that has both a loyal and knowledgeable following any new Brass Band instruments are often poured over and scrutinized for any potential benefits. The new NEO range is launched with the arrival of the much anticipated YAH-803S Tenor Horn.
Why Tenor Horn first? Well, you could argue the other manufacturers have somewhat overlooked this instrument and developments and releases haven't been as common and talked about as Cornet or Euphonium for example. Also Yamaha had a partnership with Sheona White the great soloist and respected figure in the field, why not try and improve this often overlooked instrument. The YAH-803S completes the range of available Yamaha Tenor Horns.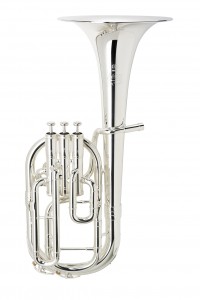 Artist Input
Sheona White should be well known to all players in the Brass Band world, the former BBC Young Musician of the year (1996) has gone on to play with the YBS and Foden's Richardson Band amongst many other top outfits, and taught Tenor Horn at the highest level. Sheona states in the partnership with Yamaha she was "looking for superb tonal quality, great projection and perfect intonation. An Instrument for today's generation", with the Yamaha UK & Europe research and development team that's what they feel they have found.
What's New?
So, what's changed from the current YAH-602 top model Yamaha: Lots! Instead of tweaking what they already had Yamaha tried to start from the drawing board. A fresh approach, logical manufacturing changes and theories were explored, this resulted in various feature differences and improvements: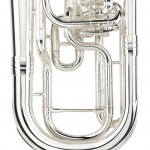 The new YAH803-S Neo  features a one piece yellow brass bell that is slightly larger than the previous YAH-602 model, this gives a slightly broader dynamic range and ability to produce more carrying volume. The instrument also benefits from a heavier valve casing design and heavier receiver. This added weight at important points on the instrument help give the instrument a bigger and richer core sound. All manufacturers bluster about certain things giving you x,y and z but the science behind heavier weighting in these areas and the results it produces is not in any doubt.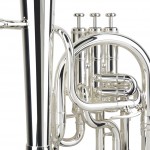 There is also a different leadpipe design, with the co-operation from Sheona this should give a more positive response and freer blowing feel. On another technical point the first branch has had a new design to improve tone and pitch, the development of a wider tuning slide has also been found to improve dynamic range and playability.
In summary
This is the most exciting new instrument for Tenor Horn players in quite some time. All aspects seem to have been considered and worked on. It looks like this could be the start of a sought after range of Neo Brass Band Instruments from Yamaha.