Yamaha NEO YEP642SII Euphonium
13th June 2011
"The new standard in Brass Band Instruments" – Yamaha's tagline for the Neo range of instruments… It rang true for the new neo tenor horn a couple of months ago; it also rings true to this new YEP642SII Neo Euphonium.
At first glance, the new addition to the Yamaha Euphonium range (Neo YEP-642SII) doesn't seem to have changed much from the Yamaha Maestro. It does boast slightly wider tuning slide bows and a redesigned hand rest, the new emblem is clear on the flawless bright silver plate. It is available in both silver and lacquer and both look exceptionally beautiful, even without the "gold bits" on Yamaha's Custom range.
When you stop ogling it and actually blow the Neo, it becomes apparent that Yamaha have been doing some quality work in the development room. It has a rich tone, warm and deep which blends remarkably well with the other lower brass instruments while being powerful enough when needed to sing over the top of the band. It is clear and precise across the entire range of the instrument, even in the pedal and "super" ranges. And tuning is as close to perfect as has yet been seen in a euphonium, even without a trigger. The range of dynamics possible is huge as it still speaks when playing at ppp and just starts to get "barky" and out of hand at a strong, accented fff.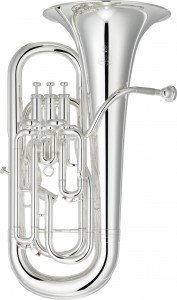 Continuing the theme from the Neo YAH-803 Tenor Horn Yamaha chose to work with some of the most respected musicians in the brass band field. Conductor and Player Bill Millar (University of Salford) and Yamaha Brass Band consultant David King both had input amongst other top players who were consulted and used to test the various prototype models that Yamaha developed the Neo Euphonium from. Lengthy testing, moving of parts, changing of dimensions etc took place to ensure this was built from the ground up rather than being a re-make of the current Maestro.
Yamaha have created an instrument that will perform with good tuning and an excellent range at all levels of banding, It seems to "sing" like no other instrument and the clear and easy articulation at all dynamics makes it a serious contender to the Sovereign's crown as the brass band euphonium of choice.
ARTIST QUOTES…
Steven Walsh (Principal Euphonium Brigstock and Rastrick Band):
"The Yamaha Neo Euphonium has an unrivalled depth in tone and accuracy of tuning throughout the whole range of the instrument. These attributes can be projected across any ensemble with consummate ease.
This newest addition to the Neo range allows a performer the opportunity to portray their musical ideas with absolute comfort, culminating in a classic British Euphonium sound."
Bill Millar (Professor, University of Salford)
"When trying a new euphonium a number of things are for me of paramount importance.
The first thing I would consider would be the comfort of hold, the positioning of the lead pipe and the hand rest are of particular importance. In this respect, I found that these were positioned ideally on the Neo to provide a comfortable hold when adopting a correct upright posture.
Quality of sound is for me the single most important feature of any instrument. I would be looking for an instrument that has both a resonance and a clarity of tone.
With the Neo I found both of these qualities in abundance throughout the dynamic range.
The modern day repertoire for the euphonium covers a range of more than four octaves so players need an instrument that they know will perform well at the extremes of the range. Again the Neo exceeded my expectation in this regard, performing with ease at the highest and lowest extremes of the euphonium register. The valve action on the Neo is both smooth and solid, providing an ease of execution when playing rapid passages and a sense of security in slower music.
This is an instrument that combines depth and clarity of tone with great projection, responsiveness and character, it truly is a joy to play and I give it my highest possible recommendation."
Matt – Brass Dept: