What Sax Mouthpiece? Ebonite Jazz Mouthpieces
4th December 2019
'Jazz' is a broad genre, and as such there are many mouthpieces available for the styles. Jazz has a variety of sounds, such as that classic smokey sound, to brighter, 'pingy' sounds. Ebonite lends itself well to producing that warm, 'classic' jazz sound, but with the right design it can really be a contender against it's metal counterparts! This is just a small selection of the ebonite mouthpieces we offer that could be suitable for jazz styles …


For many decades, Otto Link ebonite pieces have been a benchmark for jazz mouthpieces. Customers are often looking for that 'old link' sound, and you can still achieve that with their contemporary pieces. Big personality and sound to match, the Otto Link Tone Edge can give you anything from smokey and mellow to clean and bright. Available for soprano, alto, tenor and baritone saxophones.
The V16 pairs Vandoren's attention to detail and solid intonation with freedom and versatility. Available in a range of tip openings and chamber sizes, the mouthpiece could be suited to lead or solo playing thanks to a brighter tone with excellent projection. For soprano and alto saxophones.

Aizen's LS is available for soprano, tenor and baritone saxophones. Based on the classic Slant Signature Link mouthpieces, you'll find this provides a classic, rounded jazz tone. The fat sound is coupled with excellent projection and precise articulation. This mouthpiece feels at home in any setting, from big bands and combos to soloing band leaders!
Theo Wanne's NY Bros focuses on the strongest aspects of the classic Meyer mouthpieces … and amplifies them for the contemporary player! A medium chamber and roll over baffle gives that classic jazz feel, but with the flexibility of tone and projection of other modern mouthpieces.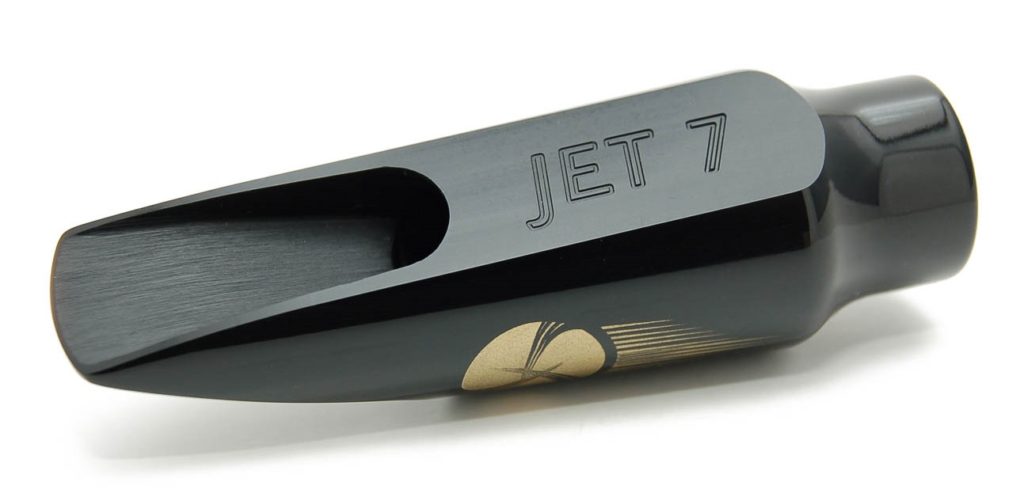 Ok we're kind of cheating here, as this is a plastic mouthpiece … but it easily outperforms a number of ebonite counterparts! The Jody Jazz Jet has an incredible high baffle. This effectively 'focuses' the airstream as much as possible – this makes the sound very bright, and boasts huge projection. It has the trademark free-blowing nature that you can expect from any Jody Jazz mouthpiece. Available for alto, tenor and baritone saxophones.
Jesse – Flute and Single Reed Specialist
---
As you probably know by now, this is only a small selection of mouthpieces on the market. If you have any questions about these mouthpieces, or would like to book a time to come and try some for yourself, do get in touch. You can call us on 01628 630800, or email: sales@dawkes.co.uk / info@dawkes.co.uk.